By Sam Eyoboka
A SPECIAL report on sectarian violence in Nigeria's Middle Belt region of Nigeria by the Inter-national Christian Concern, ICC, indi-cates that Fulani militants have renewed their violent attacks throughout the region after a lull ahead of the general elections in March which have also flared in other parts of the country with a hist-ory of ethnic and religious conflicts.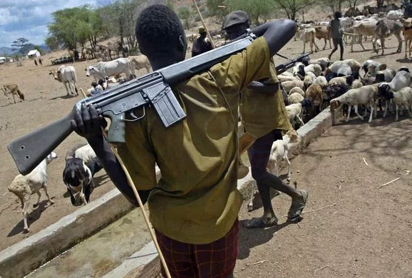 Troops, which played an inglorious role during the just concluded general elect-ions, are now being deployed to central and north western regions after deadly clashes between unarmed indigenous farmers and highly fortified Fulani cattle-herders while security organisations appear to be overwhelmed in the battle against insurgents.
Polls: We support Atiku, PDP's going to court — Southern, M-Belt leaders
According to the International Christian Concern, ICC, a non-partisan, charitable organization with focus on human rights, religious freedom and assisting the persecuted Christian Church around the world, the brutal attacks perpetrated by these hardline Islamic militants persist-ently spark fear among Christians living in the Middle Belt, as death tolls continue to rise.
"The undeclared war has turned Muslims and Christians against each other in a confrontation that threatens the stability of Nigeria, with Christians suffering in far greater numbers. Last month, at least 150 people were killed. Additionally, Boko Haram conducted at least one major attack in Adamawa State that claimed many lives and homes.
"Attacks at the hands of these violent militants have spiked dramatically fo-llowing the 2019 elections, and partially due to economic scarcity, as Nigeria's land resources are depleting. Fulani militants attack defenseless farmers, impoverishing Christian communities, as the bloodshed is inextricably wrapped up in religious, ethnic, and socio-economic prejudices," ICC stated.
Continuing, ICC quoted a Nigerian Bishop William Amove Avenya of Benue State as saying: "Fulani tribesmen armed to the teeth, are murdering pregnant women and children, and destroying our small-holdings. This is a time bomb that threatens to ignite the whole region. We cannot wait for a mass genocide to happen before intervening."
Crushing of Book Haram: Buratai commends troops in Yobe
Meanwhile, recently re-elected President Muhammadu Buhari, a former military leader, has failed to stop the violence in Nigeria's  Middle Belt, ICC further cont-ends. "These states have been devastated by the long-simmering conflict between farmers and herdsmen. His broken elect-ion promises have left Nigeria's Christ-ians living in a constant state of fear, as the Nigerian government does not hold the Fulani militants accountable or plan to disarm them. As the violent militants continue to unleash bloodshed, the hu-manitarian crisis deepens across the region," it stated.
Below are the largest attacks that took place in March:
March 4, 2019: Fulani militants attack Benue State, killing 23.
March 11, 2019: Fulani militias attack Kajuru, burning more than 100 homes, killing 52.
March 18, 2019: Boko Haram sieged a Christian majority town in Adamawa State, inhabited by more than 370,000 people.
According to Open Doors' 2019 World Watch List, Nigeria ranks as the 12th worst country in the world for Christian persecution. As Boko Haram and Fulani militants' brutal campaigns of violence have claimed tens of thousands of lives and displaced millions more in recent years, we will continue to call on the Nigerian government to rebuild destroy-ed communities and protect Nigerians from further tragedies.
The Adara Development Association has also decried the cycle of killings that is bedevilling Kajuru and other parts of Southern Kaduna, noting that a new wave of killings broke out and has refused to abate since the Kaduna State govern-ment's pronouncement of "66 (and then later increased to 130) killings".
"Since then there have been numerous arrests, and where preliminary investi-gation do not even remotely link suspects to the incident, they are still detained. Victims and activists who have lent their voices in condemning the arbitrary handling of the arrests are either threat-ened with arrests or prosecution.
"Twenty three (23) Adara children most of whom are below 18 years have been in prison custody since September 2018 without trial when prisons should not even accept underaged children. This is in addition to our nine chiefs and elders that have been locked up without any justifiable reason," the statement signed by National Vice President of Adara Dev-elopment Association, Mr. James Auta and his Assistant Secretary, Luka Waziri said.
According to the statement, "officials of Adara Development Association who are not in prison are now being hunted. These include Luka Waziri, Sebastine Barde, James Auta, Bitrus Maiwando and Aug-ustine Jankaro who are being sought to be arrested merely by reason of their id-entity and affiliation.
"Also, there is credible information that the Kaduna State governor intends to trump up charges against a former chair-man of the National Human Rights Com-mission, Prof. Chidi Anselm Odinkalu, merely for speaking against the govern-ment's handling of the security situation in Kajuru.
"The procuring of abduction and disa-ppearance of the named persons and others sought to be persecuted by the government under legal artifices have no basis in justice or due process," the group stated.
The association therefore demanded that the Kaduna State government should desist from using state apparatus as a means of settling whatever perceived scores it may have.
In a related development, immediate President of Catholic Bishops Conference of Nigeria, CBCN, and the Apostolic Adm-inistrator in Jos, Most Rev. Ignatius Kaigama expects to see the people of Nigeria to be happy as the nation becomes a country to be reckoned with in the international scene.
Asked for his expectation for the Federal Government, Kaigama who has been appointed by the Catholic Pontiff as the Archbishop of Abuja, said: "We want our people to be happy. We want our people to be a happy people. We want our coun-try to be reckoned with in the internat-ional scheme of things and we have all the potentials and all the blessings of God. What is lacking is the political will and the good will of every Nigerian especially the leaders.
"This country could be one of the best in the world but something keep drawing us back: Self interest and the lack of honesty in dealing with the common good. Everybody is looking at himself or herself and we don't look at our common project; instead we are thinking of our tribe, our religion, our region and such like. It's all about our immediate envi-ronment; the benefit for my people, my religion and my region," he said.
Trade Fair : KADCCIMA blames low turnout on mis-information on security
Contending that America and other developed nations of the world are going places because they care about their nation; what affects one person, affects everbody, the Catholic archbishop says the reverse is the case here as "what affects 15,000 persons, seems to affects nobody. So we need to develop that consciousness and the culture of being one nation in the true sense of the word.
"Unless we do that, whatever government that comes will just be dancing around without any movement. We pray that God will make the incoming government to rise above primordial sentiments and be more sensitive to this and go beyond narrow interests: whether tribal, religious, regional and aim at something higher or bigger; something that bings every Nigerian together. We can survive the world if we make the deliberate effort, God helping us," he said.
According to the archbishop, all the current divisions have been with us from time immemorial, stressing that "there is nothing new. What's happening now has always been there all the time. When we talk of ethnic interest, religious interest, regional interests and political interests have always been with us before now.
Amnesty International decries killing of Kolade Johnson, says Osinbajo's reforms not working
"It is just to develop the determination or the political will to address and neutralise all these negative forces affecting Nigeria and her people. We need leaders with strength of character, courage, fear of God with humanitarian tendencies to bring relief to millions of Nigerians who are going through hard times and we will be among the frontline nations of the world," Most Rev. Kaigama said.