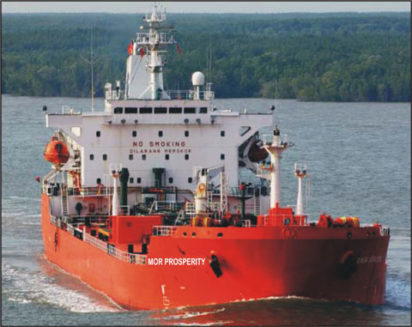 * Mor Prosperity; one of the two newly acquired vessels by Morlap Shipping Company.
A sharp decline in dry cargo ship freight rates in the first quarter sent more giant ships to scrapyards in Southeast Asia in the first three months of the year.
But analysts expect a slow recovery in Chinese imports of commodities such as iron ore will likely boost demand and put the brakes on recycling later this year.
Ship-broker BTIG said in a report that 107,000 deadweight metric tons of ship steel were recycled in the first three months of this year, up 35% from 78,000 metric tons in the same period a year ago. Of 23 vessels scrapped, 16 were Capesize vessels, the biggest cargo ships that move products such as iron, aluminium, coal and cement from mines in Australia and Latin America to China.
Shipowners generally step up scrapping when the cost of operating vessels or idling and maintaining them outweighs the price of scrap metal.
Vale S.A.'s mine-waste dam disaster in Brazil in January curbed iron ore production, idling a number of capes, brokers in London and Singapore said. The situation was exacerbated by a seasonal lull in Chinese industrial output during the long Lunar New Year holidays in February.
Capes now command daily freight rates of around $9,000, well below the average $25,000 needed to break even. The Baltic Dry index, which measures the cost of moving commodities across the seas, was at 726 points on Friday, down 27% in the past 12 months.
The ship-breaking industry has annual revenue up to $5 billion and 2018 was one of the busiest years ever, according to Anil Sharma, chief executive of U.S. and Dubai-based GMS, the biggest cash buyer of ships headed for scrap. Crude oil tankers and dry bulk vessels were the ship types that were mostly broken up. Brokers expect up to 20% less ship steel in terms of tonnage to be recycled this year.
China's iron ore imports rose 3.5% in March, compared with a year earlier, after touching a 10-month-low in February, according to Chinese customs data on Friday, with steel mills replenishing inventories. Imports came in at 89 million metric tons, up from 83 million in February and 86 million in March 2018.
Brokers also expect a recovery in Capesize freight rates as diminished iron ore transports from Vale's damaged facilities in Brazil are replaced with longer sailings from Australia.