…Energy economist insists subsidy be removed
By Michael Eboh
The Federal Government's announcement that it would undertake a gradual phase out of fuel subsidy, weekend, triggered panic buying of Premium Motor Spirit, PMS, also known as petrol, across some states of the federation.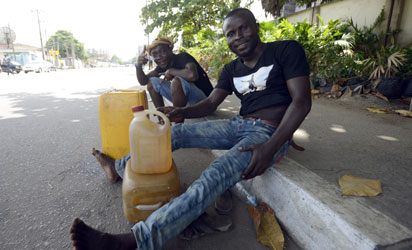 The Minister of Finance, Zainab Ahmed, who announced the decision of the Federal Government, was reacting to a recommendation by the International Monetary Fund, IMF, calling on Nigeria to end subsidy on petroleum products.
Irrespective of multiple assurances by the Nigerian National Petroleum Corporation, NNPC, that it has over one billion litres of petrol in its depots and guaranteed steady product supply throughout April, the fuel queues started building up across petrol station in Abuja and Lagos since Friday afternoon.
Compared to Friday when the queues were a bit heavy, as at Saturday, a few petrol stations were shut down, while in the ones selling, slight queues were recorded.
Opposite the , NNPC headquarters in Abuja, at the Conoil and Total petrol stations in the Central Business District, slight queues were recorded while black market operators were seen beckoning on motorists for patronage.
Energy Economists wants subsidy removed
However, despite the panic buying and the likely plunge into another round of fuel crisis, the Nigerian Association for Energy Economics, NAEE, has insisted that subsidy on petroleum products should be completely eliminated.
Addressing newsmen in Abuja, yesterday, ahead of the 12th NAEE/IAEE Conference,president of the association, professor Wumi Iledare argued that the benefit of fuel subsidy of in Nigeria is far less than the cost incurred in subsidizing the commodity.
He said, "I believe that the benefit of subsidy is far less than the cost of subsidy. Anytime government has a policy, there is need for that policy to be reviewed to see whether the policy that comes from that policy is more than the cost or whether they are equivalent.
'If you look around, the roads are bad, the hospitals are bad, and the infrastructure is not even there. Go and look at the budget for health, education, defence and another, you will see that it is not up to the amount spent on subsidy in 2018.
"I understand the social unrest is scary, but it is just going to be for a while, if there is enough public education on the benefits of the removal. You are losing the capacity that you have because you are actually giving the products to the elites who are capable of paying for their petrol at a giveaway price."
https://www.vanguardngr.com/2019/04/6-ships-arrive-lagos-ports-with-petrol-other-products/
Iledare further stated that consumption of locally produced energy was imperative for sustainable economic development much more than energy production for rent seeking and rent sharing.
He also called on the country to rethink its energy resource extraction policy to ensure access to affordable, sustainable and secure energy for all Nigerians.
NNPC assurances
The NNPC had on Friday, when the queues started building up, debunked claims of scarcity of the commodity, stating that it currently has over one billion litres of the products in stock. It had also allayed fears over any planned increase in price, as it declared that the pump price of petrol remained N145 per litre.
In a statement in Abuja, Group General Manager, Group Public Affairs Division of the NNPC, Mr. Ndu Ughamadu, disclosed that in addition to existing stock levels, for April alone, it has made commitment for importation of 48 vessels of 50 million litres of petrol each.
According to him, there was no need for panic buying or hoarding of petroleum products in anticipation of a phantom scarcity.
He, therefore, appealed to Nigerians to disregard trending social media report of an impending fuel scarcity due to purported refusal by some oil marketers to lift products from depots.
He explained that the tale was fabricated by mischief makers with intent to create undue panic in the prevailing sanity in the fuel supply and distribution matrix across the country.
https://www.vanguardngr.com/2019/03/innovation-challenge-oando-partners-accountability-lab-canadian-govt/
Subscribe for latest Videos