By Dayo Adesulu
The Vice President, Professor Yemi Osinbajo has called for a prioritize development  a new educational curriculum  that emphasizes Science, Technology, Engineering, Arts and Maths.
Speaking during UNILAG 50th Convocation Lecture in Lagos, Osinbajo said: ''It was clear to us that we needed to devise an economic plan that prioritize developing a new educational curriculum that emphasizes Science, Technology, Engineering,   Arts and Maths.''
He said: ''Our technology agenda is premised on our new educational curriculum which emphasizes STEAM. Science, Technology, Engineering, Arts and Mathematics. We are currently developing   that curriculum   with the support of global players like MIT, Cisco, IBM and Oracle, a nationwide curriculum that incorporates 21st century STEAM thinking: coding, design skills, digital arts, robotics, machine learning, and so on. The curriculum will cover primary to secondary education with the skills to thrive in technology.''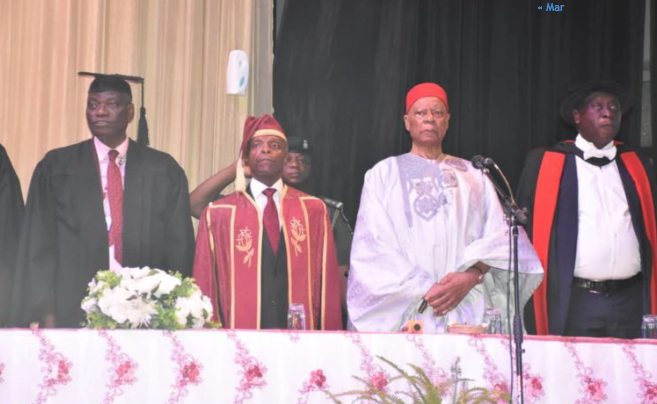 The President, he disclosed, has directed that the Ministry of Education  establish a technology and creativity advisory group, to work on and formulate policies, adding that he had held about three meetings so far.
The Professor of Law also posited that providing and equipping the enabling environment for Learning is pivotal. He said: ''Conducive learning environments are crucial to motivate students and enhance learning. Classrooms, schools and other learning areas must be remodelled to reflect our national aspiration of growing a knowledge economy. ''The individualistic sitting models will need to give way to more collaborative models that inspire thought, creativity and teamwork.
''There must be investment in the hardware, content and technology that will transform our classrooms to laboratories and workshops to give expression to STEAM.''
To actualized the national objective of lifting Nigerian students' skills quotient, he said, quality teaching is key, adding, '' Teachers need to be retrained and equipped with the skills and confidence to support digital literacy, functional skills training and STEAM learning.''
https://www.vanguardngr.com/2019/04/nigerians-urged-to-adopt-health-information-technology/
According to him, the future for job creation and efficient and profitable businesses lies in innovation and technology.
Speaking on what the administration of Mohammadu Buhari has done in that regard, Osinbajo said: ''We have partnered with local and international tech companies and innovators, in the building of tech hubs, and promoting innovation. Our aim is to completely democratize access to   innovation and cyber commerce and create jobs.
''We have established hubs in collaboration with the World Bank and Lagos Business School, LBS on the climate change innovation hub . ''In Yola, the North East Humanitarian Hub.   We are also in collaboration with Civic Hub promoted technology and innovation in universities with the students innovation challenge in the six geopolitical zones, and technology hubs in three. ''Just this morning (Monday) I inspected the status of work going on on the Unilag hub. ''BOI in response to the direction set by the government has launched a ten billion Naira tech fund.''
He continues, ''I have personally visited several technology hubs across the country and several new technology businesses. Let me give you a few examples. Paystack is a safe payment system, which offers seamless money transactions between businesses and their customers. It was established in 2016 by two young Nigerian alumni of Babcock University; Sola Akinlade and Ezra Olubi.
''Within the first three months of 2018 they have processed over N3billion and generate about 40billion annually for Nigerian businesses. ''The company is today powering over 9000 businesses that did not exist two years ago, creating over 25000 jobs. Paystack has over 50 employees all under 35 years old.
''There is also Andela , a multinational company specializing in training softwar
developers, co-founded by Nigerian born, Iyin Aboyeji. The company estimates that in the next 10 years, there will be 1.3million software development jobs and only 40,000 computer science graduates to fill them. The company's vision is to change the future of Nigeria and the African continent by developing talent and potential in Nigeria. The company today has 1000 employees world wide.''
Osinbajo, who described the number of out-of-school children in our country as massive, also decried its massive deficiency in girl child education.
He said: ''Many of the problems especially of primary and secondary level vary in size from State to State. ''Education at those levels are State matters.   While the proportion of children out of school in the total population of the State is just 1.83% in Lagos, that of Gombe in the North East is 24.12%.   ''In Anambra State, the proportion of children of school age out of school is 6.22% while it is 55.59% in Bauchi State. These disparities also reflect to some extent the attention that the states pay to these issues.''
Subscribe for latest Videos