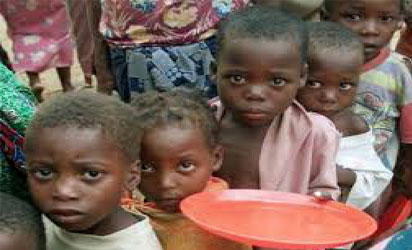 File: Children affected by poverty
By Soni Daniel
ABUJA—No fewer than 113 million people experienced high levels of food insecurity in the world's most severe food crises in 2018. The Global Report on Food Crisis 2019 has found, some of them in Nigeria and seven other countries.

The report, which was released, yesterday, in Brussels, warned that these food crises were primarily driven by conflict and climate-related disasters.
One of the key findings of the report showed that nearly two-thirds of those facing acute hunger live in Afghanistan, the Democratic Republic of Congo, Ethiopia, Nigeria, South Sudan, Sudan, Syria and Yemen.
"The worst food crises in 2018, in order of severity, were: Yemen, the Democratic Republic of the Congo, Afghanistan, Ethiopia, the Syrian Arab Republic, the Sudan, South Sudan and Northern Nigeria.
"These eight countries accounted for two-thirds of the total number of people facing acute food insecurity, amounting to nearly 72 million people," the report said.
Similarly, short-term outlook of food insecurity for 2019 showed that "Yemen, the Democratic Republic of the Congo, Afghanistan, Ethiopia, the Syrian Arab Republic, the Sudan, South Sudan and Northern Nigeria are expected to remain among the world's most severe food crises in 2019.
"Large segments of populations in most of these countries risk falling into Emergency (IPC/CH Phase 4) levels of acute food insecurity.
https://newlive.vanguardngr.com/2019/02/developer-lagos-unveil-africas-largest-satellite-city-in-epe-lagos/
"In the 16 states of Northern Nigeria and the Federal Capital Territory, the number of people in 'Crisis' and 'Emergency' decreased by 40 per cent between June and August 2017 and 2018 to 5.3 million.
"At the peak of the lean season, three million were acutely food insecure in the three North Eastern states affected by the Boko Haram insurgency where protracted conflict and mass displacement disrupted agriculture, trade, markets and livelihoods, and pushed up food prices," the report said."
Food and Agriculture Organisation, FAO's Director-General, José da Silva, said despite a slight drop in 2018 in the number of people experiencing acute food insecurity, "the figure is still far too high.
"We must act at scale across the humanitarian-development-peace nexus to build the resilience of affected and vulnerable populations. To save lives, we also have to save livelihoods," he added.
World Food Programme Executive Director, David Beasley, also said: "While critical to saving lives and alleviating human suffering, humanitarian assistance does not address the root causes of food crises."
Beasley highlighted the importance of "attacking the root causes of hunger— conflict, instability, the impact of climate shocks."
"Boys and girls need to be well-nourished and educated; women need to be truly empowered. Rural infrastructure must be strengthened in order to meet that 'Zero Hunger' goal.
"Programmes that make a community resilient and more stable will also reduce the number of hungry people," he said.
Let migration flow from aspiration, not desperation —EU cautions
This came as the European Union cautioned individuals and nations to allow migration to flow from genuine personal aspirations and not through desperation that could result in exploitation and other dire consequences.
The Head of the EU Delegation to Nigeria and ECOWAS, Ambassador Ketil Karlsen, made the remark in a statement, yesterday.
He said: "Saving and protecting the lives of migrants and refugees, breaking the business model of smugglers and traffickers and providing legal pathways, while addressing the root causes of irregular migration and forced displacement are at the very heart of the EU's policy."
Karlsen statement followed shortly in Lagos after the 64th chartered flights bringing back voluntary Nigerian returnees, arrived in the county.
Insisting that the EU does not want to stop migration, he said: "What we want to stop is dangerous, unprotected, and exploitative forms of migration. Migration should happen out of aspiration, not desperation."
He noted that the EU was working in all areas of migration in Nigeria, including migration management, labour migration, irregular migration, return and reintegration, mobility and international protection.