Residents of Karon-majigi community in the Federal Capital Territory (FCT) have called on FCT Administration to help remove waste dumped in the community in order to safeguard their health.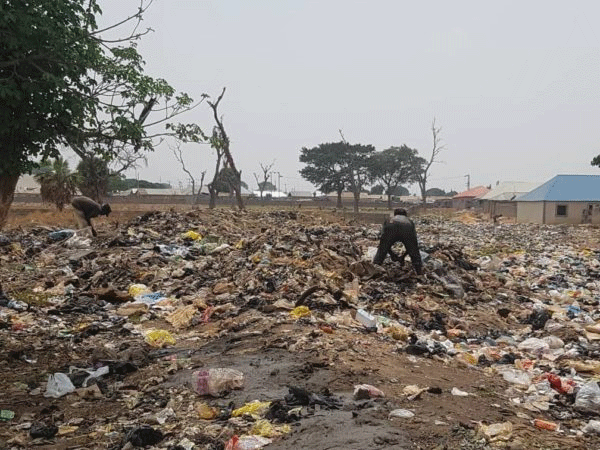 The residents, who spoke with newsmen in Abuja, explained that the refuse was brought from other parts of the city and dumped in their community.
Mrs Blessing Christopher, who has been living in the area for five years, said her family have been victims of diseases as a result of the refuse.
She said that they always treat malaria most of the time including cholera, stomach upset, and diarrhea.
"I am currently treating malaria for myself and my children, even though we are indoors most of the time, the mosquitoes are just too much. Also house flies are always in our houses because of the refuse dumped here," she said.
She called on government to provide better alternative dumps, urging that residents should imbibe the use of recyclable items.
However, Mrs Fatima Abubakar, who has stayed there for eight years, said the smell was unbearable especially during dry seasons.
"The area is a bit conducive during the rainy season as rain wash away most of the dirt but it's worst during dry season.
France reaffirms commitment to boosting electricity transmission in Nigeria
"When the sun is high, heating the refuse, it makes it smell terribly. We can't even sit outside.
"Our children can't play outside like others to avoid easily catching cholera and airborne diseases related to dirty surrounding."
She called on government to help pack the refuse as they have done that twice in the past.
The District Head of Karon-majigi, Mr Yunusa Abdullahi, said evacuating the refuse was the only solution to the environmental issues the people are facing.
"We need the refuse to be moved to another place. I know getting a place is really difficult as the communities around grow every day.
"But it's very important as the refuse is blocking the road. I also urge the government to help us and move the refuse as it a big threat to our health.