OPERATIVES of the National Inland Waterways Authority's Police Unit, Lagos state have arrested a boat operator and his assistant for endangering the lives of twelve school children who boarded their boat.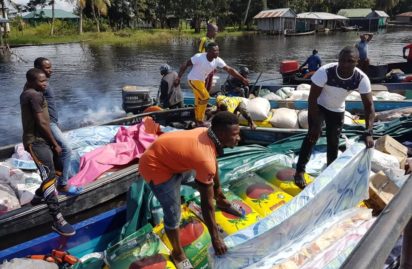 The boat operator, Balogun Oriyomi and his assistant Solomon Gbenga were arrested for exposing the lives of the young children to harm by not providing them with life jackets while on board Tarwa bay en route Osborne.
It was learned that the duo conveyed twelve students of the Government Secondary School, Tarwa bay who were attending a school event at Osborne without following essential safety measures.
Parading the duo, the General Manager  Lagos zone, National Inland Waterways Authority, Muazu Sambo lamented that despite recent sensitisation campaign embarked by the agency to various jetties across the state, it is disheartening to know that an operator would still allow conveying passengers without lifejackets".
Sambo noted that the boat operator and the driver of the impounded boat would be charged to court under extant laws to serve as a deterrent to other operators within the industry. We will seek maximum lawful penalties for those who violate safety measures, he added.
However, he assured passengers that the National inland waterways Authority will not relent in its determination to monitor the activities on the inland waterways with routine and control inspections.
Explaining further, the Commander NIWA Police Unit, CSP Usman Tahir, said that none of the twelve school children on board wore a live jacket to protect the children in the case of a mishap. Giving the fact that several lives have been lost from boat mishaps, it is important that operators take necessary steps to protect further loss of lives on our waterways.
Suspect's account
Denying the allegations, the boat operator Balogun said that the children removed their lifejackets midway before they got the jetty.
Unfortunately, no single lifejacket was found in the boat when they were apprehended by the authorities.