Duke Orsino in ecstasy and fantasy, sang melodiously in Shakespeare's Twelfth Night- "If music be the food of love, play on; give me excess of it, that surfeiting, the appetite may sicken, and so die". Duke Orisono was insanely in love with a wealthy and resistant lady, who was in mourning of her brother and was annoyed, by Orsinos inappropriate attention. The Duke had stalked himself sick with his own passion. He was described as a "melancholic poseur." Chief Sogboyega Odulate alias "The Blessed Jacob", otherwise known as "Alabukun", was Folake Solanke's illustrious, notable, distinguished and prominent father. He patented the popular "Alabukun" drug. Folake was his doting daughter.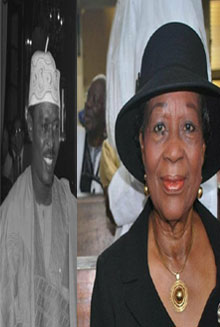 On the 30th day of January, 1948, the Alabukun family suffered a tragic loss, in a ghastly motor accident. In that car ( Austin 10), there   were six occupants- Dr. Albert Olukoya Odulate, Folake, Femi, Dele, Segun Odulate and the driver. Albert had just qualified as a medical doctor, from the United Kingdom, having studied abroad for a decade. The car somersaulted, on the old Lagos-Abeokuta Road, near Ifo. The car was a welcome gift from Chief Odulate, to his son, who had brought glory to the family, by being qualified as a medical doctor.
The driver died on the spot and Dr. Albert Odulate was also wounded with fractured skull. He was rushed to the hospital and died the following day, just over two weeks, after he had returned from the United Kingdom, as a qualified medical practitioner. It was certainly one loss too many. "Blessed Jacob,"  took this painful loss, with stoic and dignified candour. In the course of condolence and commiseration visits, Theophilus Owolabi Shobowale (TOS) Benson, also visited Jacob Odulate, to express his deep and sincere condolence. During this visit, he sighted a stunning beautiful lady-Folake Odulate. He asked after her, and was told, that she was one of the Odulate's children, that survived the accident. His luscious eyes, ever since, couldn't leave the legendary Cleopatra.
The story of Duke Orsino, in melancholic love, with a mourning lady in Shakespeare's Twelfth Night, is apt and in similitude, with the love tango of TOS Benson and Folake Odulate. TOS Benson approached the lady and he met instant resistance. TOS was 31 years, having been born on the 3rd of July, 1917, and Folake was a 16 year old lady, born, on the 29th of March, 1932, at Abeokuta. Despite the resistance, TOS Benson, began exploratory discussions, with the "Blessed Jacob". Perhaps, certainly, not taking no for an answer.
T.O.S Benson, was also born into an aristocratic family in Ikorodu, Lagos. He attended the CMS Grammar School in Lagos and joined the Nigerian Customs Service at the age of 20, in 1937 and left the customs service in 1943, to pursue law studies in London. He studied law at Lincoln's Inn, and was called to the Bar in 1947. He returned back to Nigeria and went straight into law practice and politics. He joined the National Council of Nigeria and the Cameroons (NCNC). He also supported and developed the career of his younger brother-Bobby Benson, by encouraging him to develop his Touring Theatrical Group, into a full band orchestra, called the Jam-Session in 1948, having bought the group an imported band set.
BOBBY BENSON – MUSIC EXTRAVAGANZA
Bernard Olabinjo Bobby Benson,  was equally distinguished and established in his calling. He was a tailor, boxer and a sailor in the Merchant Navy. With his wife, they had established the Bobby Benson Theatrical Party. He played guitar and saxophone, while his wife, Cassandra,  danced.
The Bobby Benson jam session played swing, dive, samba and calypsos, and later began to play popular highlife music, with their first hit- Taxi Driver:-  "taxi driver gbemi o, mofe lo ri ololufe mi  o."    This popular hit,  was followed by several others- "Gentleman Bobby", "Ma fe", "Nylon Dress","  Niger Mambo" and "Iyawo se iwo lo se mi."
His popular Caban Bamboo Night club,  later converted to the popular Hotel Bobby. Benson's innovation in music and style,  was a precursor of the popular juju music,  of the likes of IK Dairo,  Ebenezer Obey, King Sunny Ade, Orlando Owoh, Fatai Rolling Dollars and others.
Benson in his musical career,  had on his band stand, prominent musicians like- Roy Chicago, Eddy Okonta, Sir Victor Uwaifo, Bayo Martins, Zeal Onyia. Victor Olaiya  was also a trumpeter in Bobbys band.
Bobby Benson died in Lagos on Saturday,  the 14th  of May, 1983 at the age of 61 years.
BOBBY BENSON – POLITICAL SHOWMANSHIP
Whilst Bobby Benson held sway in musical showmanship, his senior brother- T.O.S Benson,  also had his own brand of Political showmanship.
With exotic head gears, horses, a braze band, expensive cars, stunning women, generosity, sensational court cases and over painted and flaming jeeps; Benson captured the Lagos political space, in a grand style.
Benson was certainly,  the greatest crowd drawer politician in Lagos. Whether in his office at Customs street,  Lagos,  or in his house at 25,  Thorburn avenue, Yaba, Lagos, you would always be amazed at the impressive crowd, massing round him.
What brings this crowd really to T.O.S Benson's door?   He said:
"Oh, some of them come about their cases in court, while many others come to discuss politics. My only regret,  is that they don't often allow me to go and work for money. Somebody ought to tell them,  that since they expect me to share my earnings with them, it is only fair that they should allow me to go and work"
In his quiet moment, Benson also rhapsodized:-
"I am with those who believe that greatness consists of realizing always that the other fellow, in spite of his poverty, exists and can be useful. He who must lead the people must be one of the people. I am one of the people in spite of my expensive car. It has cost me plenty to get to the top and I mean to stay there."
POLITICAL ACHIEVEMENTS
In 1950, Benson was elected into the Lagos State Council and later became the Deputy Mayor of Lagos, on the platform of NCNC. He enjoyed untainted supports and loyalty, of the cosmopolitan electorates of his constituency in Yaba, Lagos, who were mainly Igbos. In 1951, TOS Benson, alongside Dr. Nnamdi Azikwe, Adeleke Adedoyin, A.B. Olorunnimbe and Trade Unionist H.B. Adebola, were elected to the Lagos seats in the Western House of Assembly, having defeated their opponents from the Action Group. Benson became a National officer of the NCNC and was a participant in the constitutional conferences in London, in 1953, 1957, 1958 and the Independence Constitutional Conference of 1960. He was Chief Whip in the House of Representatives, and  Chairman of the Western Committee of the NCNC. He was re-elected to the Federal House of Representatives in the 1959, Federal election.
In 1959, he became Nigeria's first Minister of Information, in the newly created Ministry of Information and was the driving force, behind establishing the Voice of Nigeria (VON), Radio and Television services of the Federal Republic of Nigeria. It is interesting to note that, the Awolowo government in the Western Region had established, the first Television Station in Africa, in Agodi, Ibadan, in November, 1959. Interestingly too, Folake Solanke, first woman Commissioner in the Western State of Nigeria in November, 1972, was also Chairman of the Western Nigerian Government Broadcasting Corporation (WNTV/WNBS), that took off in 1959. During the Western Region crisis of the early 1960s, NCNC was torn between aligning with the United Peoples Party (UPP) of SLA Akintola and the Action Group of Obafemi Awolowo. Some factions of the NCNC, joined the UPP to form the NNDP, while the other faction of the NCNC, joined the Action Group to form the United Progressive Grand Alliance (UPGA). Benson joined the UPGA faction of the NCNC, led by Dr. Michael Okpara and Chief (Mrs.) H.I.D Awolowo.
As Federal Minister, TOS Benson stood for an election and won. But just a few weeks later,  his election was nullified by a Lagos Supreme Court,  following an election petition,filed against him by his Action Group opponent-  Mr. S.O Onitiri. But Hon Benson appealed and won.
He was carried shoulder high by the NCNC leaders in the yard of the Supreme Court, where they were joined,  by hundreds of his admirers. When a group of NCNC Ministers arrived at the scene, the show became something quite sensational and eclectic. Benson and his fellow Ministers decided on the spur of the moment,  to transfer it from the courtyard,  to the House of Representatives.
With Benson in front, they led their way, with mincing steps, into the hall of the House, which rose with thunderous applause,  to welcome the hero back to his Ministerial seat.
On Minister Bensons entrance, many members of the opposition were stunned.
Benson in the run up of the 1964 elections, lost the primary election of his party   and was defeated by his constituency aide- Maduagwu Moronu, an Igbo man. Benson resigned from the NCNC and eventually ran as an independent candidate. He won the election and continued to function as Minister of Information, until the Military putsch of January 15, 1966. He was in Military detention from March 1966 until 2nd of August, 1966, four days after the second Military Coup of General Yakubu Gowon. Benson in his lifetime as a lawyer, became a Senior Advocate of Nigeria and also held prominent title of Baba Oba of Lagos, despite being a native of Ikorodu.
BATTLE FOR DREAM MARRIAGE THAT NEVER WAS
Despite this chequered, distinguished and challenging life of TOS Benson, perhaps, the most troublesome story of his life, was his love tango, with Folake Odulate, later Solanke, that started in 1948.
Folake Odulate later wrote-  "In our collective state of trauma and vulnerability, Benson, became known to the family as a sympathizer, willing to comfort my distraught father in his anguish."
Odulate was really blessed and very successful. According to Folake, "Blessed Jacob" was a genius, a versatile entrepreneur and   a brilliant man of vision who   lived decades beyond his time."
His Alabukun products,  which he patented 1918,  had become a trailblazer in the Nigerian Pharmaceutical industry. The products,  Alabukun Mentoline (a soothing balm),  Alabukun APC, now "Alabukun"  powder and the Elizir ( an equivalent of the present day Viagra),  still sell in the market today in Nigeria and some West African countries. He had a huge complex of buildings at Kemta, Abeokuta, consisting of one-two storey building, one-three storey building, a chalet, a court yard, stores and other facilities. He also had properties in his home town in Ikorodu, Imota and a property at 23,  King George,Yaba, Lagos, Nigeria. Suitors will certainly find this family attractive.
In 1950, TOS exploratory discussions, started between the Benson and Odulate,  and the possibility of hooking up Folake,  with TOS Benson, through an arranged marriage. In 1951, the two families met and did engagement without Folake in attendance,  at the marriage ceremony.   Folake relocated to the United Kingdom in 1951, for further studies and this provided, perhaps,  an escape valve for her. As soon as she arrived in London, she wrote a letter to Benson,  and told him point blank,  that she should be counted out of the arranged marriage. She said-" I thought very deeply about my future , I came to a firm decision that the talk between Papa and Benson about an arranged marriage could never be for me."
Folakes elder sister, Stella Olubukola Odulate had also,married a fellow Ikorodu brethren-    Micheal Odesanya, whose senior brother and mentor,  was Chief S.O Gbadamosi, a frontline politician of the first Republic. Michael, later retired,  as a Judge of the High Court of Lagos. Micheal Odesanya in his legal carrier, before going to the Bench,  was a consummate advocate. Michael spoke the English Language with flourish and had an Oxford accent. Following the pattern of the first indigenous law partnership of Thomas, Williams and Fani-Kayode (Solicitors),  he also in 1952, went into a law partnership with Chief SLA Akintola and Chief Chris Ogunbanjo,  in a law partnership of Samuel,  Chris and Michael (Solicitors). SLA became Premier of Western Region on the 15th  of December 1959 and the partnership was mutually dissolved in 1962.
A year after   Folake's arrival in the United Kingdom, she met the real love of her life, Toriola Fehisitan Solanke and on the 6th  of October , 1956, the marriage was solemnized. Toriola Solanke's father,  was equally well known to "Blessed Jacob."  He was a station Manager at Lafenwa Train Station,  at Abeokuta and they had a very cordial relationship. But despite this marital bliss,  of Folake and Teriola, Benson still remained unyielding and unbending.   In 1957, Benson had become the Chief Whip of the Nigerian Parliament and was a member of delegation to London, to discuss the Independence of Nigeria.
Despite the seriousness of this delegation,  to the United Kingdom (and its effect on Nigeria's future independence),TOS Benson,seized the opportunity of this visit, to arrange with a cousin of Folake (now Mrs. Solanke),  to lure her to his cousin's house,  where he could perhaps,  talk to her all over again and convincingly   too. On the 25th  of May, 1957, Folake   paid visit to her cousin,  in a house on Flanders Road, Chiswich, London, where, to her utmost shock, dismay and bewilderment,  Benson, her old suitor, came in just after she had arrived and quickly went to business,  to convince Folake that she should marry him. Folake's persistent answer was immediate rebuff and a No for an answer.
She said-"I told him quite categorically, in the presence of Afolabi (cousin ),   what I had been telling him, my father and others for six years,  that I could never marry him. As he still refused to take no for an answer, I told him that I was already married. Benson said he did not care, about my marital status and that he would do everything to destroy my husband and I in Nigeria."    TOS Benson did not stop at that,  and according to Folake-"  as soon as Afolabi left the room, I got up from my chair,  to leave the room, but suddenly , Benson grabbed my left hand and started trying to remove my engagement ring by force. I struggled as hard as I could, but he   overpowered me and   violently forced my engagement ring off my finger. In the course of the assault, my open-ended gold bracelet wrist watch,  also came off my wrist."  She further said-  "  my gold engagement ring, had two diamonds set on either side of the blue sapphire. I pleaded with him to return my ring and wrist watch to me, but he flatly refused. He then put the two items in one of the pockets in his flowing Agbada. Benson locked the door and kept the key in one of his numerous pockets".Folake,  caught between the devil and the deep blue sea,  did the unthinkable-"There was no way I was going to remain in the apartment, which for me had suddenly become a place of violence and unlawful detention , after all the pleas had failed to recover my precious possession from him, and with the door locked against me, I reached   for the telephone. Instinctively, I made for the window to jump out". Luckily, the windows had no burglary proofs unlike Nigeria.
As a result of this escape ,audacity and boldness, Benson realized it was no longer a tea party affair. He called Folakes cousin-  Kayode, who promptly came into the room and they both persuaded her to come back. Despite her escape, Benson nevertheless held unto her ring and wrist watch. Folake Solake reported this case to the Police.
On the 1st  of June, 1957, the London Metropolitan Police arrested Benson and arraigned him before Acton Magistrate court, London,  for stealing a ring and wrist watch valued at £41( Fourty one pounds)   from a woman —Folake Solanke. He was alleged to have forcibly robbed her of her ring and wrist watch on the 25th  of May, 1957. He (T.O.S),  was granted bail with two sureties. The court ordered a remand for two weeks, which meant he could not leave London that period.  On Saturday, June   15,  1957, the case went on at the Magistrate Court, to determine whether Benson had a case to answer. The prosecutor, Victor Durand   QC,  called two witnesses- Investigating Police Officer and Mrs. Folake Solanke. At the end of the trial, the court ruled,  that TOS Benson, had a case to answer and thereafter,  transferred the case to London Criminal Court, popularly   known as "Old Bailey". The two day trial,  commenced on the 27th of June, 1957,  before sir Gerald Dodson, who was recorder of London. There was a Jury of 12 persons,  to determine the case.
TOS Benson pleaded not guilty to the   charges. The prosecutor , Mr. Durand,  thereafter,  presented the investigating Police Officer- Mr. Phillips, to the witness box . Phillips tendered the written statement of the Plaintiff to the court, together with plaintiffs engagement ring as exhibits. The plaintiff, Folake Solanke entered the witness box,  to give her testimony and was led in evidence,  by Mr. Durand.     She narrated how the assault took place,  and how the defendant, forcefully removed her engagement ring and wrist watch. She also told the court,  how she got married to her husband, Toriola, on October 6, 1956. She further told the court,  that she had told the defendant and her father,  that she could not marry the defendant as far back as in 1951,  and that she was never interested in the proposed arranged marriage. The plaintiffs husband, Dr. Solanke,  also gave evidence , corroborating his wife's evidence.
T.O.S Benson,  then gave his own evidence. He denied that he forcefully removed the plaintiffs engagement ring and wrist watch.   He told the court,  that it was the plaintiff,who gave him the ring to give to her father. He also told the court,  how he gave the plaintiff,  a cheque containing money for her education. T.O.S Benson through his lawyer, Mr. Dingle Foot,  called 12 witnesses,  that represented the crème de la creme of Nigerian politics. They include, the Late Chief M.T Mbu. The greatest shock however, was bringing the plaintiffs father, Chief Jacob Odulate to the court. The father testified against his daughter. The court room, was parked full with Nigerians,  as the story also hit the headlines of major newspapers,  in London and Lagos. Folake Solanke further said:- "There were also others who came simply to hurl abuse and curses and threat on me. The unprintable taunting and vituperation,  did not elicit one single response from me. I held my head high and the police gave me every protection."  After the trial, the judge adjourned the case to July 1, 1957. TOS Benson was eventually discharged and acquitted by the court.
The court matter,  was certainly a clash between modernity and tradition, boldness and audacity, to stand firm, on a picked choice-Toriola Solanke. Chief TOS Benson,could still not forgive Folake Solanke for not marrying him. He taunted her at every opportunity. When Toriola Solanke died, he hired a band to taunt her,  saying that, he an old man, had outlived her husband. Until his own death, Chief Theophilus Owolabi Sobowale Benson SAN,  never forgot and never forgave the bride he lost to Toriola Solanke.
The beauty of Folake Solankes story- A lady of many firsts amongst which are:
First lady state commissioner in the Western State of Nigeria, 1972.
First lady Chairman of the Board of WNTV & WNBS, 1972.
First lady Senior Advocate of Nigeria, 1981.
First lady Governor of Zonta International, District 18 (Africa) 1982.
First non-Caucasian to be elected international president of Zonta International; 1992; is better captured in her magnum Opus- "Reaching For The Stars,-  the autobiography of Folake Solanke."
In sweet juxtaposition, sometime in 1961, T.O.S Benson as Nigeria's Minister for Information and Parliamentarian,was in Liberia with Prime Minister- Tafawa Balewa, for a conference. Oprah Mayson,  daughter of Hon. Johnson Bolo Mayson and Lilly Mellisa Mayson, who had just returned from her studies, in the United States of America,  was also at the conference. She had obtained a BSC Degree in Education from Maurise Brown College in Atlanta Georgia USA, in 1958, and a Masters of Art Degree in Education,from Atlanta, University,  Atlanta , Georgia, USA. She also obtained Diploma in Administration from Pittsburg University in 1961, and Certificate in Communication from Michigan University. She became an instant celebrity in Liberia,  upon her return to   the Country,  with a top job in the government. At the conference, TOS Benson saw her and proposed to her, and a year after, it ended up in marriage. Oprah Benson,  returned to Nigeria and worked as a Registrar in the University of Lagos after marriage,  and was in 1973, installed as Yeye Oge of Lagos by Late Oba Adeyinka Oyekan of Lagos. Evidently, TOS Bensons eyes,  prowls for beauty!
May his gentle soul,  continually,  find peaceful repose with the Lord.
HON. (BARR.) FEMI KEHINDE
FORMER MEMBER, HOUSE OF REPRESENTATIVES