*Uzoho, Ezenwa can do more than they are doing
By John Egbokhan
When Alloysius Uzoma Agu was busy standing in between the sticks for the Super Eagles, the goalkeeping trio of Francis Uzoho, Ikechukwu Ezenwa and Daniel Akpeyi were not yet born to see the 1994 Nations Cup winner make eye-popping and back-breaking saves during his professional debut for NEPA in 1982.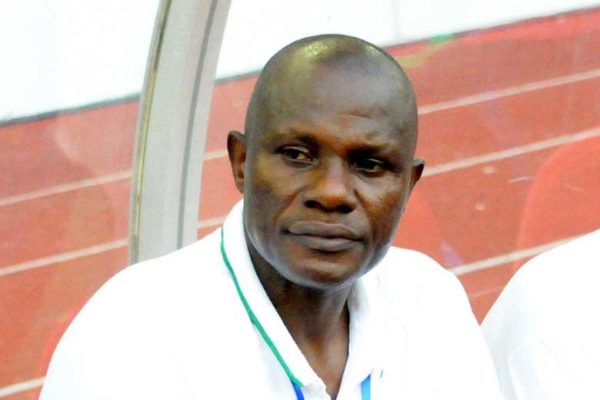 Now 51, he is the goalkeeper trainer of these goalkeepers, who will be hoping to reach the great heights that the former reached.
Agu, unequivocally is well placed to train the Eagles goalkeeping trio, given his antecedents with the likes of NEPA, ACB, Dutch side MVV Maastricht, Belgian club RFC Liège and Turkish team  Kayserispor
Born on 12 July 1967,  Agu, who starred in goal for the senior national team from 1988 to 1995, featured in three African Cup of Nations tournaments, winning  gold at the 1994 edition in Tunisia, in addition to a bronze  medal win at the 1992 edition in Senegal.
Remarkably, Agu was a member of the first Eagles team to qualify and play in a FIFA senior World Cup tournament at the 1994 edition held in the United States of America. It was the height of his international spell that lasted eight fruitful years.
READ ALSO: Eagles to play more friendlies before AFCON
Fans from all walks of life still rate that era as the most productive period of  Nigerian football, with Agu contributing his fair share to the success story that has become a reference point for present players and future stars to come.
His international goalkeeping days saw him involved in a battle royale for the first choice slot with the famed Peter Rufai and Wilfred Agbonavbare, both of whom were accomplished goalkeepers of repute. In fact, at a point, the rivalry was between Agu and Rufai, with then Eagles Manager, Clemens Westerhof managing to keep it at a healthy level, as the trio took turns to stand between the sticks when duty called.
After earning 28 international caps, Agu hung his Eagles gloves in 1995, to focus on his club career, which he also bid farewell to in 2006, when he made his final appearance for Turkish side Kayserispor, with whom he featured for 79 times to huge acclaim.
Reflecting on his times playing for the Super Eagles and how he coped with the rivalry with Rufai in the battle to be the apple of Westerhof's eyes, Agu told Sunday  Sports that he took things in his strides, not allowing the occasion to get the better of him and becloud his sense of friendship with his teammates.
''Peter Rufai was my friend then and still remains a close friend till today'', Agu said in Asaba, venue of the Super Eagles final African Cup of Nations qualifier with Seychelles and prestige international friendly tie with Egypt which Nigeria won.
Continuing, Agu said the rivalry with Rufai ''brought out the best in me and Nigeria did gain from it and that is what football is all about. ''Competing with Rufai  for the Eagles first choice goalkeeper was very intense but I always tried to keep a calm head even though I wanted to be the one standing in front of the goal.
''I knew that Rufai also wanted to be the one out there but because we were friends and are still friends, we took things in our strides. It was not a do or die thing even though we both wanted to be the number one goalkeeper of choice. .
''And the beauty of the rivalry was that it brought the best out of  us as we wanted to prove ourselves in order to retain the first position for as long as it came. It turned out to be a positive development as we were able to give Nigeria our best and the team became better for it'', he stressed.