By Dayo Adesulu
AS the 2019 Unified Tertiary Matriculation Examination, UTME begins April 11, no fewer than 1.99 million candidates will be jostling for the available 750,000 carrying capacity in our tertiary institutions.
What  this portends is that at the end of the admission exercise, only 750,000 would be admitted leaving 1.240 million candidates to repeat the recurring decimal next year.
Capacity of institutions  refer to the maximum number of students that an institution can absorb and sustain for quality education available based on human and material resources.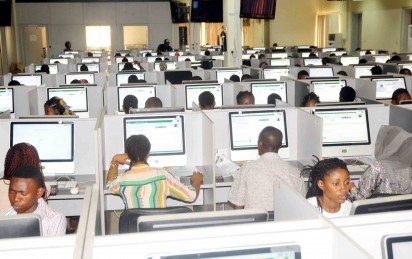 Stakeholders are calling for upgrade of our tertiary carrying capacity in both federal and state universities to alleviate their suffering.
Founded in 1978, JAMB has never recorded massive candidates' applications like this year. The increment in the number of people who registered for UTME  revealed that whereas our national population among the youth grow yearly, the corresponding growth in the carrying capacity or establishment of more institutions of higher learning remain static. Also, the increase may not be unconnected with the spillover of the over  one million candidates who failed to secure admission in  2018.
The only significant infrastructural growth we can point at over the last few years that  has directly or indirectly  increased the carrying capacity is the approval of operational licences to private school owners. While some stakeholders believe that the approval of private universities in Nigeria has further worsen our academic problems, many are in the opinion that more private universities approvals have enhance more admission spaces for our populated youth.
From 1999 when the Federal Government gave operational licences to owners of the first three private universities; Igbinedion University, Madonna University and Babcock University, it has rose to 77  in 2019 and still counting. Sad enough, while there are available spaces for admission in these private universities, many JAMB candidates do not patronise them, not because they cannot deliver academically, but because many parents cannot afford the fees.
On the flip side, private universities have not been able to fill the quota allotted to them by the Joint Admission and Matriculations Board (JAMB). According to NUC data of 2103,  private universities admitted 19,254 candidates as against 67,009 allotted quota in 2013. The reason for this under-enrollment is not unconnected with the exorbitant nature of the tuition fees of private universities.
Asides, when JAMB uses its discretion in posting candidates to some private universities, they still ended up forfeiting the provisional admission for lack of fund. Our research into the fees parents pay in private universities shows that the minimum amount for the lowest course cost is N350,000.
https://www.vanguardngr.com/2019/02/on-the-suspended-asuu-strike/
Even at that, the carrying capacity for each of these private universities when they started was between 100 and 500 based on National Universities Commission (NUC) approval. While some of the private universities have increased their admission slots over the years, many find it difficult to get five UTME candidates who voluntarily made their institutions first choice. I have attended some institutions' matriculations where between 40 to 45 students matriculated.
Meanwhile, the federal universities which have become  a toast for  admission seekers are just 43 across the country. Many times, those who scored high marks yet could not secure a slot missed out because authorities of those federal institutions admitted based on catchment area.
For  instance, in 2011/2012, University of Lagos (UNILAG)'s admission quota was 6,500 but admitted 7,572; Ahmadu Bello University (ABU) was given 6,688 but admitted 7,397, just as University of Nigeria, Nsukka (UNN) was given 5,970 but admitted 8,267.University of Ilorin (UNILORIN) in the same year was supposed to admit 5,514 but ended up admitting 7,098 while University of Maiduguri (UNIMAID) which was given 5,600, admitted 5,699. Also Federal University of Agriculture, Makurdi which ought to admit just 2,133 ended up admitting 3,350 students. In a nutshell, the admission capacity of all universities in 2013 was approximately 400,000. However, in last five years, the carrying capacity has risen to 750,000. Speaking with Vanguard on this issue is the President of Eden Global Business School (EGBS), Mr Tunji Adepoju, who averred that there is a significant problem with the carrying capacity of tertiary education system. According to him, for the past 5 years, we have had about 1.7 million students sitting for JAMB, adding: "the carrying capacity of our tertiary education system, including  the polytechnic and colleges of education is around 500, 000." He explained that the innovation enterprise institutions, vocational enterprises, NBT have additional 250,000. All in all the total carrying capacity is about 750,000. He said: "Every year, we have about 1.1 million students actually qualified; they have passed JAMB, met the minimum cut off point, and here we are, the unified carrying capacity is 750,000; the polytechnics, colleges of education, federal and state institutions, is about 500, 000. The innovation enterprise is about 250, 000, so we have a shortfall every year of about 500, 000 students that would be qualified and competent but would not get admission." Lamenting the fate of the over one million admission seekers, he said that over the years, they have fallen into the hands of crooks  and charlatans.  Many of them, he added have been deceived by mushroom outfits because they are desperate to get admission, adding that crooks have capitalized on this to extort gullible students.
Subscribe for latest Videos