By Denrele Animasaun
'Mental health is a state of well-being in which the individual realizes his or her own abilities, can cope with the normal stresses of life, can work productively and fruitfully, and is able to make a contribution to his or her community"'- The  World Health Organization
One of the most uncomfortable subject matter and health conditions that everyone finds difficult to talk about is; Mental illness. Yes,I said mental illness. The usual reactions when the word 'mental' is uttered is, one of repudiation and denial. The taboo and stigma of mental illness is far worse than the illness. So one can understand why people do not come forward to admit that they are experiencing mental illness.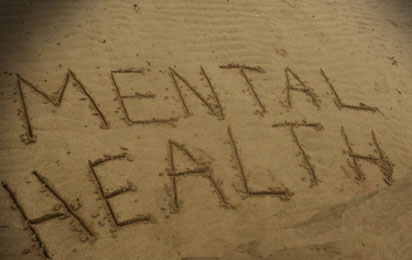 "Stigma is a big problem in Nigeria," according to Joyce Omoaregba, a senior consultant psychiatrist at the Federal Neuro-Psychiatric Hospital in southern Nigeria's Benin City.
"It prevents people from coming to seek treatment; nobody wants to be seen entering a psychiatric hospital. Many who admit to be suffering any mental [disorders] may be evicted by landlords, lose their jobs or their spouse."
Mental health and mental illness are not inclusively negative: mental health is not mental illness yet most people jump to conclusion whenever the mere word 'mental' is mentioned. It is not infectious or contagious but somehow, it feels like it us. This is because of the prejudice, stigma and the ignorance in society as well the way people experiencing mental illness are portrayed in the social media and films
. Nigeria is not alone in this respect, but it is far behind most countries in terms of how mentally ill people access and receive mental health services. As a country,we can no longer deny that people do experience mental conditions sometime in their lifetime. It is normal just like physical ill health.
In Nigeria, it is estimated that 20–30 %,  are believed to suffer from mental disorders. We don't have to do the maths, at least
2 or 3 in 10 experience mental health conditions. In 2017,the World Health Day Data, the global agency, revealed that about seven million Nigerians suffer from one of the most ignored and misunderstood forms of mental disorder in the country – depression.
It may be shocking to many but it is not surprising.  I do believe that the number is far bigger than what WHO, estimated.
Of course, we are dealing with entrenched ignorance as well as long rooted cultural and religious beliefs here, mixed up with social expectations and ignorance.  Alarmingly,some people still believe that mental illness is a manifestation of spiritual interference or Juju. Most families will seek help from local herbalists or take the mentally ill person to church or faith groups, so that they can drive the evil spirits out of the person.  Sadly, the mentally ill person is subjected to inhuman and barbaric practices; person chained up and given all manners of concoction.
It is little wonder that many people do not come forward to say they have problems and need help. So they suffer in silence until they can no longer cope or lose all insight, then unable to fend for themselves.
The common mentally ill people are those seen on the street, looking unkempt, in torn clothes and matted hair. No one claims to know people like that,because of the stigma and what they feel it may affect the chance of marrying or having a normal life.  So the whole community is in denial and unable to understand how to access and support someone with mental health.  Most crucially Nigeria is ill equipped to deal with people with  mentall illness. It has inadequate resources, manpower  or faculties.   It is accepted that at least 1 in 4 of us will experience some form of mental illness or condition in any given year. Nigeria is not an exception. It is estimated worldwide that 20% of the world's young people and children will have a mental disorder or problem. About half of mental health conditions starts around the age of 14. It is a fact and it is no point saying that it is not ' my portion'. Actually, it is and it should be our collective responsibility. We can either admit that we have a huge problem and seek solutions, or wait until we become overwhelmed by the chronic manifestation of  millions and millions of Nigerians suffering with mental illness and the impact on  millions more as a result of our ignorance and subsequent governments inability to prioritise the nation's mental health.  Crucially ,there is no physical health without mental health.
I have always been hopeful that our young people will succeed where my generation have spectacularly failed.
It comforting to know that some dedicated young  Nigerians have taken the initiative to support Nigerians experiencing mental health conditions. They are Mentally Aware Nigeria and they aim to end the stigma of mental health condition.  They do it so well especially for their target group; the young,who are very social media savvy.
I hope they don't mind, I gleaned this from their page: MANI was founded and registered in Nigeria in December 2015 with the Corporate Affairs Commission (CAC/IT NO 83725), but was officially launched on the 11th of June 2016 by a team of young doctors and concerned individuals led by Dr. Victor Ugo.
Mentally Aware Nigeria Initiative (MANI )is emerging as the voice of mental health support services and platform:. 'They run  monthly campaigns for mental health issues, with a focus on one core issue per month, leading to varying increase in Mental health awareness and literacy levels of millions of Nigerians. And while we will yet still, strive to continue to provide basic and simplified information about mental health..We are focused on ending mental health stigma, and creating a comfortable environment for open conversations about mental health issues. As an organization, we have come to understand the importance of stories in challenging inbred notions about mental health issues, especially when the stories come from those with lived experience. This is what our campaigns revolve around and we can already see the change in attitude that has occurred as a result of this. We also work to increase awareness of mental health issues, by providing simplified and easy to read resources both offline and via social media (where the bulk of our target population can be found). We also encourage people to seek help as soon as it is needed, and serve to connect young people to appropriate mental health services/professionals'.
The non-profit now operates a 24-hour helpline and organizes a women-only, anonymous monthly support group called "Safe Place" aimed at building "a tribe of people who understand you, don't judge you, support you, embrace you, and hold you accountable in your mental health journey," Hauwa Ojeifo, 26, and a former research analyst at an investment bank, explained.
MANI hopes to change this. The burgeoning, youth-led nonprofit has built strong advocacy using social media, especially Twitter. Every month it focuses on a particular mental illness or topic related to mental health. Using hashtags such as #IamMentallyAware, #EndStigma, #FightingAD (for anxiety disorder), #NotACharacterFlaw (for personality disorder), and now #FightingSchiz (for schizophrenia), MANI hopes to dispel stereotypes, promote acceptance among people battling mental illness, and raise mental health awareness.