By Donu Kogbara
FOR the past couple of weeks, I have spent significant amounts of time in my home state, Rivers, talking to politicians, voters and INEC officials from the main parties – and observing (as a journalist) Presidential and National Assembly elections – alongside international election observers from various other countries.
I stayed in the same Port Harcourt hotel as observers from the United States, United Kingdom and the Commonwealth; and we all know what we personally witnessed and/or were told by seemingly credible witnesses. We were also all painfully aware that several people had been murdered in Rivers during election-related skirmishes.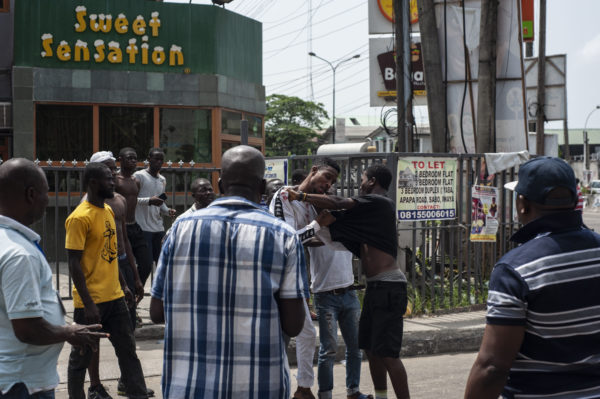 Election-related  skirmishes
There were also worrying incidents in other parts of the Federation – Lagos, for example; and I have to tell you, my dear Vanguard Readers, that I was shocked to the core when the UK/US governments and Commonwealth Secretariat published, with indecent haste if you ask me, reports that blithely glossed over  widespread violence, voter suppression, vote-buying, ballot box snatching and highly visible underage voting in the North.
The opposition Peoples Democratic Party, PDP, has never been a saintly outfit and was rightly accused of committing some of these crimes; but most of the serious misconduct allegations across Nigeria revolved around the ruling All Progressives Congress, APC.
I expected the people who wrote the foreign observer reports to do their jobs, be morally uncompromising and point out that because many of the complaints they received were easy to prove or worthy of further investigation, the election result was highly suspect.
But they chose to betray the Nigerians who trusted them to be objective and protective umpires. And they wound up giving the world the completely false impression that President Muhammadu Buhari won fair and square, give or take the odd supposedly irrelevant glitch.
One White man who belongs to an organisation known as the INDEPENDENT FOREIGN OBSERVERS/MONITORS even went on TV to shamelessly sing the army's praises, despite the army being, at least within certain communities, blatantly biased, terrifyingly aggressive and implicated in numerous unsavoury incidents.
For example, in one of the villages I visited last weekend, I was told that soldiers disenfranchised 16,000 people by confiscating election materials in four wards. Meanwhile, on Bonny Island, no voting at all took place last Saturday because a local APC grandee, fearing defeat, intimidated the populace with help from security personnel.
https://www.vanguardngr.com/2019/02/igbo-should-stop-emotional-politics-oye/
Security  personnel
And yet, within 48 hours of these outrages, by Monday/Tuesday, the internet and newspapers were full of foreign observer reports that congratulated this government for conducting satisfactory elections.
And let's not forget the domino effect: Once the foreign observers had endorsed the exercise, quite a few foreign journalists (many of whom did not travel much or do extensive research) followed suit.
So that's it for the foreseeable future; and I'm absolutely furious and wondering why foreigners chose to so cruelly abandon Buhari's main rival, Alhaji Atiku Abubakar, and his millions of supporters.
Some of the people I've spoken to think that the foreigners just want to safeguard their economic interests by avoiding crisis…and that they have decided that the safest way forward is to stick with a status quo that is far from ideal but stable compared to the chaos that may descend if Buhari's "victory" is seriously challenged.
Others think that foreigners can't be bothered to recommend a re-run because they profoundly despise us and think that we are hopeless jungle dwellers who aren't capable of civilized elections.
Another theory I've encountered is that foreigners either genuinely believe that Atiku didn't win overall – or suspect that he won but feel that he doesn't deserve their backing because they don't regard him as a suitable presidential material.
But even if this is the case, can't they at least properly acknowledge the massive misbehaviour and casualties that were inflicted on various innocents in various constituencies?
Do the people who died mean nothing?
Buhari said that ballot box snatchers would pay with their lives, but  it is often ordinary, law-abiding people who pay with their lives.
To be fair, some foreign observers mean well and are not happy about the sanitised reports that were pushed out by their superiors…while other observers simply saw nothing dubious going on because thugs tend to press pause when observers are around.
https://www.vanguardngr.com/2019/02/police-ll-be-professional-neutral-firm-igp-adamu-reassures/
It is also worth noting that the orderly lines that form behind ballot boxes in "quiet" polling units are not the whole story because much of the skulduggery goes on in the dead of night in collation centres, while observers are sleeping soundly or chilling out in hotel bars.
At the end of the day, I no longer see the point of foreign election observers. They add no real value and can even do harm by legitimising deeply flawed elections and shielding miscreants.
Flawed elections and shielding miscreants
Whether they are well-intentioned idealists who would tell the whole truth if they were allowed to write the reports or cynics who just want to be paid to gawp at natives behaving like animals, observers should stay at home and let us wallow in our own mess and misery!!!
Some Nigerians who feel cheated or traumatised by last weekend's drama actually believed for a while that foreigners would fly in to conduct a forensic audit of dodgy card readers, obviously fraudulent voting figures, videos depicting sponsored bullies and assassins, etc.
I laughed when I heard such naïve hopes being voiced earlier on this week because foreigners cannot save us. We must rescue ourselves.
Whether it is PDP rigging or APC rigging, I am sick and tired of our toxic rubbish. People get the leadership they deserve and we need to develop the courage and self-respect to ensure that our votes count!!!