Shell Petroleum Development Company (SPDC) says it is spending $5 million (N1.8 billion) to finance some projects in the Nigerian Maritime University (NMU), Okerenkoko in Delta.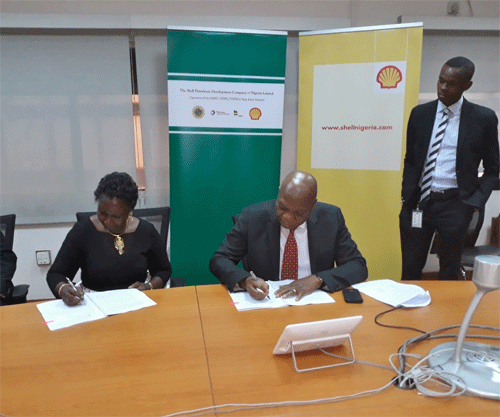 Mr Osagie Okunbor, SPDC's Managing Director, disclosed this on Wednesday in Port Harcourt at the formal signing of a Memorandum of Understanding (MoU) with the university's Vice Chancellor, Prof. Ongoebi Etebu.
APC/PDP supporters disrupt Gov Badaru, VC speeches at Lamido varsity convocation
He said the projects would be executed in phases with the building of lecture theatre complex followed by several other high priority projects in the institution.
"To this end, SPDC has committed five million dollars to the Nigerian Maritime University (NMU). This support and donation of infrastructure will be phased over three years.
"The proposed lecture theatre complex which was designed by the university is a two-floor furnished building that comprises three lecture auditoria.
"Other facilities in the complex include eight classrooms, one e-classroom, 14 offices and 18 conveniences," he said.
Okunbor said upon completion of theatre complex, other priority projects such as, lecture halls, student hostels and water treatment and distribution facility would commence.
He said the donation was conceived after several meetings with the Minister of State for Petroleum, Mr Ibe Kachikwu, and Joint Venture partners.
"The MoU will provide the management framework for overseeing the successful delivery of projects with both SPDC and NMU representation on the Project Management Committee.
"This support ties to our Global Social Investment Theme on Education as well as lead to our longstanding support for education and capacity development of the Nigerian youth," he said.
No more vessel waivers on Cabotage implementation, NIMASA warns
Speaking, NMU's Vice Chancellor, Prof. Ongoebi Etebu, said that SPDC was so far the only company in Nigeria and abroad to support the university.
She said that the NMU, being among the newest universities in the country, lacked key priority infrastructures needed for academic learning.
"We are truly surprised by this kind gesture from SPDC especially as we did not come to SPDC to ask for assistance in any form whatsoever.
"We have had our project management committee meeting and hopefully the project will start in April. We wish that other companies emulate SPDC to support NMU," she said.
Reports have it that the NMU, set up in 2016, began full academic programmes in 2018.