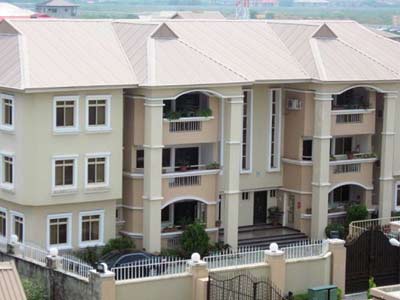 Apartments
By Kingsley Adegboye
A recently conducted research into short-let apartments in the commercial real estate space of property market in Lagos indicates that the need for short-let apartments has maintained an upward trend in spite of the current challenging economic situation in the country.
This increased demand has spurred savvy business operators to accelerate their expansion plans in 2018 by seeking out strategically located residential buildings or vacant apartments in prime areas to be converted into short-let apartments to meet the flexible needs of people who require such accommodation. Rethinking and re-ordering of priorities by multi-national corporations who now prefer to keep their expatriate workers in short-let apartments instead of full-scale residential accommodation, is a major driver of this rising demand. "One factor that has led to the increase in this sector is the upsurge in demand by corporates who would rather pay for short-let apartments for their expatriate staff as opposed to paying annual apartment rentals," Erejuwa Gbadebo, CEO, International Real Estate Partners, IREP, confirmed
Another major driver of this new trend is tourism, especially religious tourism which is growing in multiples in Nigeria with people looking for 'miracle' trooping into major cities, especially Lagos, on daily basis. The new trend, therefore, presents investment opportunity for real estate investors and developers. The rental range for short-let apartments is wide and depends on the quality, branding, unit size and location of the offer.   Rents can go as low as N25,000.00 for a studio apartment to as high as N140,000 per day for a three-bed apartment. "The commercial outlook for short-let apartments remains attractive in light of positive market fundamentals, expansion possibilities and strong levels of profitability. We believe this market presents unlimited opportunities and is a sector likely to spur increased investor interest," Gbadebo posited.
https://newlive.vanguardngr.com/2019/03/theres-been-improvement-in-foreign-investors-participation-apt-securities/
At global level, the hospitality industry is said to be one of the world's largest. A new report estimates the value of the industry to be in excess of $7.6 trillion in 2016 and is expected to reach $11.5 trillion by 2027; 32 per cent of projects under development in Africa are in the Western countries, currently home to just seven per cent of the existing supply. Most of these projects are in Nigeria, primarily in Lagos and Abuja, where projects spend longer in the pipeline phase than in most other African countries. The new report notes that the economic recovery in Nigeria saw the number of room nights sold in Lagos increase by 17.6 per cent with the tourism sector contributing $2.2 billion to the state's GDP in 2017. Despite the security challenges in many quarters, hoteliers continue to consider Nigeria an important market for the West Africa region, seeing that supply remains grossly unrepresentative in comparison to population and perceived demand. Across the nation, more infrastructure projects were awarded to Asian firms, increasing the number of Chinese consultants, workers and family members who need to shuttle between home and Nigeria. This also increased the demand for hotel accommodation, guesthouses and relaxation spots, creating investment opportunities for space providers.