As protest hits Imo police, ahead of Saturday's supplementary elections
By Chinonso Alozie
A group is known as Presidential Support Committee, PSC, yesterday, said it would proceed with its planned protests should the Independent National Electoral Commission, INEC, fail to issue Governor Rochas Okorocha his Certificate of Return as Imo West senator-elect.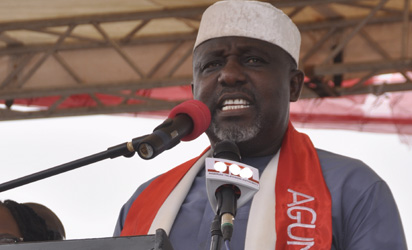 PSC  and  Southeast professionals led by Emeka Ugwu-Oju and Maxwell Okoye respectively,  made this disclosure in Owerri, adding that it had earlier given INEC March 18, 2019, as the deadline to meet their demand.
It should be recalled that Imo West senatorial election was enmeshed in controversies as the returning officer, Innocent Ibeawuchi said he declared Okorocha winner under duress. Since then,   INEC has refused to issue Okorocha a Certificate of Return on the report that he (Okorocha) was declared winner under duress.
However, the argument by the groups was that INEC should either issue Okorocha a Certificate of Return or conduct a run-off election, adding that by law, INEC does not have right to withhold Okorocha's Certificate of Return.
They also called for the removal of the state Resident Electoral Commissioner, REC, Francis Ezeonu, claiming that they were no longer comfortable with his activities in the state.
Declare Imo north senatorial result now, PDP charges INEC
They said: "Under the constitution of the Federal Republic of Nigeria and Electoral Act, INEC lacks the power to withhold a Certificate of Return in an election duly declared in line with the laws of the land or cancel an election that met the minimum requirement of the law."
This group, therefore, called on INEC to as a matter of urgency, issue a Certificate of Return to  Owelle Rochas Okorocha as Senator-elect, Imo West Senatorial District and to conduct a run-off election in line with Section 179 (4) of the constitution of Federal Republic of Nigeria.
Protest hits Imo police, ahead of Saturday's Supplementary elections
Meantime, scores of youths yesterday protested at the Imo State Police Command headquarters, ahead of Saturday's supplementary elections in the state.
The youths who are from Ikeduru Local Government Area said that they wanted to be assured of adequate security in the forthcoming Saturday's supplementary elections in Ikeduru and called for the arrest of the sponsor of the suspected bombers who were arrested in the last election in the area.
It should be recalled that about 40 polling booths were said to have been cancelled in Ikeduru by the Independent National Electoral Commission, INEC, during the last Governorship/House of Assembly elections.
It was in the same Ikeduru collation centre at Central School, Iho that it was reported that three persons suspected to be bombers came with explosives device. They were arrested by the military in the area at the time of collation exercise.
As a result of this development, the youths said they were afraid of a similar thing happening in the Saturday's election.
According to one of their leaders, Samuel Nwokocha, "We want security to be guaranteed in the election that will hold on Saturday in Ikeduru. We are afraid of what happened last time and we are not happy that some people were mentioned as those who sponsored some boys to bomb the collation centre, but the person is still walking about freely. We want him to be arrested."