The press got a foretaste of the much awaited suspenseful and emotional drama, Joba, on Thursday at the Genesis Cinemas, Maryland Mall, Lagos.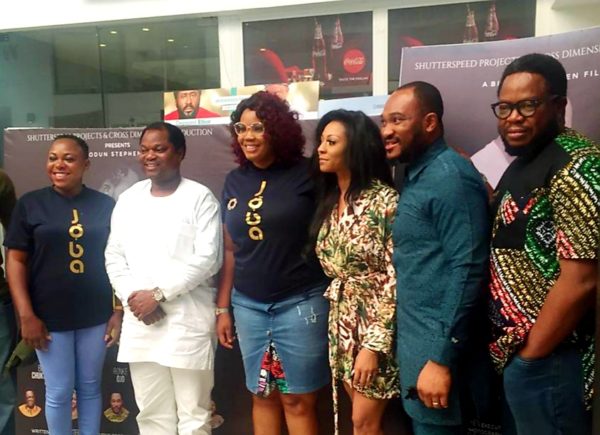 Before it is set for cinematic release from April 5, journalists were given opportunity to critic the faith-based movie.
The screening was attended by the movie producer, director and writer, Biodun Stephen, alongside cast like Blossom Chukwujekwu, Enado Odigie, Chris Iheuwa, and co-producer, Christine Osifuye. Other celebrities present include Bisola Aiyeola, Woli Arole, Gospel Singer Psalmos, and Senior Pastor of Christ Livingspring Apostolic Church (CLAM) Wole Oladiyun, among others.
When the media was invited to see Joba, they weren't expecting less from Biodun Stephen, the brain behind some Nollywood blockbuster movies like Picture Perfect and The Visit that pulled huge cinema crowd; then Ovy's Voice and Ehi's Bitters rated as the best, by audience choice, on iRoko TV in 2017 and 2018 respectively.
Although told using faith-based template, Joba has a strong and relevant emotional core that exist at given period in everybody's life. It connects the viewers to events in their personal lives that question their beliefs, self-esteem and tenacity. Biodun Stephen achieves this using vivid relatable life experience to pass a message centered on love, strength and omniscience of God. The movie plunges it audience into a very gripping emotional journey on the travails of a young Christian couple battling between their marriage and faith. The faith of the couple is tried, especially when all fingers are pointed to the husband as the cause of their troubles. He must protect his wife who is on the verge of insanity, whilst still managing to keep his faith. It is a production by Shutterspeed Projects in collaboration with Cross Dimension Production.
Judging from Biodun Stephen's cinema works like The Visit and Picture Perfect, Joba raises viewers' enthusiasm and expectations to a rewarding high-quality offering. Joba did not only meet these expectations but also exceeds it with its compelling storytelling, brilliant performances from Blossom Chukwujekwu and Enado Odigie and with some laces of amusing scenes that bring touches of comic relief to an audience who is most likely on the verge of emotional outburst as a result of the captivating story.
The cast assemble was perfect. It showed in the chemistry between Ore ofe played by Enado Odigie and Lamide by Blossom Chukwujekwu.
Though a faith-based movie, one would praise the producer's ingenuity in not making it look like a regular church story with a predictable end. Biodun Stephen brings her creativity in not even making a church scene from the movie, rather twisting the storyline around the trails and tempest of the Christian couple. And as a director, she worked around the cast to squeeze out a perfect rendition of the script.
Showing from April 5 in cinemas nationwide, it will be a delight to see Joba.