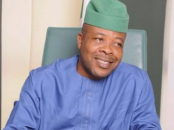 Ihedioha
By Martins Nwamadi
The widespread jubilation and celebrations that have heralded the declaration of Hon. Emeka Ihedioha of the Peoples Democratic Party, PDP, are a demonstration that Imo State has been in chains under Owelle Rochas Okorocha's administration.
While we congratulate Ihedioha for this resounding victory, we should be cautious, and never to be carried away with the ephemeral joy that victory can confer, especially in a state that has been damaged beyond definition.
Beyond this facade of frenzied celebrations, lies more work. For Imo to work again, the first task facing the new governor is to get the right people with the right expertise and experience to include in his cabinet, while not discountenancing political patronage.
In his manifesto, he had boldly stated his resolve to move Imo forward, beyond   the putrid stench of hollowness and choking underdevelopment that was the hallmark of the out-going administration.
He stated: "My experience of the past few years, as a public servant, a distinguished legislator and committed Imo patriot, has provided me with a deep understanding of the immense challenges facing our dear State, Imo, and the expectations of the different stakeholders.
"I firmly subscribe to integrity, accountability, transparency, equality, rule of law, a responsive government and democracy as core values and the foundation for prosperity and stability. To this end, I shall do my utmost to safeguard the rights and security of every Imo citizen and ensure that those rights are fully respected." This is the way to go.
Indeed, Ihedioha has all his hands full. There is work and there is work to do. If he must succeed-and he should- the first thing on his agenda should be the embarkation on political healing.
Under Okorocha, many souls have been broken. Relations were severed. People were not only divided along political lines, families, communities and villages saw themselves working at cross purposes. Bitterness and belligerence were added to the political lexicon of Imo State.
Parker J. Palmer in his piece, 'Healing the Heart of Democracy: The Courage to Create a Politics Worthy of the Human Spirit', says the more you know about another person's story, the less possible it is to see that person as your enemy. How true. Ihedioha has known the story of Imo and that of Okorocha. He should see everybody as his friend.
Ihedioha knows the serious damage the past administration did to the state. I expect him to understand that he was not elected to pursue vendetta. Where there is need to recover looted fund, he should do so. But let him remember that he was elected to move the state forward.
He needs to be more compassionate, understanding and loving toward the opposition in order to maintain an infectious moral compass. The massive goodwill shown to Okorocha at inception which NdiImo are again showing to Ihedioha as seen in the wide celebrations should not be treated with levity.
Political inclusiveness is another project he must take seriously. When people are disillusioned with government, they are torn apart and drawn to issues that do not elevate government and development in the state.
The extent to which his government would succeed will be dependent on the participation and representation of all citizens in democratic institutions and processes. This underpinning     political inclusiveness means that every citizen, regardless of   political affiliaion, class, age, gender, sexual orientation, ability, group, clan or kindred or religious background should have an equal right and opportunity to engage with and contribute to the functioning of   government institutions and processes. They should see Ihedioha's government as a people-oriented government.
He should not be afraid of confronting the challenges that come with this open-mindedness, especially the increasing difficulty by which the needs and aspirations of citizens can connect with his government.
In my earlier interventions during the campaigns, I have alluded to the fact that Imo needs an infrastructure revolution.   I want to say again that no meaningful development can take place in a state in the absence of a robust infrastructure investment. How can we facilitate and spur economic growth, provide better connectivity and enhance productivity and efficiency when the entire landscape of Imo   has turned into dustbin of infrastructure decay and abandonment?
Quality roads and effective transportation system; oil and gas, electric power projects; water schemes, rural development and provision of recreational facilities are part of the holistic integrated infrastructure master-plan that will promote economic activities and business in the state.
I make bold to remind him that his manifesto promised to pursue the complete dualisation of major roads linking Owerri capital territory to the four parts of the State namely Owerri-Orlu road, Owerri-Okigwe road, Owerri-Umuahia and Owerri-Aba road, and that access   roads to the 27 Local government headquarters in the State would also be constructed. He should carry out agenda with unrelenting pursuit.
For Imo to work again, Ihedioha should use his connections to attract investments to the state. Massive Investments in Infrastructure and investments is the quickest route to economic growth and development. He should reconnect with NdiImo in diaspora and other states in Nigeria who have the means and are willing to invest in our state.
*Nwamadi is a Lagos-based public affairs commentator.