By Clifford Ndujihe, Dapo Akinrefon & Monsuru Olowoopejo
LAGOS—IN what appears to be a boost to his chances of winning the March 9 governorship election in Lagos State, Mr. Babajide Sanwo-Olu, the All Progressives Congress, APC standard bearer, has been endorsed by the Ohanaeze Ndigbo, who in turn are seeking six slots in his government after his victory.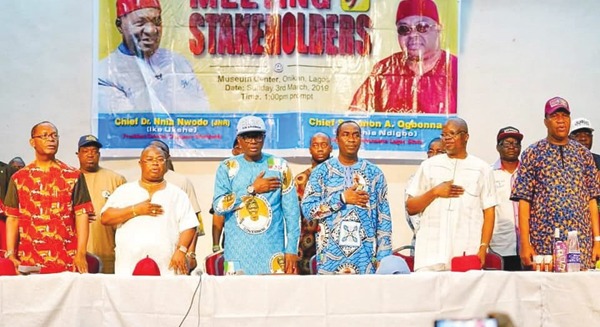 Ohanaeze leaders, who promised to mobilise two million registered Igbo voters to vote for Sanwo-Olu conveyed their decision at a town hall meeting on Sunday night, in Lagos. Sanwo-Olu was at the event with his running mate, Dr. Obafemi Hamzat.
In a quick response to the development, the Peoples Democratic Party, PDP, governorship candidate, Mr Jimi Agbaje considered to enjoy the support of many Igbo in Lagos, said he was not bothered about the endorsement but that the APC should allow people to cast their votes on election day without intimidation.
Assuring Sanwo-Olu of their support, Ohanaeze leaders who alleged attacks on Igbo in some parts of the state during and after the February 23 Presidential and National Assembly polls, tasked Sanwo-Olu on protection of Igbo in the state and six appointment slots after the election.
President, Ohanaeze Lagos State, Chief Solomon Ogbonna, hinted that they have concluded plans to cast their votes for him but he must yield to their demands after the election.
Ogbonna said: "We are endorsing him because this is the man that will give us what we have been craving for in Lagos. This is the best that can happen to Ndigbo in Lagos, so come out and vote for him. Hold me responsible for this because I know him and I have seen what he can do."
The president disclosed that when their members were attacked after the Presidential and National Assembly elections, "Sanwo-Olu's actions showed his love for the Ndigbo to live peacefully in Lagos."
Former President, Chief Oliver Akabueze, explained that their members voted against the APC candidates during Presidential election because they did not like the choice of the party.
"What played out during last election will not happen next Saturday because we love Sanwo-Olu. During last election, the choice of the party did not meet our expectations and that is why we did that."
Secretary, Ohanaeze Lagos, Chief Everest Ozonweke, stressed that the endorsement does not indicate that Ohanaeze has started engaging in politics but "we very concerned about how we are governed. The lives and property of Ndigbo are our priorities."
The Woman leader, Mrs. Nkechi Agubuzor, disclosed that over two million of their members would be mobilised to cast their votes for APC candidate.
Responding, Sanwo-Olu argued that next Saturday's election was about the future of the state and not about any individual.
He urged that residents to avoid anyone that raise ethnic sentiments before and after the election because it would not aid developments but crisis. When I am elected, I will operate an inclusive and transparent government. I can assure anyone of that."
I'm bothered about free, fair poll – Agbaje
Reacting, Mr. Jimi Agbaje said he was not bothered about the endorsement but stressed that APC should allow people to cast their votes on election day.
"Everybody has a right to demand for what he or she wants, they are free to demand appointments. For me, I hope the ruling party in Lagos will be more comfortable enough and allow everybody to come out and vote on Election Day. That is what matters most to me and not what anybody wants. The ruling party should do everything possible to allow everybody come out and vote on election day. That is all."
Why Sanwo-Olu, Agbaje need Igbo votes
To win next Saturday's election, Sanwo-Olu and Agbaje need all the votes they can get from all quarters especially the Igbo, who constitute about one-third of the 5.5 million voters with Permanent Voters Cards, PVCs in Lagos.
Reason: In the last two electoral cycles, elections were tough in the state even though the camp belonging to APC National Leader, Asiwaju Bola Ahmed Tinubu, had the upper hand.
Starting from the Alliance for Democracy (AD), Action Congress (AC), Action Congress of Nigeria (ACN) and APC, the ruling party recorded landslide victories over the PDP in most of the six governorship elections held since 1999 with the exceptions of the 2003 and 2015 contests, which share a number of similarities.
In 2003, Governor Bola Tinubu, who ran on the cards of Action Congress, AC, won his re-election after garnering 911,613 votes compared to late Funsho Williams' 740,506 votes, a margin of 171,107 votes. Williams contested on the banner of the PDP.
Indications that the 2015 governorship election would be tough emerged early. It became very obvious after the March 28 Presidential and National Assembly elections where the PDP gained a lot of electoral mileage in the state.
General Muhammadu Buhari, (retd), the presidential candidate of APC won in Lagos, his margin of victory was not huge. He led President Goodluck Jonathan of the PDP with 160,133 votes as Jonathan scored 632,327 votes with the PDP winning five House of Representatives seats, the first time of it winning a federal legislative seat in Lagos since 1999.
In the governorship election, the keenest governorship and state legislative polls since 1999, the PDP also won six seats in the 40-member Lagos State House of Assembly. The opposition party also narrowed the gap with which the APC beat it in the presidential election with many voters in Amuwo-Odofin, Ojo, Ajeromi-Ifelodun, Oshodi-Isolo and Surulere voting for what they chorused Lagoon straight, which means Agbaje in reference to Oba Rilwanu Akiolu's threat that Igbo would be thrown into the Lagoon if they voted for Agbaje.
The APC governorship candidate, Akinwunmi Ambode scored 811,994 votes while Agbaje got 659,788 votes. APC won in 15 local councils while PDP won in five. Ambode beat Agbaje with a margin of 152,206 votes which is lower than Buhari's 160,133 votes triumph over Jonathan.
At the last Presidential election, President Buhari won in Lagos State, by defeating his rival, Atiku Abubakar of the PDP with a 132,798 vote margin. The margin was lower than the 160,143 votes with which Buhari defeated Jonathan in 2015. Buhari polled 580,814 votes to beat Atiku, who got 448,016 votes.
Apart from narrowing APC's gap, the PDP also won four seats into the House of Representatives. This was in spite of destruction of ballot papers and cancellation of the polls in Igbo-dominated areas of Okota and Ojo.
The outcome of the last presidential and National Assembly polls indicate a looming tough contest between Sanwo-Olu and Agbaje in Saturday's governorship election, a reason each of them needs all the support he can get.