By Chinedu Adonu
ENUGU – INDEPENDENT National Electoral Commission, INEC, has said that it is studying wild allegations made against the commission during the 2019 general elections for the possibility of taking culprits to court.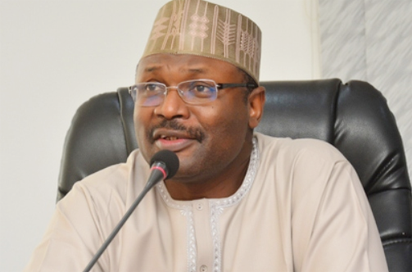 The INEC Resident Electoral Commissioner, REC, Enugu, Dr Emeka Ononadu who said this during a post election media briefing at INEC office Independent Layout, Enugu on Tuesday, warned that INEC was not ready to condone reckless allegations that cast aspersion on the electoral process.
Injustice in Delta APC must be addressed— Ejogharado
"Although, certain political groups effortlessly tried to falsely label INEC, security agencies and Central Bank in an attempt to find to find one way or the other to scuttle the process, the maturity exhibited by citizens was enough to send their plans to the cleaners.
"I am also studying those wide allegations for possibilities of seeking court redress because it is not politicians for possibilities of seeking court redress because it is not only politician that can always take INEC to court.
"INEC and its staff also have a name to protect; we are not going to tolerate reckless allegations that can cast aspersion on our democracy and electoral process. We are moving towards a direction when nobody will get away with any unsubstantiated allegation that robs off on the credibility of an election.
He thanked all stakeholders who participated in the election in the state for displaying, " a rare attitude in this era of extreme political rascality displayed in different states during this election, which made the job of extremely difficult for most of my skilled colleagues in other states.
Election: Ambode harps on culture of 'One man one vote'
"This is a testimony that democracy is reaching its maturity stage in Enugu and we hope that other parts of Nigeria will emulate the level of peaceful conduct exhibited during the general election.
Dr Ononammadu who bemoaned the level of voter apathy which was witnessed in the state during both the presidential and gubernatorial election in the state called on the people to objectively access the activities of the commission in the state.
"While we had teething logistics challenge during the presidential election, we overcame all of those challenges during the governorship election and became the first state that had the all the 4,145 polling locations to open before 8am on the election day.
"The only snag which I did not know the main reason was the voters apathy which saw less than half a million voters coming out to vote out of the 1.9 million registered voters and the 1.7 million voters with PVCs.
"We wish to announce that we have fulfilled our promise to Nigerians living in Enugu. Now is the time to review our performances in the face of numerous challenges among which are some uncontrollable variables. We want you to be objective and fair in your assessment of our performance," he said.
Subscribe for latest Videos