By Emmanuel Aziken
Immediate past National Security Adviser, Col. Sambo Dasuki (retd.), has laughed off speculations on his death during an encounter with a former trusted aide allowed by Department of State Services, DSS.
The visit to the incarcerated erstwhile National Security Adviser was allowed by the DSS penultimate Saturday to douse speculations in social media and among concerned stakeholders that Dasuki died in DSS custody.
The interaction between Yushau Shuaib and Dasuki, who worked for the latter while he was NSA, took place at the headquarters of the DSS in Abuja, Shuaib said in a statement made available to Vanguard.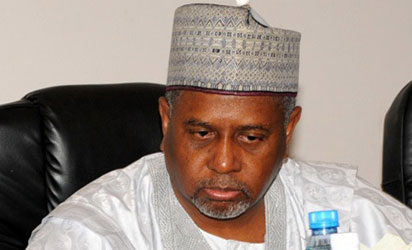 Shuaib was escorted on the visit by Talatu Ezeruike, a broadcast journalist with NTA. However, Dasuki reportedly refused to allow a video recording.
Giving his narration of the interaction, Shuaib said: "On arrival at the DSS reception, I was a bit worried seeing a media crew from the government-owned Nigerian Television Authority, NTA, led by Talatu Ezurike at the premises of the secret service.
https://www.vanguardngr.com/2018/12/memo-to-sambo-dasuki-on-alex-badeh/
"We were later ushered into the office of DSS spokesperson who described the news of Dasuki's demise as fake, callous and inciting, saying: 'There is no iota of truth or credibility about the rumoured death of Col. Sambo Dasuki. We make bold to state that the former NSA is very much in good health and not dead. Therefore, it behooves the general public to disbelieve and condemn the atrocious online story that Dasuki has died in DSS' custody.'
"He later led us (this writer and NTA Crew) to meet the former National Security Adviser in a modest room, that looks like an office.
"With a cup of tea before him, Dasuki looked relaxed and unperturbed as he welcomed us. He cracked jokes on his rumoured death.
"We chatted for a while as he expressed himself freely and courageously on how he felt about being unjustly detained after sacrifices to his fatherland."
Before we left, I suggested he should allow his photograph to be taken while he was sitting. He reluctantly agreed.
"I pray that sooner than later he would be vindicated and freed from the baseless and malicious allegations against him.