By Godfrey Bivbere & Cynthia Alo
Following public complaints about the activities of Customs operatives along Mile2 – Seme expressway,  Customs Area Controller, CAC, of Seme Border Command, Garba Uba Mohammed, has said that the Service does mount checkpoints but have patrol spots.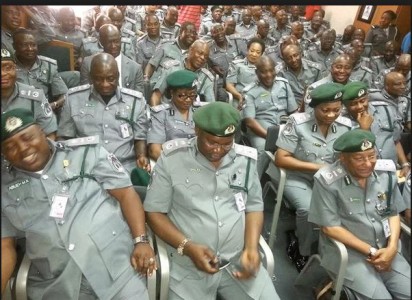 Speaking with Vanguard Maritime Reporters, the Customs boss noted that there is a need to enlighten the public about the difference between a checkpoint and a patrol because get both missed up most of the time.
According to him, "A patrol place is a place where Customs or other security operatives either sit on their vehicle or on a bench or canopy while a checkpoint is an authorized place where there is a barricade. 
"You cannot pass unless the barricade is removed while patrol place is a place where Customs or other security operatives either on their vehicle or in a bench or canopy." 
"I urge everyone to bring to our notice where a particular place that is supposed to be a patrol place but has been made permanent. 
"This is where all of us need to work together while each person contributing significantly from his own point of view." 
On incessant smuggling across the country, Mohammed said that there is no country had successfully eliminated smuggling, adding that measures can be taken to limit this activity. 
He noted that there are so many unapproved routes across the country that smugglers use to ply they trade accord to statistics by the Nigerian Immigration Service, NIS.
According to him, the statistics of the NIS shows that Ogun State has about 84 while Adamawa has 83, among others.