By Ebele Orakpo
There's nothing in a name, so goes a popular saying. But for Emmanuel, a 17-year-old boy from a small village in Riyom Local Government Area of Plateau State, this Hebrew name, meaning 'God with us', has, no doubt, worked for him. The life of young Emmanuel has proven that age-long saying wrong because, based on what he has gone through in his short life on earth, Emmanuel has no reason to be alive today save for the God factor. God was indeed with him. Sunday Vanguard first heard of Emmanuel from the founder and former Director of Jos-based Open Doors for Special Learners, Professor (Mrs) Joanne Umolu. In a chat with Sunday Vanguard, the former lecturer in the Department of Special Education, University of Jos, said she was elated when Emmanuel was discovered and they had planned to bring him to the centre in Jos but, unfortunately, a few days before the D-day, herdsmen struck and sacked the community. Umolu was apprehensive…was Emmanuel dead or still alive? Nobody could tell. They had to wait with bated breath for the curfew imposed on the area to be lifted and security restored before they could visit again to find out. In this report, we present the accounts of those involved in rescuing Emmanuel, his mother and siblings and giving them a new life.
According to Umolu, a team comprising Mr. Ijimbli Odaudu, Speech and Language trainer, Mr. Okechukwu Ogbonna, Coordinator, Special Education Unit, Kehinde, physiotherapist, all of Open Doors, alongside Mr. Davou Seth Dung of Heart of Hope, a partner organisation, all participated in ensuring that Emmanuel, his mother and siblings were brought to Open Doors.
"Now Emmanuel is in Miss Uche Madueke's class and Kehinde takes him for physiotherapy twice a week," said Umolu.
How it all started
In a chat with Sunday Vanguard, Mr Davou Dung said: "Emmanuel was living in a community close to Jol in Riyom District of Riyom Local Government Area of Plateau State before their community was sacked by herdsmen during one of their attacks. His family then moved to Jol community. It was there that one of our Heart of Hope-trained community volunteers identified him during one of her visits to identify children with cerebral palsy."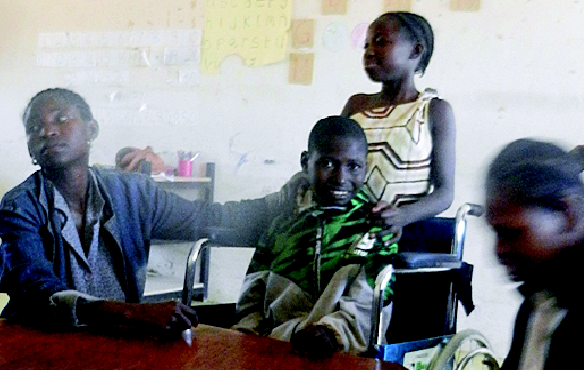 Corroborating this assertion, Ijimbli Odaudu said: "We were part of a team that went to the village for a follow-up evaluation especially for children with cerebral palsy."
Harsh living condition
Continuing, Ijimbli said: "We found a very pathetic case of a child who was isolated in a room with no ventilation and with the barest of comforts. The floor was not paved, no blanket, just a cover cloth on the floor on which he sleeps. He slept, ate, urinated and defecated in that room; very unhygienic condition!
READ ALSO: How I made Second Class Upper in UI, Law School in spite of being deaf —Prosphen Dumi
Said Davou: "When his family first arrived in Jol from their sacked community, they had no accommodation; so they were putting up in a room given to them by a relation, but for Emmanuel, he was left at the outskirts of the community. In fact, he was staying in an uncompleted structure where pigs were kept. He stayed there come rain, come shine. Food was taken to him there whenever available. He had no protection against the harsh weather. When his father eventually built a house, he put him alone in one of the rooms with a small window and the door was always closed. He ate, slept and defecated there. He had rags for a bed, no clothes to keep warm in that adverse weather. Sometimes he went for two days without food."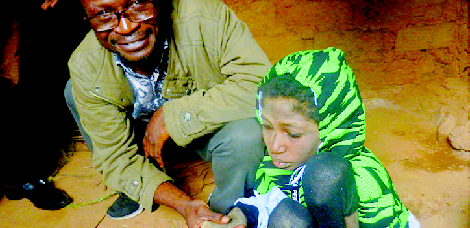 What to do?
Having seen the problem, the team needed to do something fast to rescue the helpless child.
Ijimbli said: "We asked questions around and we got to meet with the mother, Mrs Esther Danjuma and asked her some questions about the child's condition and age. According to her, Emmanuel was born a normal child until age three when meningitis and malaria struck. The illness affected his brain leading to brain damage; consequently, he had developmental, language and mobility challenges.
"A person with such challenges, especially in a remote community like theirs, with no access to special intervention, will progress in age but retrogress in developmental milestones and that was exactly Emmanuel's case. Although he is 17 years, going to 18, he doesn't look it at all."
Emmanuel's survival, a miracle
Attributing Emmanuel's survival to God's miracle, Ijimbli said: "Up until the last attack on the community by unknown gunmen before Emmanuel was rescued, surviving everyday was very difficult for him especially because he could not move and his parents could not carry him while fleeing. "As a result, he was always left there at the mercy of gunmen and, somehow, miraculously, he was never killed although we have a feeling that he must have had one or two encounters with gunmen who probably wanted to kill him and saw his condition and decided there was no need killing him; but for how long were we going to keep hoping that these merciless people would spare him?"
Jol to Jos
Ijimbli went on: "So we decided it was very necessary to take him out of that place and, in doing so, we had to do a lot of canvassing. We had to get the consent of the parents first because even in Jol, they were like refugees; they had come from another community further inland.
"We went back to Jol on one of the occasions with some clothes for him because he was ill-clad, malnourished and the weather was very cold. We got him clothes to keep him warm pending when we will make better arrangements to get him to Jos which we did a couple of months later. We also tried to get a lot of people involved including the Plateau State Ministry of Women Affairs and Social Development. They had been very slow in responding to us though, on what it will take to get Emmanuel the required care which includes medical care because he was malnourished and also drugs. We had to get him a physiotherapist because the muscles were atrophied and initial evaluation by doctors showed that he would respond well to therapy and his physical challenges could be addressed in the long-term. He will also need a dietician, neurologist and paediatrician."
New life
"Ultimately, we had to take Emmanuel along with his mother and four siblings to Jos. They are in one small room in our centre, Open Doors. We are not well equipped to take care of Emmanuel, so we are liaising with some voluntary organisations like Faith Alive Foundation Jos, the owners of Faith Alive Hospital.
"He is responding well; a little more sociable now. He lacked social skills."
Speaking on Emmanuel's progress since arriving in Open Doors, his class teacher, Uche Madueke, popularly called Miss Courageous, said that Emmanuel is looking better now than he did when he was brought in.
"He was severely malnourished but, now, he is looking much better. He is happy now, mixing up with other children. The mother is living with him in our school environment," Madueke said.
Asked how the mother felt each time she had to leave Emmanuel behind to flee with the other children, Ijimbli said: "I think, naturally, any mother would feel terrible. There was nothing she could have done under those circumstances. She would have had problems carrying Emmanuel and her other children.
"The father is at the centre of defending his community against the attackers and also doing his best to provide for his family. These are agrarian communities; they are farmers who cannot farm anymore because of incessant attacks by herdsmen."