By Osa Mbonu-Amadi, Arts Editor
From 16 to 22 March 2019, two Nigerian rising stars in painting, Joseph Bidemi and Yemi Uthman will be holding a joint exhibition of their works at Alexis Galleries, Akin Olugbade Street, off Idowu Martins, Victoria Island Lagos.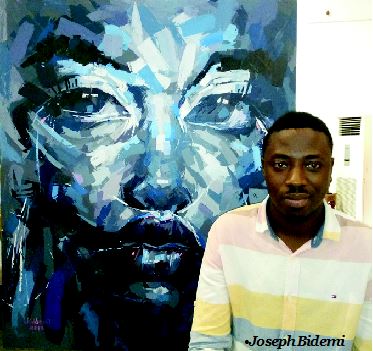 Thirty-year-old Bidemi is an impressionist whose works are heavily influenced by his childhood experiences, especially the story of his mother who died giving birth to him. As a result of that, Bidemi became passionate with portrayal of women's faces in many of his paintings. "I am an impressionist by style. My work borders on emotion. I play with colours –laying patches of colours together to create forms and images," he says.
Coming from a polygamous family, Bidemi says he experienced a lot of negative emotions when he was growing up. "It was the longest wait of my life to get liberated. By that, I mean just getting out of what I called a cage where I saw constant emotional and verbal abuse. You can imagine a father having about 13 children. So the only way to put them under control is to verbally abuse them, to make them feel intimidated. Most fathers in polygamous homes are very hard to please. Being the last born anyway, I experienced a little bit of love and attention, even though it was a divided attention."
Bidemi's father was a successful businessman who wanted him to be a doctor, but Bidemi, who had started drawing when he was two years old, loved art. When his father saw his interest, he encouraged him to pursue his dream.
READ ALSO: Arts will survive when people recognise its importance, says stakeholder
Facial expressions, emotions, and body language are familiar features of his works, featuring his new series:  Insecure, Unveiled (xiv) and The Royal Guard.
Bidemi's art is known for its dynamism in colour with special emphasis on portrayal of women's faces. Women play a central role in his compositions, which also allows him to connect with everyone and everything.
The artist is greatly mused by the anthropology of emotion. He enjoys the distinct movement of the palette knife which he uses to achieve tactile realism juxtaposed with subtle lines and bold strokes of vibrant colours.
He was born and bred in Jos, Plateau, his mother's home state. He comes from Oyo State but resides in Lagos where he is currently practising as a full-time studio artist. He graduated in 2012 from Ahmadu Bello University, Zaria, Kaduna State, with a Bachelor's degree in Fine Arts, specialising in drawing and painting.
Bidemi's works are privately collected in Nigeria and internationally. He also has a couple of his works in the collection of King Mohammed VI of Morocco.
Yemi Uthman, on his own part, is a monochrome painter. He had recently started adding colours to his paintings, producing fascinating masterpieces. Women and children are his key influences.
With Truth, he reintroduces himself and provides a rich indigenous platform for his life and work, transiting from figurativism to landscape art.
Yemi Uthman is an impressionist and realist painter. The artworks featuring in the exhibition are from Uthman's new body of works consisting of series such as Essential Scarcity, Reflection and Entertainers.
Uthman is a full-time studio artist, practising at Dutchman Art Studio located in Ikeja, Lagos. He has participated in various art exhibitions both at home and outside the country.
For this exhibition, Alexis Galleries is partnering with Down Syndrome Foundation Nigeria, DSFN, a non-governmental association of children with Down Syndrome, DS. Most kids with Down Syndrome are neglected or abandoned by their parents and society due to certain negative beliefs and myths that tend to stigmatize them and their family. Some are also abused physically and sexually, and in some cases, denied their rights to life.
Patty Chidiac-Mastrogiannis, founder & director of Alexis Galleries, prides herself on her ability to create awareness about kids with Down Syndrome.
Down Syndrome Foundation Nigeria is committed to bridging the gap between Down Syndrome cases and the rest of the society through a support system that seeks to integrate them into the mainstream of society. This commitment is rooted in the firm belief that if given the necessary encouragement and enabling environment to grow like others, people with DS can, and do actualise their potentials and live fulfilled lives.
Part of the proceeds from this exhibition will be donated to the DS Foundation.
The exhibition is supported by Tiger, Pepsi, Mikano, Amarula, Delta Airline, Nederburg, Cobranet Internet Service Provider, Cool FM, Wazobia TV, Art Café and The Homestores Limited.