By Rotimi Ojomoyela
Ado – Ekiti-The Independent National Electoral Commission (INEC) has declared Hon.Adegbuyi Oluwajuwa of the All Progressive Congress, as the winner of the Ekiti East Constituency 1, State House of Assembly election.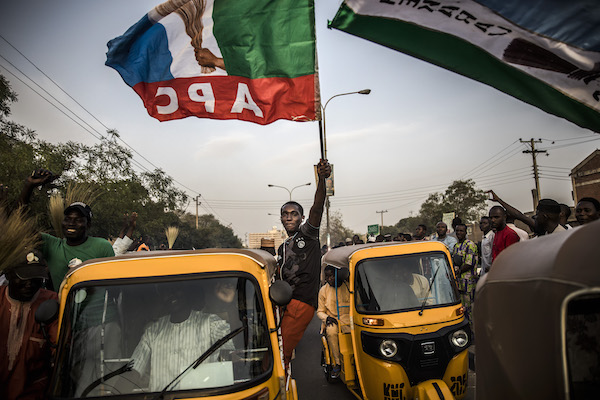 According to the INEC Constituency Returning Officer for the election, Dr Chika Asokwa, "at the completion of the supplementary elections, Oluwajuwa polled 5, 484 to defeat his opponent from the PDP who polled 3,258 votes".
The Independent National Electoral Commission (INEC) had declared elections of Saturday 9th March in the five units of the constituency as inconclusive, having been allegedly characterized by violence.
Affected areas where the election was held were four polling units, namely Ward 9 Polling Unit 3 Aya Alaafe; Ward 9 Polling Unit 8, Odo oro; Ward 9 Polling Unit 9, Odo-ile and Ward 6 Polling Unit 3, Ekurugbe.
The supplementary election was majorly between MrJuwa Adegbuyi of the ruling APC, and the current occupier of the seat and candidate of the opposition PDP, Mr Ojo-Ade Fajana.
There was also impressive turnout of voters at today's election, as many registered electorates arrived early for accreditation, compared to what obtained during the first round of the assembly poll.
Heavy security mounted by combined team of Police and Civil Defence prevented breakdown of law and order.
Materials arrived enough at the four pulling units where the exercise took place, even as restriction placed on both human and vehicular movement by INEC was strictly enforced in the entire local government area.
https://www.vanguardngr.com/2019/03/supplementary-elections-pdp-accuses-inec-of-working-for-apc-2/
APC had earlier won 25 of the 26 available seats in the state House of Assembly, leaving behind only that of Ekiti East (1) Constituency, now being re-contested.
INEC Administrative Secretary in the state who doubles as Acting REC, Dr Muslim Omoleke who monitored the poll exercise in company with his staff, commended people of the area for their orderliness.