By Dennis Agbo
ENUGU- MEMBERS of the All Progressives Congress, APC, in Enugu state, on Thursday, protested at the office of Independent National Electoral Commission, INEC, asking for postponement of the governorship and state Assembly elections scheduled.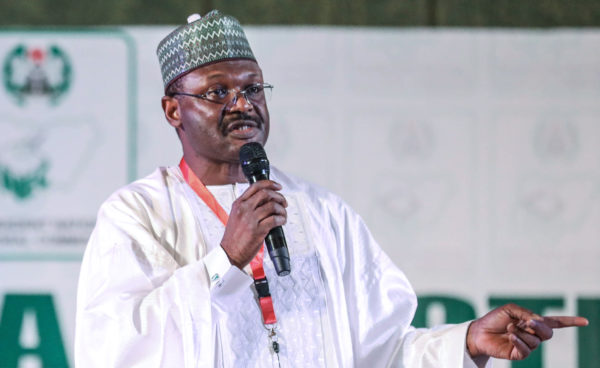 The party also announced the court of Appeal restoration of Senator Ayogu Eze as the authentic governorship candidate of the APC in Enugu state.
Election: INEC assures level playing field for eligible voters
In a protest at the INEC office in Enugu, Chairman of the party in the state, Dr Ben Nwoye accused the Resident commissioner, Dr Emeka Ononamadu of compromise prior to the election.
Nwoye Speaking on behalf of his large followers at the INEC office accused the electoral commissioner of giving the Peoples Democratic Party, PDP, officials unfettered access to the Central Bank of Nigeria, CBN, in Enugu, where the sensitive materials were allegedly distributed on Wednesday.
Nwoye also alleged that the commission had indeed given the result sheets and other sensitive materials to the PDP stalwarts and demanded for postponement of the election to remedy the situation.
He also said that because of the earlier removal of the candidate of the party from INEC manifest, the party supports were dissuaded, but that now the mandate has been restored to Eze, the party needed extended time to re-prepare for the election.
Nwoye equally asked the Resident Electoral Commissioner, Ononamadu, to resign from his job for the alleged compromise of his office.
INEC confirms arrival of sensitive, non sensitive materials in Enugu
Before take off to the INEC office, the restored governorship Candidate, Senator Eze told newsmen that his mandate was restored at the Appeal court in Abuja on Thursday morning.
Eze said the previous development on the void of his candidature was unfortunate and one that was not supposed to have taken place in the first instance.
Responding to the protesters, the Resident Electoral Commissioner, Ononamadu, told the protesters that himself was a product of protest from the civil society and denied all the allegations against him.
"However, I will convey your message to the commission," he promised.
Subscribe for latest Videos