…Says God's going to unseat Buhari
By Anthony Ogbonna
The National Chairman of the Peoples Democratic Party, PDP, Uche Secondus, has, Tuesday, condemned President Muhammadu Buhari over his recent death threat against anybody caught snatching ballot boxes on Election Day, saying President Buhari is not God.
Read: Atiku to army: Protecting territorial integrity your business, not elections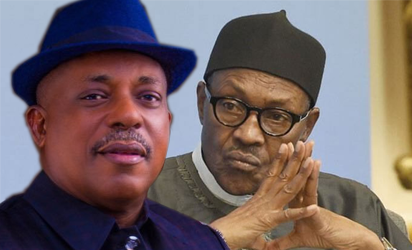 Read: Buhari's violated Nigeria's constitution – Atiku
Mr. Secondus also lambasted the President for issuing a 'kill order' against his "countrymen and women for the sake of elections," wondering if the president thought he were God.
Secondus made the statement during the meeting of the PDP National Executive Committee, NEC, meeting on Tuesday.
President Buhari had warned Nigerians
That he had mandated the military and the police to deal ruthlessly with anybody caught snatching ballot boxes during coming Saturday's election.
He had said that, "I have briefed the law enforcement agencies and the military. They have identified the hot spots, flashpoints.
"They should be prepared to move. We have made as much arrangement as possible and resources provided as much as the country can afford.
"Anybody who decides to snatch ballot boxes or lead thugs to disturb it, maybe this is the last lawful action you will take.
"I really gave the military and the police (order) to be ruthless. We are not going to be blamed that we want to rig election. I want Nigerians to be respected. Let them vote whoever they want across the parties.
"I am going to warn anybody who thinks he has enough influence in his locality to lead a body of thugs or to disturb the voting system, he will do it at the expense of his own life."
But, condemning the president over the statement, the PDP National Chairman said Buhari is insensitive to killings in the country.
He accused the president of even setting his party members against each other just to achieve his presidential ambition.
He also said that God is going to unseat President Buhari.
According to him, "Why do you want to kill your countrymen and women for the sake of elections, that you must be a President?
"You know you are not God. Buhari, I am addressing you, you know you are not God and I am convinced that God is going to unseat you because all your actions in the last three years are against the people of Nigeria.
"Hunger, killings unemployment, you are not sensitive to it, when they kill in Plateau, you can't make such a profound statement but when it concerns you, you want people to die so that you can be President?
"Even in your party, you divided your party in Imo, you divided your party in Ogun State just for you to be a President? and that's how you have divided the nation."