By Omeiza Ajayi
ABUJA: A Coalition of Traders at one of Abuja's largest markets, Wuse, has defended one of the Social Investment Programmes SIP of the Federal Government, Tradermoni, saying contrary to partisan narratives, the scheme has no correlation with vote-buying.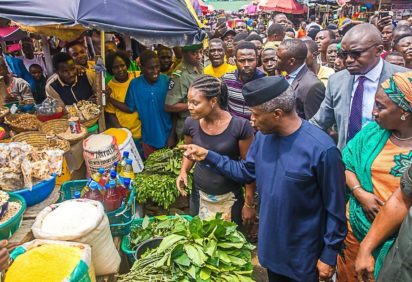 The traders, who spoke on Monday at the Wuse Market during a rally organized by the All Progressives Congress APC Women and Youth Presidential Campaign Team, were responding to statements by the Peoples Democratic Party PDP and Transparency International to the effect that the welfare scheme is a subtle form of vote-buying.
TraderMoni to halt poverty – Osinbajo
Leader of the Coalition, Mrs Oluwatoyin Badmus said it would be disastrous to ask the government to halt all its pro-people programmes simply because the nation is in a campaign season and official welfare schemes could be misconstrued as using government resources for politicking.
"Most of our people here are beneficiaries of Tradermoni. They (government) came here and gave us money and they did not ask for our Permanent Voter Cards PVCs, except our names. Tradermoni is not vote-buying unlike the propaganda being sold to Nigerians by the PDP.
"Government does not have to halt its programmes just because some partisan politicians would view it differently because we are in an election season. Are they saying the federal government should stop all its developmental programmes because we are in an he action period", she queried.
PVC not a requirement for TraderMoni – BoI
Chairman, Central Working Committee of the Campaign Council, Brig. Gen. Buba Marwa (retd) who stood in for wife of the president, Aisha Buhari urged the traders not to lose focus, saying government would continue with all such programmes like Tradermoni, Marketmoni, n-Power and others.
According to him, "Buhari is a candidate that is easy to sell. He is easy to sell based on his personal qualities and performances in office".