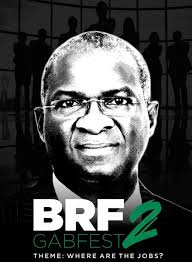 The Minister of Power, Works and Housing, Mr Babatunde Fashola, says Nigeria is a continental and global leader in renewable energy.
Fashola made the assertion on Thursday in Lagos during the second edition of the annual BRF Gabfest, tagged BRF2GABFEST organised by some youth groups in his honour.
The programme had its theme as: "Where Are the Jobs?''
Renewable energy is an energy resource that is replaced rapidly by a natural process such as power generated from the sun or from the wind.
According to Fashola, the establishment of some powerful hydro electricity projects attests to this feat.
"This may sound strange to some of you but over 30 to 40 years ago, Nigeria saw the opportunity in renewable energy and committed to large scale renewable energy projects like the Kainji and Jebba Hydro Electricity projects.
"Hydro power is renewable energy, don't miss that.
"So, what is now fanciful that is being sold today is solar as a renewable form of energy but Nigeria has not been a back player in renewable energy.
"We have been a leader in the continent.
"There are very few countries that have the kind of facilities we have in Kainji, Jebba and Shiroro and we are contemplating an even bigger one at the Mambilla and we have six small hydrograph projects that we will soon procure.''
The minister explained that renewable and solar energy were usually interchanged but that they don't mean the same thing.
According to him, solar energy is just one form of renewable energy.
He said that the ministry was already spearheading projects to be powered by solar energy.
"My ministry already has cause to ensure that before the end of this year, our two buildings are powered by solar.
"We have done the procurement we are just waiting for approvals to start so the entire building will be totally run on solar power but that is not the only thing we are working on.''
He also said some solar based works were ongoing in the Sabo Garage in Kano, a location in Ondo and also in Ibadan as well as a completed one at Iponri.
"The footprint of solar is expanding.
"What we are doing is to enable businesses to connect to opportunities, so, the Ministry of Power, Works and Housing is not using power to do business but we are effectively using data using service providers to come and deliver this project.
"There is an economy and opportunity here for you.
"And we have about 300 locations nationwide where we are still hoping to see more investors; if you want to follow-up on those opportunities, go to the website of the Rural Electrification Agency; they are the focal agency for driving our solar energy.
Fashola said the ministry was also in nine universities developing independent power plants.
According to him, seven of them are solar and the maintenance will be part of the continuous training of the students in the university when the projects are finished. (NAN)