…as Christians mark daughter's one year in captivity
By Sam Eyoboka
LAST Tuesday made it exactly one year since Leah Sharibu was kidnapped with 109 other teen school girls from their Government Girl's Science and Tech-nical College, Dapchi in Yobe State by Islamic States West African Prov-inces, ISWAP-ISIS headed by Abdul-Fadl Iyad Gali.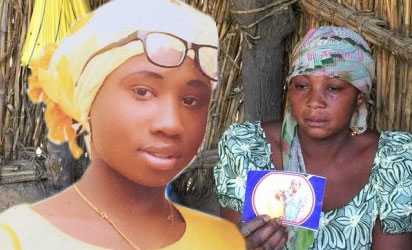 One hundred and four of the girls were released on March 21, one month after the abduction. Five of the original number were said to have died on their way into the forest while Leah Sharibu was held back on the ground of her faith in Christ which she refused to denounce.
Throughout the last 370 days, the Federal Govern-ment which has severally pledged to free the girl, has failed to secure her release and there is no empirical evidence to ascertain her current sta-te—a development that has put the parents in per-petual pensive mood.
Mr. Nathan Sharibu and his wife, Theresa tearfully hosted a horde of Christ-ian brothers and sisters in Yola, the Adamawa State capital, to intercede on be-half of Leah and all other captives across the nat-ion. Like any parent in such predicament, they were expecting the miraculous to happen as it happened last March when 104 fellow students were effortlessly driven in trucks to free-dom in Dapchi.
ISWA's attack on Gov Shettima's convoy
While political machinat-ions and manipulation for elections reached saturat-ion point with feverish desperation, the tragedy of Leah Sharibu's contin-ued captivity has not only been completely set aside but treated as a non-issue. The helpless parents have therefore resorted to praying for a divine inter-vention.
Rev. Gideon Para-Mallam of the Citizens Monitoring Group (CMG), one of the groups that collaborated with the Leah Sharibu Foundation to midwife a recent prayer rally in Abuja where they reminded the Federal Government of several earlier pledges by the Buhari Administration to release the teen girl unhurt to her parents.
The cleric who is also the IFES Regional Secretary for English and Portuguese-speaking Africa, (EPSA) said: "I have just finished a brief phone conversat-ion first with Leah's mum and soon after with her father and then prayed with both of them and for Leah, Donald, via speaker phone and encouraged them.
"The God of justice reigns. Boko Haram won't escape God's divine mighty inter-vention on Leah's behalf and others in captivity. The parents are strong in Christ but one could feel the pain in their hearts. My own heart is heavy.
"They personally asked me to thank you all for standing with them. I told them of efforts each per-son and group is making. Please let's continue. They need every support at this point and how they will spend the rest of today (Tuesday) without Leah. But the GOD of miracles remains. May God hear the cries of His people for the oppressed and set the captives free. Leah will be free in Jesus name!" he prayed.
Para-Mallam, in an inter-view with DAILYPOST, said: "Never did I imagine that the heroine of the Christian faith in the 21st century—15-year old Leah Sharibu—would still be in captivity, completing 365 full days on February 19, 2019, making it one year. It's unbelievable but a reality we are accepting and coping with. Not easy.
"I can imagine if some of us feel this way, what her parents must be feeling right now. I want to rest-ate over and over again that; Leah Sharibu and others in captivity will never be forsaken and forgotten", he maintained.
According to him, "Leah is today a living history be-fore our very eyes in this day and age. Who could have thought that an icon of Christian Faith in the 21st Century—a symbol of faith resilience would em-erge from North Eastern Nigeria?" he asked.
CAN to Nigerians: Keep praying for Leah Sharibu's freedom, credible polls
"Even more intriguing from the geo-political space identified as the epicentre of Boko Haram insurgency? Yet God allowed it!" the cleric said, adding "God is making a powerful statement through the captivity and courage of Leah Sharibu. Christianity can never be destroyed by Boko Haram or any force on earth; spiritual or physical, tem-poral (short-term) or long-term.
"It is tragic and a political miscalculation for the Presidential candidates to dodge talking publicly about their respective commitment to free Leah and others in captivity. Their uneasy silence on the plight of Leah Sharibu and others shows how Nigerian politicians care less about the citizens they seek to govern," he noted.
He, however, said they can still redeem themselves by issuing public state-ments.
"The postponement of the first part of the elect-ions should be seen as a period of grace for them to act on this matter. But one may not be too hard on them. Is it any wonder that they could all be clue-less?
"That, to me, is the tragic reality staring them and us as a nation in the face. We appear to live and lead in a country that suggests we have lost control. Therefore, Leah's case has become a matter of conscience for our lead-ers, both those in office and those seeking to en-ter office," he admonish-ed.
"My prayer remains that God will not only free Leah but through her, others such as Alice Ngaddah and several unknown cap-tives; Muslims and Christ-ians alike, that they all will regain their freedom.
"My appeal and question to Boko Haram is: Where is your humanity? Imagine if Leah were your daught-er, would you like what you are doing to her? Against her will and consent? God never forces any one to convert!" he stated.