•Says election not war; promises to restructure economy
•Why I rejected Buhari's re-election — Atiku; PDP kicks, calls for re-run
•Faults PDP's margin of victory in states outside S/E, S/S
•How and why Buhari won
ABUJA—President Muhammadu Buhari said yesterday that election is neither war nor a do-or-die affair and promised to run an inclusive government in his second term which begins on May 29 this year.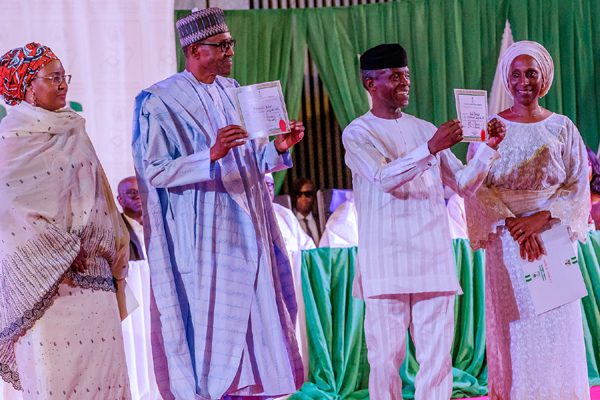 The President, who stated this shortly after receiving his Certificate of Return from the Independent National Electoral Commission, INEC, in Abuja, spoke against the backdrop of rejection of results of the presidential election by the presidential candidate of Peoples Democratic Party, PDP, Alhaji Atiku Abubakar, who also vowed to go to court to challenge the results.
"Election is not war, and should never be seen as a do-or-die affair. I pray that we all accept this democratic approach to elections, however contentious," he said.
The President said now that the elections were over, and a winner had emerged, the victory is that of Nigeria.
He said:  "That was why I encouraged my teeming supporters, in a speech I read earlier today, not to gloat. Our God-given victory is enough cause for joy, without deriding those who were in the opposition. All Nigerians, going forward, must stand in brotherhood, for a bright and fulfilling future.
"I, therefore, want to assure that we will continue to engage all parties that have the best interest of Nigerians at heart."
President Buhari said his government would remain inclusive and that all doors will remain open, adding that  it "is the way to build the country of our dream; safe, secure, prosperous, and free of impunity and primitive accumulation by those entrusted with public offices."
Congratulating all the presidential candidates and their teams on a hard-fought campaign, he said: "We may have had different views during the campaign, but the one thing most of us have in common is love of our country and our desire to improve conditions for Nigerians.
"From the comments of several observers, both local and foreign, it is obvious that the elections were both free and fair."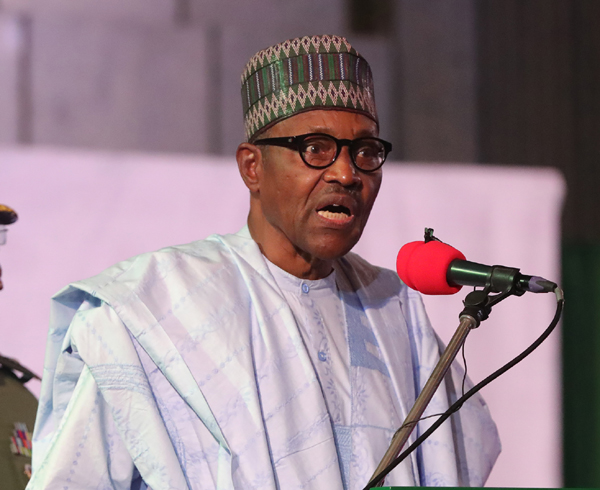 The President said he would continue to build on the foundations of peace, rule of law and opportunities for all in efforts to deliver a better Nigeria.
"We will roll up our sleeves afresh, and give it our all. We have no other motive than to serve Nigeria with our hearts and might, and build a nation which we and generations to come can be proud of," he said.
President Buhari thanked the over 15 million citizens who voted for him as well as those who contributed to the running of his successful campaign.
"I can assure that you will see a country moving to the Next Level, as we consolidate on our fundamental areas of securing the country, reviving the economy, and fighting corruption.
"Many other focal areas, as stated in our campaign manual, will be added, to the good things we plan for our country," he said.
The President also paid tribute to those who lost their lives either through accidents or mindless violence during the course of the elections.
"My heart and thoughts are with the families of the victims. May God comfort and give them the fortitude to bear the loss," he said.
Earlier in his acceptance speech, President Buhari said security agencies in the country will bring to justice those who allegedly perpetuated violence during the Presidential and National Assembly elections.
President Buhari advised his party members not to taunt the opposition parties in their celebration, saying that victory was enough reward.
https://www.vanguardngr.com/2019/02/delta-apc-alleges-massive-rigging-calls-for-cancellation-of-presidential-nass-polls/
He promised to consolidate on the foundation his administration has laid in the past four years and restructure the nation's economy.
While thanking God for the victory and his party, he expressed sadness over the loss of lives during the elections.
He said:  "I thank the millions of Nigerians who voted to re-elect me as your president for the next four years. I am deeply humbled and profoundly grateful to you for judging me worthy of continuing to serve you and for your peaceful conduct.
"In particular, I would like to thank Asiwaju Bola Tinubu for his masterful leadership as Co-chair of the Campaign Council. I would like to also thank the party chairman, Adams Oshiomhole, the Director General of the Campaign Council, Rotimi Amaechi, all members of the Presidential Campaign Council and other various Support Groups.
"My grateful thanks to all those who contributed to the logistical expenses of the campaign in such a vast country like Nigeria.
"I also thank the millions of volunteers, self-appointed overseers, canvassers, agents, escorts and sentries who sacrificed so much of their time and resources to ensure the success of these elections. I do not have the words adequate to thank them.
Security to prosecute electoral offenders
"Although Saturday's elections were relatively peaceful, troublemakers in a handful of states attempted to disrupt an otherwise orderly process. security agencies will bring to justice all those arrested in the process.
"I am very sad at the grievous loss of lives during these elections. Security agencies will step up their efforts to protect voters in the forthcoming state elections.
"I would like to commend our security agencies, as severely overstretched as they are, for handling the difficult task of securing the country during the election period.
Appeal to supporters
"I will like to make a special appeal to my supporters not to gloat or humiliate the opposition. Victory is enough reward for your efforts."
President Buhari commended domestic and international observers for contributing to the success of the elections and for their interest in the country and developing democracy.
https://www.vanguardngr.com/2019/02/unbundle-inec-now-revisit-uwais-report-ngo-advises-fg/
On expectations in the next four years, he said:  "The new administration will intensify its efforts in security, restructuring the economy and fighting corruption.
"We have laid down the foundation and we are committed to seeing matters to the end. We will strive to strengthen our unity and inclusiveness so that no section or group will feel left behind or left out."
Why I rejected election result— Atiku
Meanwhile, the presidential candidate of the PDP, Atiku Abubakar, has advanced reasons for rejecting the outcome of the polls.
Addressing a world press conference at the Shehu Yar' Adua Centre in Abuja yesterday, the former Vice President said the outcome of last Saturday's polls was incapable of forming a government of the people on the ground that it is "not a reflection of the will of majority of Nigerians."
He said: "The fact is that when you calmly look at the numbers declared by the Independent National Electoral Commission, INEC, as the results of the February 23, 2019, elections, they do not add up at all.
"Let me say that I am not speaking as a member of the PDP. I am speaking as a Nigerian when I say that the electoral fraud perpetuated by the Buhari administration this past Saturday cannot produce a government of the people for the simple reason that it does not reflect the will of the Nigerian people.
"It is for this reason that I, Atiku Abubakar, rejects the result declared by INEC which declared Muhammadu Buhari as duly returned by the majority of the lawful votes.
"On election day, we saw the implementation of a grand theft of the people's will. I am not one for hyperbole, so I will just let the facts speak for themselves.
"In Akwa Ibom for instance, the result showed a statistical impossibility of a 62 per cent drop in voter turnout in the 2015 elections, though voter registration and Permanent Voter Cards, PVCs collection rate were much higher in 2015.  This is where voter suppression took place.
"You must recall that our party made this observation and complain before the elections that there were plans to implement voter suppression on PDP or opposition's strongholds and increase those in APC strongholds.
"This pattern was repeated in strongholds of PDP, including states like Delta, Rivers, Abia and Benue. As this was occurring, we saw another statistical impossibility where voter turnout increased astronomically in Borno State by an almost miraculous 82 per cent in the midst of insecurity.
https://www.vanguardngr.com/2019/02/obasanjo-keeps-mum-over-buharis-reelection/
"This pattern was also repeated in other strongholds of the APC states. One begins to ask if insecurity is conducive to higher voter turnout and security antithetical to high voter turnout. It is further curious that the PDP's margin of victory in states outside the South East and South South were extremely slim across board. That again is a statistical impossibility."
Atiku added that a decision on what to do next would be made known very soon, saying "I am conferring with not just my party but also Nigerian people on the next step which will be revealed to the public shortly."
He urged those who felt cheated by the outcome of the exercise to remain calm, adding that victory was only an arm's length away.
"For my fellow Nigerians who feel angry and disillusioned by the process, I appeal to you to remain calm and steadfast. Rome was not built in a day. We have the real figures; we have the facts that have spoken so loudly on Saturday, February 23, 2019.
"As I have always said, this year is my three decades in Nigeria's struggle for democracy. And this is the worst election in those 30 years.
"I told General Abdsulsalami Abubakar two nights ago when he called me that not even the military conducted such a worst election. This is a long journey but I am confident of victory. All hope is not lost, stay strong.
"By the grace of God, we shall triumph. To the international investors and friends of Nigeria now pulling out of the country, be calm. Can you imagine only yesterday that by that the mere announcement, the stock market lost N85bn?
"I urge you to be patient and keep faith with the Nigerian people. Your problem is not with the Nigerian people, your quarrel is with those who stole their mandate."
In attendance were Vice Presidential candidate of the PDP, Mr. Peter Obi; Director General of the PDP Presidential Campaign Organization and President of the Senate, Dr Bukola Saraki; Speaker, House of Representatives, Yakubu Dogara; PDP National chairman, Prince Uche Secondus; PDP Board of Trustee, BOT, chairman, Senator Walid Jibrin.
Others included former governor of Kano State, Senator Rabiu Musa Kwankwaso; former governor of Niger State, Babangida Aliyu; Senator Ben Bruce and Senator Dino Melaye.
PDP kicks
Also, PDP, yesterday, kicked against the results as announced by INEC. Shortly before the announcement, the PDP Presidential Collation Agent, Osita Chidoka, implored INEC not to make any return but declare the election inconclusive in certain parts of the country and order a rerun.
He said the PDP would explore legal options to reclaim its mandate and declined to append his signature to the result sheet like other agents.
Chidoka said:  "The PDP does not accept this result as representing the valid votes of Nigerians. We have made three issues; first, after all the investments in technology, we required INEC, after spending N27 billion in this year's budget alone for technology, we had expected that today, INEC would have for the purpose of transparency, not just for law, projected to us the results of what the card readers that they used displayed about the people that went through the card reader verification. That singular act puts a dent on the credibility of the election.
"The second one is the issue we raised about the number of registered vis-à-vis if what the chairman now calls collated voters means that 1.6 million people are missing in the voter register.
"We think that issue is substantial enough to require a resolution.  We also believe that the difference between the accredited voters and the total votes cast which came to about 750,000 votes requires an issue to be looked at.
"Finally, we believe that the cancellations that took place in the election impacting 2.7 million voters requires to be looked into seriously.
"So, in our view this election requires to be looked at again and possibly we would have had a rerun, more importantly, we think that INEC should have looked consciously on the use of the card reader, the absence of card reader is a major violation in the elections, it renders that election null and void, that is what the chairman promised us.
"For us in the PDP, we believe that this is a new low in Nigeria's electoral history. Since 2015 we believe that Nigeria would have been making progress in the election, but violence in this election, the issues that have arisen in this election, lack of transparency that we saw in this election did not increase nor improve the belief of Nigerians in the electoral process.
"However, the PDP remains a very lawful party, we believe in the law, we believe in the constitution of Nigeria, we are committed democrats, PDP is a party that entrenched democracy in Nigeria, the PDP is the party that made it possible for Nigeria to enjoy the fruits and dividends of democracy.
"We will continue to support democracy in Nigeria, we will continue to promote democracy in Nigeria but we have a good message for Nigerians, we want them to remain peaceful, we will explore all our options, including the belief that the legal process in Nigeria is one of the ways to resolve issues," said Chidoka.
APC's Keyamo hails polls
His views were countered by Festus Keyamo, an agent of the APC who hailed the election and said the ruling party would also be filing petitions regarding results declared in some Southern states.
While Messrs Buhari and Atiku jointly scored a total of 26, 454, 825, the 71 other Presidential candidates jointly polled 869, 758.
The Total Valid Votes cast was given as 27, 324, 583, Total Rejected Votes stood at 1, 289, 607 and Total Votes Cast stood at 28, 614, 190.
On the level of voter turn out, the INEC boss placed the national average at 35.66 per cent.
He said the commission would in days to come critically study the issues raised by the PDP and other parties regarding what they described as discrepancies in figures.