By Dennis Agbo
ENUGU – Traffic hold up stretched, Friday evening, for over two kilometres along Nike-Nsukka road as prospective voters moved into the rural areas to cast their votes on Saturday's Presidential election.
The jam lingered up till 9pm while military personnel on check points had hectic time controlling the cacophony.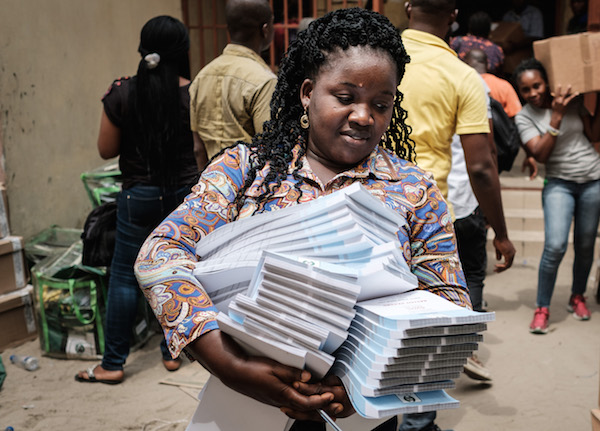 The Resident Electoral Commissioner in Enugu state, Dr. Emeka Ononamadu told Vanguard that all materials have been moved to the 17 local government areas of the state.
He denied the allegation that some materials were missing in the state, saying that "what happened was that some materials that were initially sent wrongly to the state were sorted out but we have finished with all that and we are now ready for the election.
"The Sensitive Electoral materials: (Result Sheets, Ballot Papers and SCRs), have all left the CBN and INEC State HeadOffice Enugu to the 17 LGAs in the company of Security Agents and Party Faithfuls.
"Distribution to RACs have also began and by 5:30pm all the RACs were fully activated, where pulling Units by Pulling Units sharing will be done accordingly this night ready for tomorrow's Elections."
Outside the INEC state head office where some group of NYSC corps members who came to the office to be assigned to duty since they were trained for the election.
https://www.vanguardngr.com/2019/02/security-umahi-alleges-plot-by-thugs-to-bomb-inec-lga-offices-in-ebonyi/
Vanguard learnt that the state required 18,000 ad-hoc staff whereas corps members in the state were about 10,500.
Those interviewed said they were not for seeing any hitch to the election if it is not postponed again.