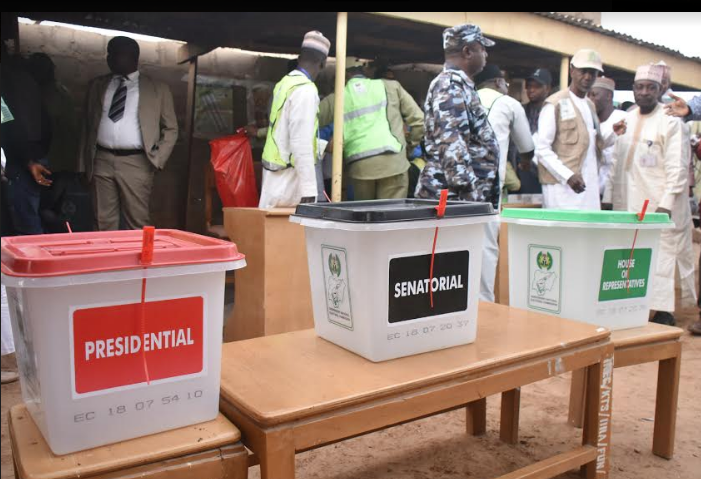 Ballot boxes for the Presidential and National Assembly Elections arrenged Ward A' Kofar Baru 003 Sakin Yara Polling Unit during the 2019 National Assembly and Presidential Elections in Daura, Katsina State on Saturday
Awka – Accreditation and voting commenced early in most polling units visited on Saturday during the Presidential and National Assembly elections in the Awka metropolis.

The election officials arrived with voting materials before 8.00 a.m. in the polling units visited.
At Aroma 008 and Aroma 009, both in Ward 1 and Ward 2, Agu Awka 002, and the Amawbia Central School 001, accreditation and voting commenced on schedule at 8:00 a.m.
At Ebeakpu, Amawbia polling unit 3, the card reader, however, malfunctioned, leaving the voters stranded.
Ebeakpu is the voting unit of Dr. Victor Oye, the National Chairman of the All Progressives Grand Alliance (APGA).
A domestic observer, Mr Chris Opara, confirmed the problem and called for the immediate replacement of the card reader.
https://newlive.vanguardngr.com/2018/12/only-buhari-ll-give-igbo-president-in-2023/
The turnout of voters in the polling units visited was impressive, even as the visible presence of security personnel, party agents and domestic observers, were noticed.
However, in all the polling units visited, the Presiding Officers and members of the National Youth Service Corps refused to disclose their names to NAN, even when it was discovered that none of them had any identification tag.
Mr Arinze Nwobi, an agent of the PDP at Aroma 009 unit had told NAN that he was worried that election workers were not being adequately identified.
A Presiding Officer at a polling unit in Aroma, however, told NAN that their employers had their identity details.
When contacted, Dr Nkwachukwu Orji, INEC Resident Electoral Commissioner in Anambra, said that there was no specific instruction directing the election officials to hide their identities. ((NAN)
https://newlive.vanguardngr.com/2019/02/breaking-card-reader-fails-at-kogi-governors-polling-unit/