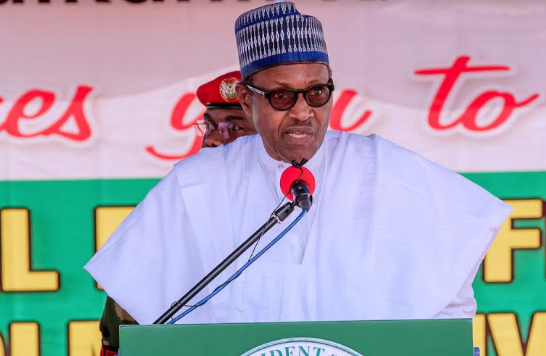 President Muhammadu Buhari
•Buhari issues death threat to thugs: Snatch ballot boxes, pay with your lives
•Adds INEC must answer after polls; Amosun, Okorocha absent at party talks
•Afenifere, Ohanaeze, Junaid Mohammed, lawyers react
•Buhari showing his true colours with death threat — ATIKU
By Innocent Anaba, Charles Kumolu, Omeiza Ajayi, Johnbosco Agbakwuru, Dirisu Yakubu, Henry Ojelu & Peter Okutu
ABUJA— President Muhammadu Buhari, yesterday, issued death threats to election riggers and political thugs who may want to subvert the electoral process, especially on election day, saying they would be doing so at the expense of their lives.
My ambition not worth blood of any Nigerian – Atiku
The President, who vehemently expressed displeasure at the postponement of the general elections by the Independent National Electoral Commission, INEC, also declared that the electoral umpire cannot take Nigerians for granted.
According to him, the commission must answer for its "incompetence" immediately after the general elections.
The President, who spoke during an emergency caucus meeting of his ruling All Progressives Congress, APC, said Nigeria's security and defence forces are under clear instructions to deal ruthlessly with election riggers.
His statement, however, drew immediate reactions from Ohanaeze Ndigbo, pan-Yoruba socio-political group, Afenifere, Second Republic lawmaker, Junaid Mohammed and lawyers, including Mike Ozekhome, Ebun Adegboruwa, Norris Quaker, Abiodun Owonikoko.
President Buhari said:  "I do not expect anybody to make any disturbance. I have briefed the law enforcement agencies and the military to identify hotspots, flash points; they should be prepared to move. They too would have made their own arrangements as possible and resources provided as much as the country can afford it.
"Anybody who decides to snatch ballot boxes or lead thugs to disturb it (elections), maybe that would be the last unlawful action he would take. I have directed the police and the military to be ruthless.
"We are not going to be blamed that we want to rig elections. I want Nigerians to be respected, let them vote whoever they want across the parties. I'm not afraid. As you said, I have gone round all the 36 states and Abuja. I think I have got enough support across the country.
"I am going to warn anybody who thinks he has enough influence in his locality to lead a body of thugs to snatch boxes or to disturb the voting system, he would do it at the expense of his own life."
Amosun, Okorocha absent
At the caucus meeting, the governors of Imo State, Rochas Okorocha, and his Ogun State counterpart, Ibikunle Amosun, were conspicuously absent.
Both governors have had a running battle with the party leadership over the choice of governorship candidate for their states.
Buhari, who said he was confident of garnering enough supporters, having gone round the country to campaign, urged party members to reassure their constituents to come out and vote on the rescheduled dates.
The President urged party agents to watch out for the party's interests at the polling units, adding that he was told about the decision of the Independent National Electoral Commission, INEC, to postpone last Saturday's election at about 4.45a.m. in the morning of the elections.
According to him, INEC had all the time and resources and didn't have to wait six hours to the elections to announce postponement.
"INEC had all the time and all the resources they wanted and didn't have to wait for only six hours to cancel the elections and tell us it was impossible. Definitely, the reason such incompetence manifested has to be explained to the nation.
INEC must explain to the nation, says Buhari
"After the elections, we have to know exactly what happened and who is responsible. Otherwise, our efforts to make sure that this system is acceptable would have been eroded.
"The constitution and the law protects INEC, but they must not take us for granted. If for example, the National Assembly refused to approve what they wanted, INEC would have had moral reasons they couldn't perform.
"If the time of four years of election was not constitutionally obeyed by the government, INEC would have a case. But we don't understand the reason for this inefficiency and we have to go into details after the election to find out who is responsible.
"I thank the party leadership for their commitment. That was why we sat and said we must have committed leaders in all constituencies to be our agents. We also sat down and worked out the least the party should do for our agents so that they will not depend on anybody or say I am going to drink water or I am going to toilet.
"We made all those arrangements and put it before the governors and chairmen of the party. Where the APC has no governors, the governorship candidates and state chairmen were given that assignment.
"I am satisfied that this instruction has been passed down. Right now, we have so much to do and so, we should now go back to our loyal members in all constituencies so that if anything happens, we will know who to blame.
"We have told our constituents to be patient and react in a very mature way by going peacefully and vote and depend on party representatives in the polling units," the President stated.
Oshiomhole wants INEC sanctioned
Speaking at the meeting, National Chairman of the party, Comrade Adams Oshiomhole, said the party will proceed with its electioneering campaigns, in spite of the decision of the Independent National Electoral Commission, INEC, to halt campaigns.
"Without consulting INEC, we are proceeding and they cannot by administrative fiat change the provisions of the laws," Oshiomhole said.
He also asked President  Buhari to use "the authority of state" to get the commission to work within the ambit of the law and trigger actions to punish any institution that refuses to shape up.
According to him, the party will also be proceeding with its electioneering campaigns, in spite of the position of INEC on the ban on such activities.
He accused INEC of giving prior information to Peoples Democratic Party, PDP, on the postponement of the elections, regretting that  APC was made to keep expending resources in the belief that elections would hold as earlier scheduled.
He said:  "We have called this meeting to give our people hope and renew our commitment to democracy, renew our commitment to free and fair elections.
"The way forward for that is, we must now go back to the additional cost that it will entail to renew campaigns and again INEC's own decisions to attempt to amend the law through mere administrative pronouncement, namely to the effect that our campaigns are frozen, Mr President, INEC is not in the position to make laws.
"The laws made by our parliament are superior to the opinions of INEC chairman (with all due respect to his office). The extant provisions of the law is clear. When you postpone elections, it has happened before, the law says you are entitled to renew campaigns up to 24 hours before the date of the elections.
"It did not say you would stop campaigns on the 15th of February regardless of when the elections will actually take place.  Therefore, as a law-abiding party, we will proceed to energize our members to renew campaigns and to urge them to come out en masse.
"To ask us as a political party not to go out, remember our people might have forgotten, they would have assumed that they are sure these people know what they want and the result could be a very low turnout.
"That is not good for a party that has huge support base. It can only be good for a party that is not sure of its level of grassroots support. So, without consulting INEC, we are proceeding and we are ready to meet them in court because they cannot, by administrative fiat, amend or distort extant provisions of the Electoral Act and those laws are not secret to INEC.
"Voter turnout and voter apathy can result. If at our level, we are sufficiently disturbed, what will be the fate of the ordinary man? I think we need to remind them across the country that elections have been rescheduled, by telling them to have trust, they should have faith, they should all be determined to vote.
"The process of doing that will require returning the campaigns between now and Thursday.  So, we are going to write INEC to demand a small meeting, not a meeting of more than 1000 people in a conference hall, face-to-face to speak to specific details.
"One, we have been told that they would re-configure card readers and we were told that they were like about 180,000 and there are two issues, namely: INEC, have you started? When will you finish this configuration?
"If they are 180,000, it means the extra is only 4,000 since we have 176,000 polling booths. Is INEC's assurance that from their own projections and past experience across the country the failure rate of card readers is only one or two per cent? What is the basis for only making allowances for only 4,000? Is this based on past experience?
"Mr President, why we need concrete answers to all these questions is that, in the absence of incident forms, should there be more card readers failing over and above 4,000?  What is INEC's contingency plans to deal with that?
"We don't want staggered elections. We want nationwide elections, same time, same day all over the country. So, INEC needs to brief us on the basis of this small addition.
"I think it is a matter of commonsense that, every card reader should have a spare. So, if we have 176,000 polling units, we want to have 176,000 spares. So, whenever one fails, the other one can be "Mr President, from what we have all known, in some states, INEC materials have been distributed. Some people have sighted some of the result sheets. Some have sighted some of the ballot papers before they ordered them to stop.
"Now my question, having sighted a copy or a sample of the ballot papers and of the result sheets, what is INEC doing differently to ensure that those who have already seen those samples will not go to 'Trans Amadi Layout' to go and try to print a sample of the one they have seen?
"Lastly, the Igbos say that  hurry hurry tear trousers.  Now, these hurried efforts INEC has promised to make to ensure that everything is done, are they assuring us that some of the things that happened last Friday have been taken care  of?
"For example, the voting materials meant for Edo State were delivered to Enugu State. The one meant for Delta State, were delivered to Edo State. This is not a weather issue, it is not… I don't know how to explain that. This mix-up is not about not being able to lift materials. It is about lifting materials to wrong areas.
"Having been a victim of election rigging, we know that one of the things INEC had done before was to deliberately carry one voter's register from one LG to another. By the time you track it, you would have lost precious time to election. These are several questions begging for answers.
"Because of the way the interaction was conducted, once you make your comment, INEC makes its comment, the case is closed, even if the comments raised more questions. So, we request for more meetings and we need more assurances.
"To those APC voters, we need to renew the campaign, we need to renew the assurances and we need to renew the confidence that next time, this election will take place.
Mr President, I also believe that because you are the Chief of State, you are the President, you have dual responsibilities.
"One is to ensure that any institution of state that has deviated, anybody that is involved in that act, particularly actions that will clearly weaken the fabric of our democracy, Mr President, you have a duty to trigger the process that will compel everyone involved in all of these to account.
"We cannot be helpless because at the end of the day, all fingers will point at you, even as innocent as you are.  Those INEC RECs that have been compromised, we will press on INEC's leadership that they do not have a right to impose a corrupt or compromised INEC RECs or EOs on us.
"When sufficient doubts have been raised on the character, the integrity of a referee, no responsible match authority will impose that referee on the players.  We don't care where anybody is posted to because INEC has a discretion to move people around."
Tinubu clarifies President's statement, says he didn't give shoot-on-sight order
Clarifying the President's statement in an interview with journalists, shortly after the meeting, National Leader of the party, Asiwaju Bola Tinubu, said President Buhari never gave any such order.
He said: "I was in that meeting; the President was just reinforcing the fact that if you are out there snatching ballot boxes, and causing destruction, you are at risk of your own life. ''Whatever happens to you, no President will give an order that his own citizens be shot summarily, No! No, it's okay, emotions are running high these days. Any individual, including myself, can be misinterpreted.
"Shoot on sight are not his words; he is a law-abiding person and he understands categorically and clearly what the rule of law is and the lives of individual citizens, he knows that he is in that office to protect.
"Now, let me say this: he has been fighting Boko Haram, kidnappers and all that before this election.  Did you hear him asking them to be shot and executed summarily? If he has gone through that in the last five years, please give him the benefit of the doubt.''
PDP reacts
Reacting to the President's order, Peoples Democratic Party, PDP, described the President's utterances and the position of the ruling party as a threat to the nation's democracy.
In a statement signed by its National Publicity Secretary, Kola Ologbondiyan, the party said the President's statement was nothing short of a call to jungle justice.
The statement read: "The PDP says President Muhammadu Buhari's threat to the lives of Nigerians, at the opening of APC's national caucus meeting in Abuja today (Monday) is a direct call for jungle justice and an attempt to divert public attention from their closed session where details of their dastardly plot to truncate our democratic process will be perfected.
"We do hope that this call by President Buhari is not a camouflage for the fake soldiers mobilized by the APC to shoot at innocent Nigerians, snatch ballot boxes and execute their rigging plans on the election day. It is, indeed, a license to kill, which should not come from any leader of any civilized nation.
"The underlining fact to the above is that President Buhari and APC leaders, upon getting to their voting constituencies last Saturday, realized that there is a nationwide rejection of Buhari's re-election bid, and this has thrown them into a panic mode."
According to the party, Nigerians have made up their minds on the choice of their President on Saturday.
"President Buhari must, however, bear in mind that his resort to threats and scaremongering will not deter Nigerians from coming out en-masse to vote him out of office on February 23.
"We are aware that President Buhari, who had earlier boasted that nobody can 'unseat' him, is bent on using every dictatorial and tyrannical act to truncate the process of a free, fair and credible election,'' the party stated.
The PDP further accused the President of plot to effect a change among Resident Electoral Commissioners, RECs, already posted across the nation, with a view to rigging the polls in favour of the President.
"Intelligence available to us shows that the Presidency has directed the leadership of the Independent National Electoral Commission, INEC, to immediately reshuffle the Resident Electoral Commissioners, RECs, in order to deploy compromised officials to manipulate the electoral process in President Buhari's favour, as they did with the police shortly before February 16.
"Our party is also aware of the pressure being mounted by the Buhari Presidency on INEC to cancel elections in some states and make others inconclusive so as to achieve President Buhari's objectives of a staggered election, not minding the crisis such will trigger across the federation.
"We want Nigerians and the international community to hold President Buhari personally responsible for any electoral crisis, otherwise he will as usual, claim that he was not aware of the plots and transfer the blame to Adams Oshiomhole and Rotimi Amaechi.
"It is already known that President Buhari has been unrelenting in his attempts to subdue our democracy by trying to subjugate the legislature, emasculate the judiciary and seize control of the electoral umpire.
"Nevertheless, the PDP wants to assure President Buhari that our nation is bigger than him and that Nigerians will never allow him and the APC to rig this election," the party further stated.
Buhari's directive on ballot box snatchers hypocritical – Ohanaeze Ndigbo
Reacting, the Igbo apex body, Ohanaeze Ndigbo, yesterday, stated that the directive by President Buhari for ballot box snatchers to be shot in the cause of the 2019 general election was hypocritical as any deliberate ploy to thwart the will of the people will crumble.
In a statement by its National Publicity Secretary, Prince Uche Achi-Okpaga, the group stressed that President Buhari cannot be talking of ballot box snatchers without mentioning their sponsors.
"He did not issue a statement to that effect. There are deliberate misinformation in Kaduna state on killings by El-Rufai, Senator Godswill Akpabio in Akwa Ibom among other states and he did not address that.
"You cannot be talking of ballot box snatchers without mentioning their sponsors. On the whole Buhari is bound to fail and any deliberate ploy to thwart the will of the people will crumble and fall like the pack of cards.
"In the first place, I want to identify with Aisha Buhari to the effect that her husband is not in control but two persons apparently known but not identified. If the social media report that the President was not aware of the postponement, it obviously collaborates Aisha's
statement. To that effect, if Aisha is to be believed, Buhari's statement is tantamount to leaving the object and chasing the shadow.
"How could the president ignore the INEC severe lapses to talk of ballot box snatching? It smells to high heavens that the INEC Chairman didn't find it worthy to apologize to Nigerians on the callous postponement.
''Plausibly, instead of local government INEC officers, sensitive materials were hijacked to private homes and covens. He didn't address that.
''There were prophecies and depositions that the Presidential and National Assembly elections will not hold on schedule.
"President Buhari is economical with the truth. He hoodwinked the people on the platter of change. Yet nothing has changed. INEC is worse than he met it. The economy is worse than he met it.
''The judiciary is worse than he met it. Security challenges are worse than he met them.
International relations is worse than he met them. What else is remaining?"
It's another reason Buhari shouldn't be re-elected——Afenifere
On its part, the pan-Yoruba sociopolitical organisation, Afenifere, described the statement as one coming from a military mindset and a dictator.
Publicity Secretary of the group, Yinka Odumakin, said: "The statement was from a military mindset and the mindset of a dictator.   The statement was an approval of extrajudicial killings. Rigging is a serious offence and what a democratic leader would have done is to say that anyone who engages in rigging should be arrested and prosecuted immediately.
"What he has said is one of the reasons the President should not be re-elected. His mindset is undemocratic."
Any law for ballot box-snatching should be applied-—Junaid Mohammed
Reacting, Second Republic lawmaker, Dr. Junaid Mohammed, said: "I would be worried if it were another President, and not this one because there were opportunities in the last three years for him to show his real strength but he failed. Those times are gone.
''Most of the areas where some of these reckless events happen are not places where the Police and the Army are effectively in charge. Who is to make the ballot box snatchers pay for their crime? I hope he is not just blowing hot air unnecessarily? Given the rot in the judiciary, it will be a difficult task.
"Under these circumstances, I don't think the statement should be accorded any credibility. Saying that the statement is approval of extrajudicial killings is sheer nonsense. The fact that we are in a democracy does not mean that anybody has the license to do what he wants.
'' I fully endorse the intention to deal with those who commit crimes in the name of democracy. If a law already exists and provides a crime for ballot box-snatching, it should be applied. The Buhari I have known for over 40 years is not someone who will sanction extrajudicial killing, but that does not mean that he has the right for reckless use of language."
Lawyers react
Mike Ozekhome, SAN, in his reaction said: "The President is usurping the powers of INEC and the Police in his never fading military mindset to utter this most inflammatory and unconstitutional statement.
"The statement is grossly reckless, incendiary, provocative, bellicose, belligerent and wholly condemnable. For the avoidance of doubt, the Electoral Act has already taken care of such matters. .Section 129(4) of the Act prescribes 24 years imprisonment for anyone who snatches ballot boxes at an election. Section 131 of the Electoral Act on the other hand prescribes N1 million fines or 3 years imprisonment for anyone who directly or indirectly inflicts injury on others, or causes harm, violence, or uses duress and undue influence for the purpose of winning an election. The law is quite clear. It never prescribes the death penalty as Buhari wants to force in.''
In his reaction, Mr Abiodun Owonikoko, said: "I heard the President say that solders on election duty must deal ruthlessly with election violators, and that those people who might engage in electoral malpractices will pay with their dear lives. That is a euphemism for saying that they will be risking state sanctioned-extra-judicial death. Comments like that may provoke serious International Criminal Court inquiry. It may arguably be viewed as a grave executive overreach.
"Electoral offences are defined with appropriate penalties in the Electoral Act (as amended).  None of them attracts capital punishment in which case, the President ought, therefore, to have been cautious in approving death as a proportionate  measure  for apprehending or containing such electoral infraction.''
Also reacting to the president's statement, Mr Norris Quakers, SAN, said: "The President as Commander in Chief of the Armed Forces of the Federal Republic of Nigeria is subject to the overriding provisions of the constitution and as such the shoot-on-sight order of the President is unconstitutional by virtue of Section 33 (1), of the 1999 Constitution  (As amended), which gives the Court the power to deprive a person of his right to life, when found guilty of a capital offence."
On his part, rights activist and lawyer, Ebu-Olu Adegboruwa, said:  "It is heart-rendering that life seems to have become totally meaningless to us as a people. Section 33 of the Constitution preserves the right to life. Ballot box snatching is not a capital offense in Nigeria at present. Whatever happens, we must follow the laws of our land.
"The Electoral Act prescribes two year jail term for ballot box snatchers, that is after trial. The President had the golden opportunity to have amended the Electoral Act if he wanted people to be shot at sight without trial, for ballot box snatching, and not to seek to amend our laws at the caucus meeting of his party.
"We must protect our laws and give room for due process and avoid all rules of arbitrariness. All over the world, there is a deliberate effort to end the death penalty, even where legislation sanctions it. Life is precious to God and it should be precious to us all too, especially since we cannot create life by ourselves."