By Alemma Aliu
BENIN—THE ongoing cult war between Black Axe, popularly called Aye, and their Eiye rivals have resulted in the killing of no fewer than eight persons in the last three days.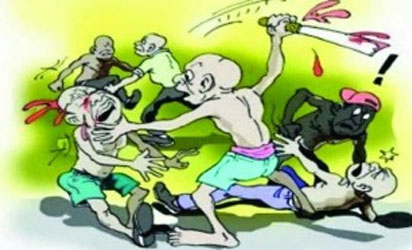 Police nab 7 suspected cultists terrorizing Delta communities
The most recent being the killing of a young man, popularly called Africa, yesterday morning at Aifuwa Junction along Upper Sokponba Road in Benin City. He was hacked to death when bullets fired at him did not penetrate his body. His corpse was deposited at the Central Hospital morgue in Benin City.
On Monday night, one undergraduate identified as John Terry was killed along Upper Uwa Street off MM Way Benin City.
At Three House area, Upper Sokponba in Ikpoba-Okha Local Government Area, traders and shop owners scampered for safety as suspected cultists robbed passers-by and shot into the air on Saturday evening, while two boys from the rival cult groups were reportedly shot dead.
On Sunday night, the manager of a hotel along Erediauwa Road, off Sokponba Road, Osato Okunkpolo, was killed by suspected cultists.
A pharmaceutical shop owner, who pleaded anonymity, said over 20 persons ran into his shop when the shooting started on Sunday evening and they laid on the floor to avoid being hit by stray bullets.
He said traders around the area now close their shops from 7:30p.m.
According to him, "I was inside my shop when I received a call that I should lock my shop and go home because the area was about to scatter. As I stood up to tell my boys to lock up, I saw people running into my store to take refuge.
"All of us were on the floor, while the shootings lasted. We later heard many people were robbed, while two boys were killed."
Edo Police spokesman, DSP Chidi Nwabuzor, said the Police has set up security measures to make sure the city is safe, well protected and urged residents in the state to be patient as the focus was on the general election.
Meanwhile, Governor Godwin Obaseki, yesterday evening, condemned the cult-related killings and charged the State Police Command to arrest the trend and bring the culprits to book.
According to the governor, "the revamped security architecture in the state is working round the clock to ensure that those responsible for the killings are brought to book.
"We are constantly engaging with the top brass of security agencies in the state and they have assured of their commitment to fish out the culprits."
He charged the state Commissioner of Police, Mr. Hakeem Odumosun, and other relevant security agencies to leave no stone unturned in fishing out those responsible for the clashes and resultant deaths.
He added that operatives of the Operation Wabaizighan, a security architecture set up to fight violent crimes, have been dispatched and they are in pursuit of the criminal elements fomenting trouble.