By Victor Ahiuma-Young & Joseph Erunke
All  that glitters is not gold, according to the old aphorism. That appears to be what aggrieved workers of the Joint Admissions and Matriculation Board, JAMB, are telling the public.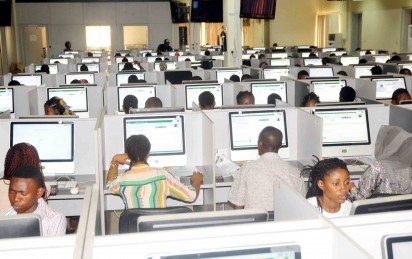 According to the workers, despite the examination body remitting billions of Naira to the Federation Account in the last two years, their working and living conditions in the last three years are only comparable to modern day slavery.
But JAMB's management has dismissed the workers' allegations, describing them as unfounded and mere fabrications.
While the petitioners presented documents and correspondences between the management and unions from 2016 to 2018, to substantiate their claims, the management on the other hand, provided documents to back up its position.
However, in an  open petition to President Muhammadu Buhari, on the aegis of "Concerned JAMB Workers", the aggrieved staff accused the management of among others, instituting a repressive working environment and anti-workers' policies that have worsened the living conditions of workers and made working in JAMB a living bondage.
They called on the National Assembly to set up an independent  panel to investigate  alleged management insensitivity to workers welfare, impunity, hypocrisy, corruption among others.
Delta govt spends N1.2bn on pensions in 2 months —Okowa
The workers also claimed that over 500 staff nationwide were excluded from the Christmas/end of year largesse dolled out to staff ahead of the Christmas celebration.
Giving details of their grievances, they claimed that workers' "promotion examinations and processes are now conducted under questionable circumstances and mired by controversies.  For three years running; 2017, 2018, and 2019 respectively, our promotion exercises were conducted without the release of the official results or processed under any requisite transparent parameters.  Nobody till date knows who passed or failed the examinations in question since promotion letters were secretly distributed.  Even people who did not  participate in the processes were also favoured and promoted. The exercises were manipulated and used as an instrument of torture, blackmail, victimization and humiliation of staff.
"In order to conveniently actualize this corrupt agenda, the management every year, curiously conducts such promotion examinations six months before the promotion year in question against civil service practices so that it will have  time to manipulate the system.
No clear applicable criteria are known to have been used in the qualification processes since grades by Annual Performance Evaluation Reports, APER, forms were never used.  Questions on public service were also not used as stipulated by the Civil Service Rules. Even the Corporate Support Service, CSS, Department and Human Resources, HR, Unit which ought to conduct and process such exercises were kept in the dark.  Is it not an aberration that JAMB, globally seen as an examination body, will now be conducting its own internal promotion examinations without releasing or publishing the results officially?
"Workers now live in fear of being victimized, maliciously transferred or sacked.  We have faced all kinds of humiliations, harassments, scorn and intimidation.  Movements are now restricted within JAMB Headquarters like slave camps and prison yards.  Workers have been given queries or maliciously transferred out of the Headquarters because they went to the toilet or the canteen since we are expected to be glued to our seats from 8 a.m until 4 p.m. Staff cannot go on break unless they get signed clearances from their respective Directors. The management has also empowered gossips and informants who maliciously give false reports to frame up workers for various kinds of punishments ranging from redeployments, demotions or outright sacks. Kangaroo disciplinary panels are frequently set up to summarily deal with staff.
"Conversations and most interactions amongst staff are now secretly taped for onward transmission to the management. The management to ensure that workers live in fear dismantled the central notice board at the Headquarters, banning workers from pasting informative articles or news, and asking the unions and the multi-purpose cooperative society to reapply for the use of their own notice boards.  Currently, the unions, cooperative society and workers must secure permissions to paste obituary notices or other official or social notices."
JAMB's Oloyede urges Nigerians to join corruption fight
Continuing, the petitioners alleged that the "management also released a memo banning workers from going on leave in December.  There is also a memo that workers at the state and zonal offices cannot embark on any type of leave unless it is personally granted by the Registrar.  The Registrar has now circumvented the responsibilities of the Unit Heads and Directors respectively to personally trample on workers' rights and privileges. The management also does not approve medical leaves for workers irrespective of the medical status of the workers.  Consequently, the health status of some of workers have  deteriorated under these draconian laws and conditions.
"The management has largely made some workers redundant by engaging and employing consultants and ad-hoc staff in all aspects of our work, paying them lavishly while workers depend solely on stipends.  In all the UTME examinations conducted recently, the management paid such people between N350,000 and N1million  depending on their levels while JAMB workers who spent the same number of days and nights on more rigorous locations to do the same work received less than N200,000 .
The management rather than develop staff capacity by sending them overseas for trainings and or refresher courses, curiously sponsor their friends, relations and associates on foreign trips. The records are there and should be verified."
According to the petition, "Several workers have been maliciously transferred with some being denied their Inconvenience/Disturbance Allowances (first 28 days allowances) as stipulated in the Civil Service Rules.  Yet, some of these transfers were against the provisions of the Civil Service Rules.  Many workers have been forced to resign over cases of victimization and malice by management.
The most disturbing aspect of these transfers is the frequent involvement of such transferred workers in road accidents.  Yet, the management has refused to support the victims morally and financially.  Or even redeploy them to where they can conveniently receive treatments as requested by the victims.
The case of a married woman with children, who was maliciously transferred to our Awka office despite entreaties to have her redeployed to Abuja, was pathetic when she was involved in a horrible accident.  Sadly, she had her leg amputated. Yet, she has not been redeployed nor given support by the management.  Another worker who is now using crutches after a similar accident was equally refused redeployment and was rather asked to resign if he cannot stay.
Anambra govt commences construction of general hospital at Umueze Anam
"The management has also decreed that the statutory requirements for bank loans or loans from our multi-purpose cooperative society will not be accessible anymore unless workers have evidence of 50 percent net gross earnings in their pay slips.  This is against the 30 percent margin stipulated by law.  Expectedly, the development has put our cooperative society in dire straits and impoverished workers who depend on such facilities to survive.
"We have also noticed that the management eagerly spurns any step that will improve the lot of the workers like the "skipping" policy reversal where staff will move from Level 9 to Level 11, which a committee had in 2017 submitted a report for its implementation as currently obtained in various organizations.  However, the committee's report has been deliberately swept under the carpet. Yet, the management curiously has activated another committee ostensibly to supersede and kill the recommendations of the previous committee.
Workers are also forced to work extra hours without overtime payments and hazard allowances. It is on record that workers have not been receiving commensurate emoluments, allowances or incentives over the years.
"The management early in 2018 conducted an illegal recruitment exercise, employing over 150 persons in one swoop without recourse to the Board.  Curiously, the exercise was conducted a week after the inauguration of the Board with the appointment letters for the new intakes back-dated and given to them on Good Friday, which was a public holiday.  It is indeed worrisome that the exercise was fraught with irregularities, especially because it was not advertised by management as required by the law or approved by the Board.  As expected, those recruited were relations, cronies and friends of the management, a process that glaringly discarded the principles of federal character.  Even people who were over 50 years were employed against civil service provisions. Unfortunately, the development has raised issue of ethno-religious bias in JAMB and dangerously thawing the sensitive views often associated with it such that workers are now divided along ethno-religious sentiments .
They further claimed that the "repatriation allowances paid retirees have been downgraded by management.  This is in spite of the fact that the JAMB condition of service, which stipulates how such payments should be done, is unequivocal.
At the end workers feel short-changed when they retire.  The high-handedness of the management is worrisome and condemnable.  Workers are daily faced with all kinds of threats and intimidation to gag them.  The unions, the only umbrella workers have to challenge this have been decimated by the management.
"The management has instituted a policy of transferring perceived uncompromising union executives out of the Headquarters against the acceptable conventional norms concerning their operations, denying them their promotions, allowances, rights and privileges.  The management even refused entreaties from the unions to reverse the transfers.
One of the unions was directed to stop parking its union vehicle within the premises recently. The unions have been so intimidated that some of the union officials have become rubber stamps for this modern day slavery in JAMB.  Yet, others have been recruited by the management towards its divide and rule policy.
"The management also directed the unions to disobey the last warning strike by the Organised Labour in September, 2018 over the national minimum wage.  The management had threatened that attendance should be taken during the strike period and workers who were absent should be transferred. However, on Friday, 28th September, 2018, Labour enforcement team stormed and picketed JAMB Headquarters, exposing the the arm-twisting antics of the management.
The management also accused some workers and union officials of being behind the development, giving them queries in the process.  The management later  transferred them out of the Headquarters because of their alleged participation in the strike. These anti-labour policies by the management have brought JAMB to disrepute as major labour crisis looms in our organization."
The aggrieved workers lamented "that since the management has hoodwinked the public by "returning" money to the coffers of the government that our plight as legitimate workers of JAMB has been so relegated and pathetically suffused by the anti-corruption sentiment the propaganda was intended to curry.  Consequently, the management is executing some repressive and vindictive agenda against  workers despite repeated appeals and hope for reprieve.
"While we are not against any moves that will boost government coffers, we however note that JAMB by the statutory provisions that established it is not a revenue generating agency. Consequently, our priorities should not be misrepresented or buried under the guise of some questionable self-pontification by management against corruption.
We are also not moved by the window-dressing of the management over its quasi-reforms.  Every JAMB staff is now perceived as a corrupt element by the public with the management desperately chasing shadows just to prove its godliness. Yet, we know that all that glitters is not gold. An audit or scrutiny of JAMB account will reveal a lot.
"Evidently, the anti-corruption propaganda being pursued by the management is clearly a deliberate smokescreen to cover its profligacy, incompetence and its anti-workers records.  It is shocking to note that while the management is busy remitting money to government that JAMB lacks infrastructure at the Headquarters and its various state and zonal offices nationwide.  Our IT facilities across the country for computer based tests are not encouraging.  Why is such monies not used to pay off the cumulative arrears owed our workers by government?
"Recently, the Registrar unilaterally closed down our Calabar office and redeployed the workers to Uyo office because he claimed that the structure and environment was not befitting.  Is it not paradoxical that the management is rather, "politically" returning resources that could have elevated our welfare and infrastructural status, especially in consideration of the importance and sensitive nature of our work in national development?  We pray that the management of JAMB should be called to order, especially in view of its insensitivity to workers welfare and its condemnable records and history of impunity, hypocrisy, duplicity, incompetence and scary autocratic conduct."
Meantime, leaders of the in-house unions in JAMB, on the aegis of Non Academic Staff Union of Educational and Associated Institutions, NASU, and its Association of Senior Civil Servants of Nigeria, ASCSN, counterpart, disowned the petition and the petitioners.
JAMB response
Responding to the allegations, JAMB's management through its Spokesperson, Dr Fabian Benjamin, said "There is  nothing wrong with their demand for increased welfare because even staff of World Bank, NNPC, CBN and some others will continue to ask for increased welfare. Welfare does not have an end, even if somebody is collecting a salary of N2 million every month, he would continue to ask for welfare. But when we do that, let us do it within the ambit of reality and let us put forward realistic demands, let us not use the opportunity to blackmail or malign people and say things that are not there.
"They alleged in their write-up that promotion examinations are now being conducted under questionable circumstances and as a result, there are controversies now. When you talk about conduct of examination in questionable circumstance, there are two issues that come into everybody's mind. That is, the exam is shielded in malpractice and infraction.
Africa Re launches CSR foundation
They complained equally  that questions from the Public Service were not used. But this is a blatant lie. I have a document here containing minutes of the board meeting where submission of results of promotion examination conducted in 2018 was submitted to the board and in this submission, you could see how results were arrived at. 60 percent of the questions were asked in civil service and others in English and the staff promotion examination timeline was reduced.
"We have been doing promotion examinations for many organizations and if we are doing this, the quality of our examinations should also be the same as the qualities of other agencies' examinations. We cannot be doing examinations and the quality of our examination would be lower than the quality of other agencies when we are supposed to be on top.
"Again, they alleged that promotion is now done earlier than it is supposed to be done and examination written in June. This is very unfortunate because when the registrar came, promotion was done and concluded sometimes around April and May. As I speak with you now, letters for 2018 promotion will be issued before the end of this year. So that by January, the staff will begin to enjoy their new salary. This is what people are complaining that we should go back to the old system. You can see that they don't even have the interest of the staff at heart.
"They alleged again that workers now live in perpetual fear and that staff need to seek clearance from directors to go out. I am sure you have been to organisations where staff use their Identity,  ID, cards to clock in when they come to work and use the ID cards to clock out. Is that slavery? That is the modern day's system. Some organisations even use their biometric fingers. That is, for you to go out, you must put your finger on the biometric system that automatically records your movement.
What we have done because we are renovating our office and we have not automated our system, is that any staff that is going out must tell his or her director where he or she is going. Let your director knows where you are going because we had an incident where a staff was crossing the road and was hit by a bike and nobody was aware that something happened to him. Nobody can say he has been queried on the basis of that issue. I challenge anybody who has any query on this issue to bring it out.
"They also alleged malicious transfer of staff and kangaroo setting up of disciplinary panel. You are aware of certain scandals that we had where we had to dismiss some staff over certain financial infractions.
If such people were involved in financial infraction and a disciplinary committee was constituted to ensure that the bad eggs among staff were weeded out, can that be said to be a kangaroo action when a staff is given the opportunity to defend himself? Do they have any evidence where a staff was asked to appear before a disciplinary committee and was then punished unjustly? If they have evidence on that let them bring it forward.
On the allegation of banning workers from going for leave in December, you see, there was a time we used to close the whole office in December and the management said based on the renewed or awakening of our services, it would not be good for us to close our entire services in December and because of that, we will want our staff to have their leave at least before December. Even the civil service rules state that you cannot have your 2018 leave in 2019. What that means is that you should exhaust your leave in the leave year. Because we don't want to close our office in December, let every department comes out  with a new schedule so that we can reduce the number of staff going on leave in December. As I speak with you now, our staff are on leave in December. I have friends who are on leave in December.
"They also alleged that the management has engaged consultants who are being paid huge amount as against staff who they claimed, are paid meagre salaries. Let me say that in JAMB, we have a consultant on IT. There is nobody in JAMB today that will say I have been retrenched, dismissed or rendered redundant as a result of a consultant.
Nobody will also say that my responsibility or my schedule has been taken over by a consultant. The consultants have made us more effective and efficient. Before, the whole architecture of our examinations was done by consultants but today, we are doing it ourselves. If you come to our office, there is something we call CAS on which we conduct admissions. But CAS is today being managed 100 percent by JAMB staff. How did we arrive at that? What we simply did was bring these consultants that they are complaining about to train our staff and enhance their capacity in the IT department.
"We have qualified computer graduates and the registrar said no, we cannot continue to engage the services of consultants when we have qualified staff who are graduates of computer science that government is paying salaries. He brought in the consultants and they trained all the staff and today, the staff are doing the work. When you talk about somebody is paid N300,000 and somebody is paid N200,000. You are a staff of JAMB and this is your core responsibility, they are paying you this money for you to, at least, have accommodation and other things.
Then you go out to hire somebody  on a contract basis, you are paying that person this allowance to help him achieve this particular purpose. Do people expect that you pay your own staff more than the person, somebody that you are just paying one-off payment? If I want to get the best out of you, will I pay you less than my staff? You are bringing a professor of computer science who will sit down and proffers solutions to challenges and somebody expects that I should pay a grade level 8 officer more than the professor. Is it done anywhere?
Attacks: Dan-Ali in Maiduguri on President Buhari's directives
"They also alleged malicious transfer of staff by the management. I worked with the former registrar and nobody has transferred me. There are so many staff who also worked with the former registrar and nobody has transferred them. In any case, when there was the financial scams,there was a particular directive from the minister that any staff that has worked in a particular station for more than 10 years should be moved out of that place because the impression was that maybe some of these people have overstayed, that is why these things are happening.
That directive has not even been implemented. Maybe they are trying to create that awareness that there is a directive that has been lying fallow and the management should try and see to it. If for any reason, a staff is found wanting of financial embezzlement and that staff is transferred on punitive measures, maybe after disciplinary committee recommendation and the board implements, is that malicious? Punitive transfer does not attract any financial benefits because it is punishment. Transfer is a routine in public service. One or two of those people that were transferred on punitive measures were not given anything. I don't know whether they are the ones they are referring to in the allegation.
"They also talked about reduction in 50 percent net gross and the rest. On this issue, what the management did was that if you are collecting loan, you cannot collect more than your capacity because they have to pay back within 18 months.
Some people did that and when the deduction of their loans was divided among the 18 months, it was discovered that what was left for them was just N15,000 a month. The management said that it is a serious financial embarrassment and it is a serious offence in the civil service. How can you use N15,000 to take care of your family, your wife, children and pay school fees?
The management in line with the civil service rules and financial regulations, decided that you cannot collect loan much more than it would make you not to have salary for about 20 percent of your salary. That is just what we are implementing. You can collect loan but it should not be more than what should be left for you as salary every month. What is malicious about that? If somebody is collecting about N500,000, he would go and collect loan of N3 million to buy car. There is nothing wrong in buying whatever you want to buy but the person will be left with just about N10,000 as salary. There was a time that some people were left with just N10,000 as salary. How would you be working for a salary of N10,000 and the person will be motivated?
"They also alleged that there is a non-existing welfare package. But I have documents here for you to see what the management has done in terms of staff welfare. What is welfare? Welfare is enhancing people's wellbeing in whatever capacity. When the registrar came, his first observation was that the salary some staff were being paid was not commensurate with what they were doing. But he did not have the power to unilaterally increase salaries and he needed to go to the relevant authorities to achieve that.
If you must know, one of the reasons why we make returns, is to block all avenues. We were paying over N3billions to consultants and we have trained our staff, enhanced their capacities, so we save that N3 billion. So contracts that we give here and there and we are also able to save some money from all those things we are doing. The registrar believes that we can prove to government that we don't need one Kobo from the government.
He said the only way is to engage the federal government so that we can begin to pay ourselves. On this, he has gone to see the Chairman of the National Salaries,  Incomes and Wages Commission and the man has told him what he should do. The registrar met the staff receiving these salaries, he is not the one that should determine their salaries except what he is trying to do now.
"When you talk of staff having health challenges, he has taken that responsibility. I have documents here where one of our staff was ill, he spent almost nine million naira on her. That is not all, so many others that he had spent N500,000, N1 million, N2 million and the rest. Once you are sick, the Board pays everything. So, what is welfare? One of our staff had accident at Awka and her leg was amputated. She boarded a tricycle and one drunk woman driving from somewhere hit her and because she could not get help on time, she lost her leg. All the medical bills was paid by the Board.
"On the allegation of illegal recruitment they raised,  that also is not true. Approvals were gotten from the necessary authorities to recruit these staff they alleged were recruited illegally. Some of these people were the consultants they alleged were being paid more than them.
We said we should engage them to be permanent staff of the  Board and for enhanced capacity. Now that they have been brought on board, we are paying them the same salary that the staff are collecting, and they are complaining. These were staff that were working on ad-hoc basis, so what we did was just to confirm their appointments. I have documents here to prove that.
"They equally alleged that the management directed the union to disobey the last warning strike. Nothing like that happened. What happened was that the management met and said, look we have essential services that we do, if you shut our site for one minute, it will take us over three months for us to recover certain data.
The management said staff on essential services should be allowed to do their work, even laws allow that but they came and blocked the gate. They mobilized their members, went straight to the registrar's office and broke into the office.
As it was going on, the registrar was even attending a NASU conference in town. They invited him for lecture and he was delivering their lecture in town but they broke into his office, looking for him. Nobody prevented anybody from going on strike and nobody was victimized for not coming to work that day. But of course, if you are on essential service and you did not come to work, it is an offence because you want to destroy the system.
UNILAG refutes poor hostel allegation
"They raised issue of the the Commission being turned into a revenue generating agency. I think they are just exposing their ignorance. Nobody has said we are a revenue generating agency. We have always maintained that whatever we collect is a liability from services that were not rendered. If you collect money and you spend and if something is left and you give it to government, it cannot be said to be revenue.
Don't they know it is because of what we returned that the government has reduced the cost of the form now? Is it not a good thing that government has through this alleviated the plight of the ordinary people? So, it is not revenue we are remitting but suplus. Suplus in the sense that candidates have given us N10 to do this work and initially, we thought we could use the N10 but because of the prudent management of resources, we discovered that we can do this thing with N6. Are we supposed to throw the  N4 that is remaining into the Lagoon?  Under normal circumstances, we should have said let us return this money to the candidates but you know how cumbersome that will be.
Our action does not show that we are a revenue generating agency, rather it shows that with prudent management of resources, such services could be done with less than what it is being charged.
"The end of year benefits: The same people who are complaining that there is no welfare are the same people talking about the end of year's benefits. So, if I may ask, the end of year benefit is from where? You can see how they are contradicting themselves? They said the management is not catering for their welfare earlier and now, they are saying some people are being paid something and some others are not getting it. These people are just alarmists. If you do something that you deserve punishment, which under normal circumstances you are supposed to be sacked, and you are forgiven, are you supposed to get benefits? Let me give an example, it is an unfortunate situation but that is how we are handling it.
Some staff that were found to have embezzled money less than  N10 million were asked by the registrar to pay back the money for the case to be closed. These staff were queried and some of them have paid back the money.
Now, as punishment, you would not enjoy certain privileges but you will enjoy your rights.  You have your right to salary, promotion and the rest but for privileges, you will not enjoy them. That is what they are talking about. Somebody who was supposed to be sacked and they said you should remain and not get certain privileges. Is what they are saying part of their salaries? Ask them if they were receiving the end of year benefit before the coming of the present registrar.
We need forensic audit of accounts, COSON board cries out
"A director died in JAMB because he needed money to go for surgery and he didn't have. I know it is God that gives life and takes life but if money was available, that man probably would not  have died.  The Commission is today spending over N9 million on an admission of an officer who is sick and these are things that were never in existence until the present registrar and you said there is no welfare. I know some staff were omitted in the end of year benefits that they are talking about but they were not up to 500. The total number of staff omitted were not even up to 50.
They just wanted to blow it to attract sympathy. There is  this issue of certificate where the management gave an instruction that everybody who has graduated for the past 10 years must present his certificate. It said anybody that did not present at the expiration of the time given wlll not benefit from the previleges, the essence of this is for them to ensure that they get their certificates.