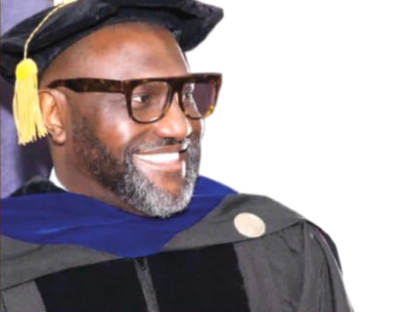 Ekere
By Udeme Akpan
AN indigenous company, Homeland Integrated Offshore Services Limited, has expressed commitment to the aspirations of stakeholders in its areas of operations.
Chief Executive Officer of the company, Dr. Louis Ekere, disclosed this while receiving a Doctorate Degree presented to him by the Trinity International University of Ambassadors, Atlanta Georgia, United States of America on Tuesday, November 20, 2018.
In a statement sent to Vanguard, the company stated that in his resolve to ensure Nigerians across every spectrum enjoy quality healthcare services,  Ekere has opened the multi-billion naira WellMed Healthcare Ltd, an indigenous healthcare company in Lagos that offers one-stop diagnostic solution services with state-of-the-art medical equipment, including 1.5 Tesla MRI, 64-slice CT Scan, 4D Ultrasonography, fully digital X-ray, 3D Echocardiography, Resting and Exercise ECG and fully automated pathology laboratory with a menu of over 3,000 tests.
Stop this fallacy against Atiku, group cautions Lai Muhammed
It stated: "Apart from this, Dr. Ekere is also involved in several philanthropic activities, the recent being the free medical testing on world Hepatitis Day, free medical outreach at Ajah, Lagos, and environs, where residents were screened for chronic lifestyle diseases including diabetes, hypertension and obesity.
"He has offered free high-end radiologic and pathology investigations including MRI and CT scan, hitherto unaffordable, to indigent patients of public hospitals including Massey Street Children's Hospital, General Hospital, Lagos and Epe General Hospital.
https://newlive.vanguardngr.com/2018/10/between-buhari-and-rule-of-law-activists/
"Ekere has also employed and sponsored indigenes of host communities where Homeland IOS Ltd operates amongst several other activities."
It added: "Consequently, it was not surprising when he was conferred with the much-talked-about Doctorate Degree by Trinity International University of Ambassadors, Atlanta Georgia, United States of America last Tuesday, November 20, 2018.
"The award is conferred on individuals deemed worthy, and who have great experience, knowledge and impact, doing great work at home and abroad. Incidentally, the conferment of the award is coming on the heels of his recent graduation from the prestigious Harvard Business School."
"Dr Ekere, who has passion for humanity is not new to awards and honours from all over the globe. This alumnus of the prestigious IESE Business School, Barcelona, Spain and the Lagos Business School, he was recently awarded the Certificate of Merit by the US Coast Guard, Department of Homeland Security, United States of America (USA)."