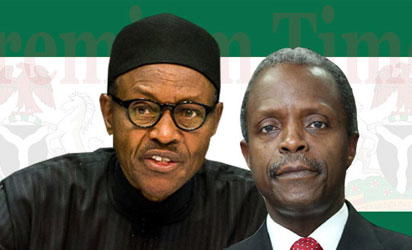 President Muhammadu Buhari and Vice President, Yemi Osinbajo
By Yemi Abdulmalik
In 2017, for over 100 days, Vice President Yemi Osinbajo was Acting President while President Muhammadu Buhari was away on medical vacation. During those three months, Osinbajo was a study in integrity, loyalty and rare commitment to national service.
Osinbajo has been handed the role of Acting President at least on four occasions since the inception of this administration on May 29, 2015. If he had any ulterior motive or political ambition like falsely alleged by the Vanguard report on Friday, he would have perfected on those occasions as acting president.
But alas, mischief makers would want to oil their selfish motives with such fake news. Now they are flying another kite in a false, unprofessional report that will surely bust again, like other false claims before it.
2019: Oshiomhole, APC Guber Candidates strategize for victory
Many Nigerians, including top shots in the opposition Peoples Democratic Party, have  repeatedly commended Osinbajo's loyalty to the President,  as well as his dedication in service and competent leadership.
Osinbajo's leadership qualities have not only endeared him to Nigerians, they have also helped in steering Nigeria in the right direction even when critics tried to stoke controv-ersies when  the  President was away. Everywhere the VP has gone nationwide, Nigerians from all walks of life and social class have praised him for his loyalty to this government and the country.
And like Osinbajo, his camp and everyone that works with him, has that same mindset and unity of purpose, working in tandem with the President to make Nigeria better. The hallmark of Osinbajo's stewardship as number two is selfless national service, integrity, loyalty and unflinching dedication to this administration.
Never in the history of Nigeria has the country had such a hard working and active Vice President who gives his all in contributing to national development.
Without doubt, it is obvious that Osinbajo has continuously shown dedication to upholding the vision of the Buhari presidency, and his leadership qualities have endeared him to many Nigerians who see him as an embodiment of hope for the country.
Saraki to Buhari: Don't Listen to anti-democratic elements, sign Electoral Bill now
Again, it is public knowledge that unlike some in the past, Osinbajo never lobbied for the role of the Vice Presidency under this administration. Mischief makers choose to forget also that Osinbajo has been active in social causes for most part of his life.
And for six years, as Attorney-General in Lagos State under former governor Asiwaju Bola Tinubu, Osinbajo was a leading light as he championed reforms that improved governance in the state. Again, he never lobbied for a position in Tinubu's cabinet. Simply put, Osinbajo's excellent works, as a pastor, professor in UNILAG, and public servant, simply spoke for him.
Despite the fact that President Buhari is Muslim, and Osinbajo is a Christian and pastor for that matter, this has not affected their exemplary relationship. President Buhari trusts VP Osinbajo and his commitment that he is comfortable to hand major areas of government under this administration to him. This is clear evidence of mutual trust and commitment to the nation.
The Buhari-Osinbajo connection & the mutual trust they share is indeed inspiring. Indeed, their connection is a win-win for Nigeria as both men have shown integrity, selfless service and honesty in leadership.
Lawmaker donates 110 vehicles to Buhari's campaign
Owing to the many unnamed sources in the Vanguard report, it is clear that unfounded claims like this are baseless. The Vice President's loyalty to this administration, the devotion and diligence with which he handles his constitutional responsibility, whether as acting president or vice president, is clear for all to see.
The unity of purpose betw-een President Buhari and Osinbajo is clear and Osinbajo's loyalty to the Buhari administration is not in doubt, but only in the figment of the imagination of mischief makers. Nigerians know better and would not be hoodwinked by outright lies and fake news.
*Abdulmalik is a social media commentator based in Lagos