By Rose Moses
One of the major problems that most Nigerians have endured for as long as one can remember is not just the poor supply of electricity but that consumers are oftentimes made to pay for electricity that were not supplied via the fraudulent estimated billing system. Or what people describe as paying for darkness.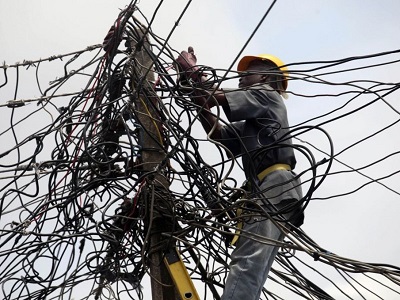 The situation has gotten so bad that in the usual Nigeria parlance, a joke is now being cracked that the Power Holding Company of Nigeria (PHCN) is a bastard!
I can't wait to debate Buhari — Atiku
One Lagos landlord, who has spent a better part of his life in one of the more advanced countries of the world before taking over the running of his father's property following his demise, agrees with the parlance and indeed, wonders how any country that thinks development would have such a vital sector of its economy run the way PHCN is being run.
This landlord was among numerous frustrated electricity consumers at one of the undertaking office of the IKeja Electric, recently, who came to lodge one complaint or the other and narrated to  fellow complainants an incident at one of his property in Lagos.
According to him, there is this tenant occupying a flat at one of his buildings with a wife, two kids and a hoard of relations and friends. He believes this tenant has no business living in the house because he just can't afford the rent.
CSCS gets GLEIF accreditation to perform all LOU services
With no stable source of income beside the pool betting program popularly called Baba Ijebu that he plays, there is practically nothing else the tenant does for a living, the landlord said.
Together with his wife, who he was brought  from the village to Lagos, and who also has nothing doing and doesn't seem to want to do anything, the family basically is a nuisance to the rest of the tenants, he added.
And that of course, is only expected were people of different social backgrounds find themselves in the same environment.
Getting his rent from this tenant was a herculean task that dragged for so long and paid in many installments, the landlord revealed, wondering if indeed, the former caretaker of the property he relieved of the job on account of trust, actually collected any rent from this particular tenant.
Port congestion: NPA considers review of operational charges, increases rent free days
Anyway, after the tortuous task of getting his rent from them, the landlord concluded they were not the kind of tenants he would want to keep, so he asked them to leave at expiration of their tenancy. They are yet to do so, even when the period of grace has expired, the landlord said.
The next big surprise to him, however, was realising that an outstanding bill for the family's electricity consumption stands at close to half a million Naira. And despite this, they were still enjoying electricity supply and appear to have a very good relationship with some field officers of the Ikeja Electric operating in the area.
How any company would still be supplying its product to a consumer that owes it such huge amount of money is what the Abroadian landlord, as Nigerians would like to call them, does not understand, among the many strange things that happen in Nigeria.
And he was like: 'When the tenant eventually packs out of the house, who will pay the debt he is leaving behind?
That was exactly what the landlord wanted the PHCN to tell him but to his shock, there was no one around to provide answer to his question, officially.
Some other staff of PHCN that I raised the issue with also casually told me it's the landlord's problem.
Britain's Farah eyes London Marathon glory
Since the landlord does not live anywhere near the vicinity, my conclusion was that the next tenant will be made to go through the pain of dealing with the hawkish electric company on a bill of about half a million, and still running, he/she knows nothing about. What a country?
Sadly, those who honestly want to keep their account clean with the electric company by paying their bills when due, are so frustrated with crazy and estimated bills, while those that know one or two ways of 'taking care' of the field workers, get on well with the system.
After all, when next those field staff members show up with their ladder, they can only disconnect them briefly in the presence of others and then show up later in the evening to connect them back, after some things must have changed hands, of course and their official bills not paid.
Daily, numerous aggrieved consumers complain and lament the excessive bills PHCN personnel generate for them by imagination and arbitrary estimation, whether or not power was supplied or consumed. The only programme that will solve the problem, pre-paid metering system, is one thing most of the fraudulent officials at PHCN do not want to work because it will put a stop to their swindling of consumers.
Delta community youths seek early completion of electricity project
This fraud perpetrated on consumers nationwide, was inherited by PHCN from the defunct National Electric Power Authority (NEPA). It has been going on for ages, has become endemic but must be stopped, if the nation must make any headway.
Subscribe for latest Videos