By Rose Moses
Nigerian politicians and their supporters are some kind of entertainers. If you follow events on social media, especially now that elections are around the corner, you must have been thoroughly entertained. Or highly embarrassed, disappointed, disgusted. Or both!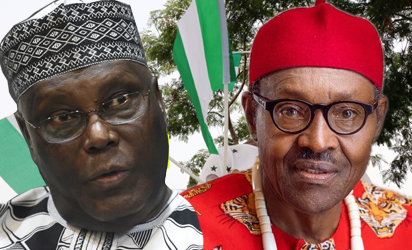 With campaigns kicking off and the whole atmosphere highly charged, political jobbers have been running riot with ignorant persons easily misled. In fact, you will be amazed at how they leave out serious issues that affect their lives to chase shadow.
JTF frees 7 kidnap victims, destroys 436 illegal refineries
When they are not dwelling on an imaginary Jubril from Sudan, for instance, they are daring Alhaji Atiku Abubakar, the Peoples Democratic Party (PDP) presidential candidate, to visit the United States.
Meanwhile, between 2016 and now, Nigeria has been ranked as having the highest rate of poverty globally, having the worst police force in the world, being one of the most difficult environments to do business, and being one of the most violent places in the world, among other negatives.
While most families can hardly afford to adequately feed themselves, most states are unable to pay workers' salaries. This is despite the fact that as at 2016, the sum of N1.75tn was said to have been given to states as extra-statutory allocation in form of bailout.
Sadly, not much is usually known of how the funds are being spent as workers in some of the states are still owed salaries for about 18 months, or above. The states of Osun and Kogi are very notorious in this direction.
Tuesday, this week also, workers at the National Assembly had to shut down the complex, thus preventing federal lawmakers from sitting. The workers were protesting over unpaid wages and allowances, some of which they said date back to 2010.
Vice President Osinbajo assures Nigerians of better times ahead
Such recklessness on the part of the leaders naturally drives cost of staple commodities out of the reach of the ordinary man; to the extent Nigeria is today described as poverty headquarter of the world.
This is in addition to high incidences of gender-based violence and general marginalisation of women, ethnic and religious conflicts, oppression of sexual minorities, disenfranchisement of the young, and a general hostility.
While Boko Haram and gun-wielding herdsmen are busy terrorizing and slaughtering innocent Nigerians in the north, for example, ritual killings and other forms of vices are being perpetrated in the south.
Most states of the federation are in near state of total breakdown with little or non-existent infrastructure.
Performance indicators mostly show that the state governors merely sit back and routinely await the discovery or refunding of money into the treasury, of which they will immediately seek their shares.
Ironically, and with the systemic deterioration in the polity, the same political elites that run down system have continued to profit both politically and economically from the rot.
Unfortunately, a good number of young people who should be more concerned about their run-down future are all over social media tearing each other's throat open because of these politicians and the many mundane issues they fight about.
They want to see Atiku Abubakar go to the US, for example. As a matter of fact, Atiku's US visa status is now a yardstick for measuring his ability to rule the country, rather than engage him on how he intends to get Nigeria working again, which happens to be his campaign slogan.
On the other flank are those dancing around the now globally trending rumour of a Jubril from Sudan. The Jubril rumour unfortunately, received global attention when President Muhammadu Buhari, who had all this while, ignored the rumour, decided to address it, not in Nigeria, but in faraway Poland.
South Sudan rebel leader Machar to return
"It's real me, I assure you. I will soon celebrate my 76th birthday and I will still go strong," said the president, Sunday, in Krakow, Poland, while responding to a question from a Nigerian in the Diaspora, who wanted to know if he was real or the much talked about 'Jubril from Sudan.
President Buhari who was in Poland to attend the UN Climate Change Conference, COP24, was immediately reminded back home that the issue in the rumour is about a body double and not cloning, since he eventually decided to address the nagging issue abroad.
Nonetheless, while the drama plays out, lots of Nigerians are dying from hunger, diseases and poverty. Boko Haram terrorist are killing our soldiers in addition to attacks on communities at a time we are told they (terrorists) had been decimated, among other security and national challenges.
Rather than address these issues, most Nigerians are all over the place dancing Shaku Shaku about one Jubril from Sudan or when Atiku Abubakar will visit the US, as if America presidential candidates care about visiting Nigeria.
Some are even indulging in war of words over the likes of Kogi State governor that hardly pays workers their wages.