…says not yet time to bring in INTERPOL
By Soni Daniel, Northern Region Editor
The Nigerian Government confirmed last night that it had begun processing legal papers to expedite the extradition of former Petroleum Minister, Diezani Alison-Madueke, to face trial in Nigeria over alleged money laundering and illicit oil deals.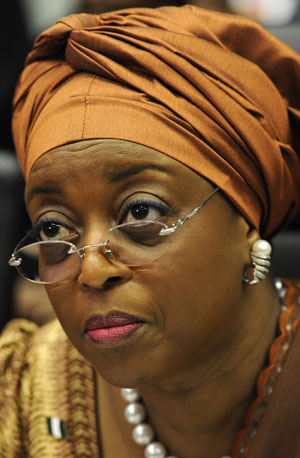 Although the government has not given any specific amount of money reportedly diverted by the former minister, the Economic and Financial Crimes Commission, EFCC, has linked her to several matters, including receiving gifts in luxury homes and plots of lands in highbrow locations while in office, and has filed charges in a federal court against her.
A top official of the Federal Ministry of Justice confirmed to Sunday Vanguard last night that the Nigerian Government had started processing papers that would give effect to the Federal High Court order directing the EFCC and the security agencies to produce the former minister to stand trial in the country.
https://www.vanguardngr.com/2018/12/badehs-death-crude-and-senseless-magu/
The top official, who is familiar with the processes regarding the extradition of the former powerful Jonathan administration figure, said, "It is true that in line with the order of the federal high court, we have filed an application to kick-start the repatriation of the former minister so that she can formally be arraigned.
"The true position is that the extradition processes were initiated since last year and there is need to begin the arraignment of the suspect. But we also need to formally file the request with the United Kingdom so that she can be released.
"There is no way the prosecution agency of government can make progress without the accused person being produced in court.
"I can confirm that we have both the request by the EFCC and the FHC order to produce the woman and we are currently processing what we need to table before the UK".
Asked to confirm if the government had made any request to INTERPOL to extradite Diezani as widely claimed in some media, the top source said there was no need to bring in INTERPOL when the request to bring back the accused has not yet been made to the British Government.
"As at today, it is the Mutual Legal Assistance process that is being processed by the OHAGF for onward transmission to the UK. It is only after that is done and if the suspect declines to turn herself in, that assistance of the international police could be sought to arrest her. But we have not reached that stage yet," the official explained.
The federal government is miffed that the former minister embarked on many oil deals and made the country to lose money through many of such schemes.
But the former minister has maintained her innocence, saying she did her best to sanitize the industry and rake in cash for the country through many schemes, one of them, Strategic Sales Agreement, SSA.