By Chioma Gabriel
The Indigenous People of Biafra, IPOB, has picked holes in a statement credited to a Niger Delta militant leader, Asari Dokubo,  which said that boycott of 2019  general elections by the south-east and the south-south  will not help the Biafra cause.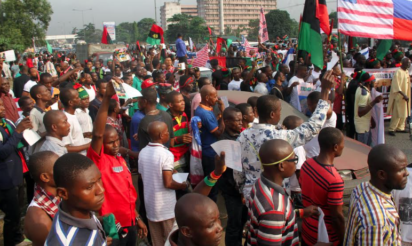 IPOB leader, Nnamdi Kanu had urged IPOB supporters and sympathizers in the two geopolitical zones of south east and south south  to shun the 2019 general elections unless the Federal Government announced a date for Biafra referendum. But  Asari Dokubo had expressed  disagreement over the call for the boycott of the 2019 general elections by Nnamdi Kanu.
Dokubo had argued that heeding Kanu's advice was suicidal since it would be tantamount to empowering those opposed to the Biafra aspirations with resources from the national treasury to frustrate the people's struggle.
Dokubo went further to point out that pro-independent agitators in Spain, Ireland and Palestine contested elections and won seats into political offices in a bid to push their agenda rather than boycott general elections in their respective nations.
But Kanu's deputy, Uche Mefor has picked holes with Dokubo's position.
According to a statement by Uche Mefor, Deputy Leader of IPOB, "Whether Catolonia, Scotland, Northern Ireland, Hamas, used election to control their territories or not, that is their business. Their examples are incongruent and serves no purpose in our circumstance as it stands. On our part, IPOB has taken a decision to use civil disobedience manifesting in so many ways including election boycott and that we must do.
"We do not believe in the recalibration nor extinguishing of our avered principles on the altar of political expediency and certainly, don't need any lectures on what or how to go about the path we have chosen.
"Hamas started by fighting wars, IRA started by fighting wars and same with Catalonia and even Scotland and these violences gave rise to their attaining political statuses they have today. Why then are those who claim to be Biafra freedom fighters not fighting like Hamas, IRA, etc if citing them is a standard?"