By Dayo Adesulu
No fewer than 456 First Class graduates have benefited from the Agbami, Science Technology Engineering and Mathematics, STEM scholarships organized since 2008.
Also its symposium that started in 2016 was specifically established to promote the study of science, technology, engineering and mathematics among students who are brilliant but lack means of actualising their aspirations.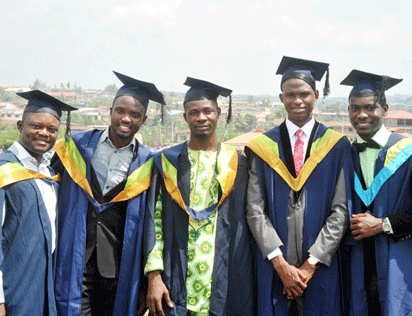 Many First Class students during convocation over the year had pointed out that for the Agbami scholarships, they would not have made First Class. According to some of them, the knowledge that their fees have been paid gave them rest of mind to concentrate on their studies.
STRIKE: Students may stay long at home, ASUU warns
Speaking at this year's symposium and exhibition held at the Lagos Business School, with the theme 'Teaching STEM in the 21st Century: Current Trends, International Best Practices and Cross-Sector Action', the Director, Star Deep Water Petroleum Limited, Mr. Richard Kennedy stressed that to succeed in this new information-based and technology-driven global society, Nigerian youths need to develop their capacities in STEM to levels far exceeding what was considered acceptable in the past.
He said: "Science Technology Engineering and Mathematics are undeniably some of the key subjects to study now because of the need for Nigeria to evolve the scientific and technological innovations needed to face the challenges of globalisation and build an evolving knowledge-based economy.
"More importantly, STEM education is directly linked to global competitiveness and future economic prosperity of our country."
Going down Memory Lane, he explained  that the Agbami parties began investing in education in 2008 and have been playing significant roles in advancing STEM education.
According to him,  over N8.4 billion on the Agbami Medical and Engineering Scholarships (AMEPS), a merit-based programme, which targets capacity building for students of medical and engineering courses across the nation and this scheme have recorded an impressive total of 456 first class graduates.
His words: "Since inception, over 16,000 students from all states of Nigeria have benefited from the AMEPS. The Agbami parties have also spent over N2.5 billion on education infrastructure support since 2008. We have built, furnished and equipped 34 science laboratories and nine hybrid libraries across the country, which in addition to the benefits to the students, have also empowered several local community contractors during their construction."
Meanwhile, the Academic Director, Lagos Business School, Mrs. Olayinka David-West, in her remarks disclosed why LBS is interested in STEM, adding that most of the challenges in Africa and Nigeria are challenges that need local indigenous innovations.
Metele horror and our challenged humanity (2)
She decried: "How do we create these innovations if our secondary schools are not developing the resources and the tools to help solve our problems, whether in terms of how we clean up our plastics, how we reuse things and we have seen different solutions and creativity come out of it so that is what we are aiming for in LBS."
On the importance of STEM to students and teachers, she maintained that  Science Technology Engineering and Mathematics are foundational subjects to research and development, especially biological, natural and metaphysical research in general.
She said there was  need to equip youths through STEM education to solve some of the problems confronting the society.
Besides, while delivering the keynote address titled 'The Role of Quality Education in Addressing the Sustainable Development Challenges in Africa' the CEO, Nigeria Climate Innovation Centre, Mr. Bankole Oloruntoba, emphasised the need for qualified teachers that would seek creative ways of teaching and making learning fun for students; as well as building students' curiosity.
As such, he called on school managers to take the training and welfare of teachers seriously so that they can perform better.
He said there is need for Africans to embrace indigenous technology, adding, "African technology is not just about black magic, but we had things that worked for us over the years, but no one documented them. So if we can retrace ourselves back and see how we can look at the things we were doing in the past and make the best out of our technology and make thing happen for ourselves."
The event also featured STEM exhibition by secondary schools, as well as the presentation of prizes to winners of the quiz competition.