…God doesn't accept selfish prayers— Gowon
By Johnbosco Agbakwuru
ABUJA—VICE President Yemi Osinbajo said yesterday that God has a message for Nigeria in coming months and years and that Nigerians should continually thank Him.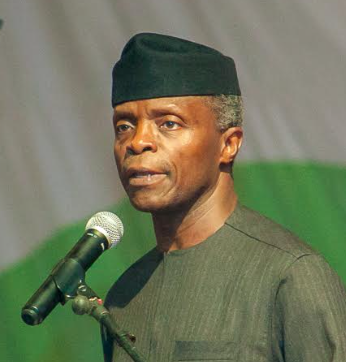 Buhari, Gowon, others to grace Oba of Benin's book launch
This is as the former Head of State, General Yakubu Gowon, said God answers prayers but does not accept selfish ones.
Gowon also said let God answer all the good prayer for Nigeria and let him do what he thinks is best for the country.
The duo spoke at the end-of-year thanksgiving service at the Presidential Villa Chapel in Abuja.
Speaking to State House correspondents after the service, Prof. Osinbajo admonished Nigerians to be continually thankful to God, urging them to look to the future with hope because of God's faithfulness.
Osinbajo was joined at the service by former Head of State, Gen.  Gowon, his wife, Victoria, Deputy Governor of Nassarawa State, Silas Agara, Minister of Niger Delta, Usani Uguru Usani, among other government officials.
According to him, "My message to Nigerians is that we have every cause to be extremely thankful to God. This   has been a year where God has shown his faithfulness in so many ways."
On God's message for Nigerians for the coming months and years, he said,  "I think that what God is also telling us is that the coming month and the coming years will be even better.
"Our country is going forward; our country is getting better and better; our country will prosper; our country will be a country of abundance.
"All of us will enjoy the fruit of this land. So my message is that we should continually thank God because God has helped us a great deal and set to help us even more."
On his part, the former Head of State, Gowon urged Nigerians to pray because "God accepts our genuine prayers."
He said: "God accepts our prayers for Nigeria but not our selfish prayers.
"Let God answer all the good prayer for Nigeria; what he thinks is best for Nigeria.
"Let us pray and be determined to make sure that we contribute to that peace in Nigeria."
While expressing gratitude for peace in Nigeria, the Deputy Governor of Nassarawa State, Silas Agara, prayed God to give another term to President Muhammadu Buhari and Vice President Osinbajo to enable Nigerians witness "more abundant blessings."
Delivering the message of the thanksgiving, Assistant General Overseer of the Redeemed Christian Church of God, Pastor Eziekel Oduyemi, said thanksgiving "is reflective of a grateful heart and that "only a great thinker can give thanks to God."
He said the fact that Nigeria, with over 180 million people, still has peace and freedom of worship, showed that God answers the prayers of Nigerians.
The first bible reading of the service, taken from Isaiah 51: 1-3 was taken by Usani Uguru Usani, while the second reading from Philipians 4:1-7 was taken by Mrs. Victoria Gowon.