Dr Ejike Orji, the Chairman, Association for the Advancement of Family Planning (AAFP), says Family Planning (FP) is a must for Nigeria to avoid demographic doom.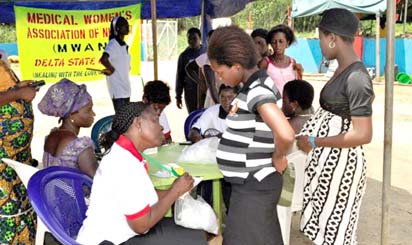 Orji said this at the 5th Nigeria Family Planning Conference organised by the AAFP in collaboration with the Federal Ministry of Health on Tuesday in Abuja.
According to him, providing adequate healthcare, appropriate education and creating an environment that create jobs would help curb demographic doom.
News men report that this year's conference was themed "Investment, Innovation and Inclusiveness".
The theme aimed at enlightening the populace on the need for Nigerians to embrace FP.
"Nigeria is at a cross road with the youthful population we have now.
"Providing adequate healthcare, relevant education and creating an environment that provide jobs for them would help achieve the set goals.
"If we do nothing to address this situation, we are likely to face demographic doom.
"The choice is ours but the present government have chosen wisely," he said.
Orji said the Federal Government had added 1 million dollars to the 3 million already committed for purchasing health commodities.
"The Government has chosen wisely by adding 1 million dollars to the 3 million dollar already committed to purchase of health commodities and that makes it 4 million dollars.
CSOs seek release of 2018 Lagos health budget
Orji said that the major reason for organising the event was to ensure Nigeria have access to right base FP.
"As usual we have come from every part of the country and we owe some of our international partners.
"The purpose of this event is to seek ways and means of advance in our effort in providing the needed service to our citizens.
"And also seek to reduce maternal girls and disabilities.
"FP service is a right and the only way we can make sure women and men exercise this right is to empower them and make those critical decisions base on their choices in good atmosphere,'' he said.
Okorocha commended for lifting embargo on LGA
Orji said that the organisation was ready to work with the government especially at the sub-national level to increase investment and bring about innovative ideas.
He also said that the idea would ensure nobody is excluded in getting the needed FP service he or she deserves.
He commended the Minister of Finance, Prof. Isaac Adewole, for his effort in making the event a reality.
He however urged the minister to do more especially at the sub-national level to ensure adequate and proper investment takes place.
Orji however noted that the goal was to improve express service to FP information and services in Nigeria.