By Jacob Ajom
The Super Falcons unsurprisingly retained the African Women Cup of Nations trophy they won 2 years ago in Cameroon after a hard-earned victory over their South African counterparts. The match was decided on penalties following 120 minutes of tension-packed football game.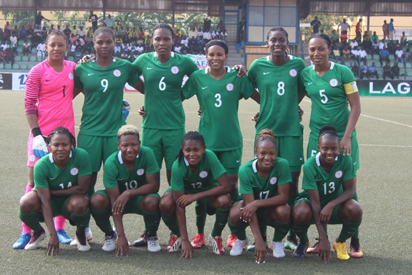 The Falcons claimed their 9th AWCON title and, like the President of the Nigeria Football Federation put it, became one of the most accomplished national teams in the world..In addition, the Nigerian women earned the ticket to go to the World Cup in France next year.
It was not however, all smooth for the African champions as they were given the stiffest test yet by any team from the continent. The Falcons lost their invincibility in the first match against South Africa who downed them by a lone goal from the lethal boots of Thembi Kgatlana.
Pinnick tasks NFF reform committee on Nigeria football
After that defeat, the Falcons never looked back as they went ahead to win their remaining matches with fantastic scorelines, except for the matches against Cameroon in the semi final and South Africa in the final, where they won on penalties.
Apart from the matches against Zambia and Equatorial Guinea that the Falcons scored 4-0 and 6-0 respectively, the Nigerian women were exposed as a side that still required much to be done before the World Cup.
The Nigeria Football Federation executive Committee member and head of Women Football Committee, Aisha Falode admitted that, "this campaign in Ghana showed us that, nothing is done without adequate preparations.
We will give the Falcons whatever they need to succeed in France. They are going to compete among the best 24 teams in the world, representing their various continents and all of them potential world champions. So they are going among the best, They have to be in the best shape before the World Cup."
She said she expects the world football governing body, FIFA to release grants to the women teams , "like their male counterparts so as to ease the problem of poor financing to women teams going to the World Cup."
Falode defended the Falcons against claims that they were aging, arguing, "a team that scored 9 goals in their group and conceded one is not a team that is weak."
She said for the Falcons to have recovered after the grueling 120-minute display against Cameroon in the semi final to defeat a highly motivated and more youthful side like the Banyana Banyana in the final showed that the Nigerian team was still the best in Africa.
2018 LAIF Masterclass: How African brands can compete against global rivals — Experts
"I want to agree less with those who said our team is aging. 'What we learnt in this tournament was that women football is growing in bounds in Africa. It is good for the growth of the game.
"South Africa have been building and what we saw in Ghana was the result of that building process. Cameroon have been strong and consistent while countries like Mali, Zambia and others are also making steady progress."