Substance Abuse Almost Ruined My Life – Catholic Priest
By Femi Bolaji, Jalingo
This might not be the kind of life experience one would have hoped to hear from a person like Father Cyriacus Kamai of the Catholic Diocese, Jalingo, but his life's journey, through the stormy path of redemption from substance abuse, has saved countless others hooked on drugs.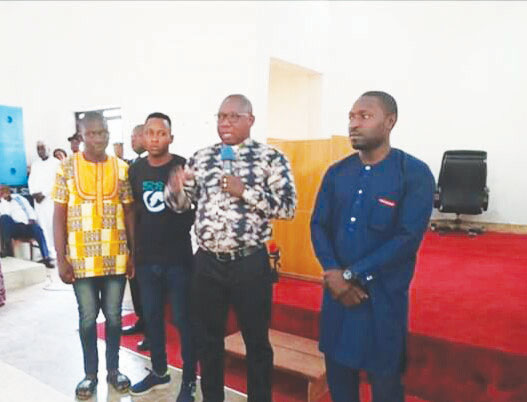 Merely looking at him, one would doubt if he was a slave to drug abuse.
But his life experience, which many in his shoes would have swept under the carpet, has spurred him into campaigning against drug and substance abuse, especially by youths, on the grounds that if he could have weathered the storm of drug addiction, they could too.
Aero Contractors boss calls for recognition, certification of ATSEP
The total silence that greeted his testimony at a public forum, where even members of his congregation were present, shows the curiosity of the audience to his story.
However, one of those whose lives have been transformed by the crusade of Kamai is a young man in his early 20s, Peter, who, today, is free from drugs, having gone through rehabilitation at Hope Health Centre, a pet project of the first lady of Taraba State, Anna Ishaku, where Kamai works as a volunteer counsellor.
The tale of Peter Augustine Anyam would have been seen as that of neglect and non-chalance which, today, has driven many youth into drugs but, unlike the cleric, he was not so fortunate to enjoy the care of having a mother and father, having lost them early in his life.
His straying into drugs, however, started in 2012 while in secondary, when some of his friends inducted him into the world of narcotics.
His shady past, which deprived him of the opportunity to further his education, has culminated into wasted years he regrets today.
"There is so much ignorance about drug abuse and parents don't know when their children start taking drugs", Kamai narrated.
"Most parents get to know when it becomes a problem but, at that stage, it will only take the grace of God and rehabilitation to bring the children back to their senses because there is little or nothing they can do.
"I was a victim of drug abuse and l went through rehabilitation and, today, I have decided on my own to go round campaigning about the effect of substance abuse and how to help those battling the disorder.
"Battling drug abuse takes a lot of courage and it will only take a resolute mind and love of family and close associates to weather the storm.
"I started by smoking cigarette and drinking beer just like any other person right from secondary school, Government College, Jalingo, but never knew it will become a problem for me later in life.
Growing army of mentally ill children, youths
"When it started affecting my work and l was totally overwhelmed, I had to come out of my shell and told my boss that I needed assistance.
"I am saying this for a reason because if I were to be at home and not a priest, my father could not have been able to pay for my rehabilitation because it was capital intensive.
"I commenced my rehabilitation in 2014 at Quintessential Health Care Centre, Jos, Plateau State for six months. Every month we paid N200,000 and for the six months of my rehabilitation, we paid N1.2 million.
"We don't desire for people to get to that stage of rehabilitation because it is not easy.
"After my rehabilitation in 2015, I told myself that God made me go through this process for a particular reason and realized that countless young men and women will be wasting away if I don't lead the campaign against this growing social menace.
"Now I go about campaigning on the negative effects of drug abuse with the support of my bishop because young people are dying.
"After my redemption, I was able to write a book which has been of great assistance to other victims. It was in the course of my sensitization that Mrs Anna Ishaku absorbed me as one of the board members and volunteer counsellors of Hope Afresh Centre.
"If government can prioritise combating this growing menace in the society, especially among youths, the country would be a better place because there would be fewer vices."
NDLEA to participate in EU meeting on drug trafficking in Africa
I Was Told Drug Would Boost My Dancing
Skills – Peter
In his brief narration, Peter said,
"It all started in 2012 while I was still young in secondary school. With a couple of friends, we would dance together because I was good at it.
"Along the line, they told me if I wanted to improve on my dancing skill and add more life to my thrills on stage, I needed to start taking drugs.
"They introduced me to Tramadol and that was how it began. Most of the money l made from shows was spent on drugs and anytime l bought something valuable, I ended selling it to get drugs.
"One day, I had a sober reflection and told myself that if I didn't stop doing drugs, it will end up stopping me someday.
"All efforts for me to stop it on my own were futile because, after mustering the courage to do so for some days, I would end up in a relapse.
"Help eventually came when I met a counsellor whom I confided in and who paid for my treatment at the Hope Health Centre where I was rehabilitated.
"The rehabilitation process was all encompassing because I was redeemed psychologically, spiritually and medically. I am proud to say that I am drug free. "
He continued, "There are many people out there on the streets that are into drugs, but detaining them will not help. They need to be listened to and loved, and helped with rehabilitation to rescue them from the scourge.
"The establishment of this facility in Taraba is a major step to rid the state of junkies and I am happy to have had my redemption from this place."
The Last One Year
Has Been Adventurous – Centre Superintendent 
Recounting his experience with patients of the medical facility during the first anniversary of the subsidiary of Hope Afresh Foundation, the Coordinator, Dashe Dasogot, explained that the year had been adventurous.
He said, "We have been able to meet those who have been stigmatized and criminalized by the public.   We have also been able to meet those that believe you cannot work effectively without substance in the body.
"We have also had the opportunity of meeting families who have come to thank us in tears for the good work we have done for one of theirs who had been brought to the facility for rehabilitation.
"This facility was commissioned on October 19, 2017 and had its first patient admitted on October 23, 2017.
"The centre has been able to treat and discharge ten persons while three patients had incomplete treatment and two others were attended to as out-patients".
Spurred by the success recorded in the medical facility, Governor Darius Ishaku said N100 million will be injected into the 2019 appropriation bill to establish a rehabilitation centre for victims of drug abuse in the state.
He noted that the proposed facility will mark the takeover of Hope Health Centre by the Taraba government.
Ishaku donated N6 million in support of the initiative.
He said, "For every rehabilitated soul, we have uplifted one person.
"I will make sure that we put into the 2019 budget the sum of N100 million for the establishment of a rehabilitation centre in the state specialist hospital because I want something that will be left behind."
The first lady, Anna Ishaku, in her address, noted that the statistics of substance abuse across the country shows that the North-East, where Taraba is located, is 8.54 percent.
She said, "Nine out of 100 persons in the region suffer one form of substance abuse or another, but this health centre has given hope to families of victims of various substance abuse."
While soliciting for more support in order to extend the services rendered at the medical facility to other local government areas of the state, Mrs Ishaku explained that the facility would review its mode of operation to accommodate more out-patients.
She maintained that the contribution of various individuals to the medical facility since it began operation was the live wire that has sustained the centre.