Ola Ajayi, Ibadan
HUNTERS Association in the South West zone of the country has called on President Muhammadu Buhari to involve them in the fight against Boko Haram insurgents in the North East.
The call was made by the National President of Soludero Hunters Association of Nigeria, Oba Nureni Ajijola Idris Anabi while speaking with Vanguard in an exclusive interview.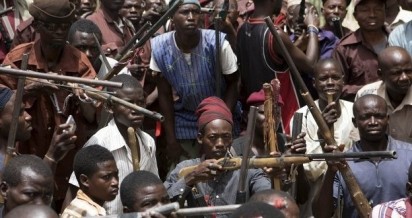 The hunters who flaunted local charms said getting rid of the insurgents should not have been this difficult if they had been involved by the federal government.
Oba Ajijola said the incessant attacks on innocent people and soldiers in the North should not be left for the army or security agents alone but should be a combination of the security agents and local hunters.
Making particular reference to the recent attack by the insurgents which recorded heavy casualties on the side of the military, Ajijola maintained that the dimension the attack was assuming was too dangerous.
While acknowledging the significant achievement the President Buhari led administration had made in pushing the insurgents far away, he said more achievements would be recorded if the hunters were empowered with vehicles and other logistics.
He said, "I want to tell you that we have charms that can demobilize armoured tanks and rifles of all kinds. Their weapons will just not work. When invited, we can also give the soldiers some protection that would not make them vulnerable to attacks."
"President Buhari has done tremendously well in the fight against Book Haram. Except for those who don't want to face facts, this administration has given hope to ordinary Nigerians. The insecurity issue has been tackled though much still needs to be done".
"The president should just try us and see if we can help. But, I assure you that Nigerians including the army will see how much we can do. There are still charms that can render weapons of war of the insurgents useless and we will be catching them(Book Haram) like chickens."
"We sympathise with the soldiers on the unnecessary attacks. The way we can contribute our quota is not only by sympathising with them. That's why we are calling on the president to include us(south west hunters) in the fight against the insurgents", be noted.