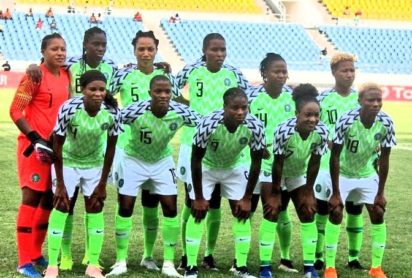 Super Falcons
BY ISAAC OLAMIKAN
Ex-Nigeria international, Tony Emedofu, has given the thumbs up to the Super Falcons who battle  their South African counterparts, Banyana Banyana, in the final of the African Women Cup of Nations, in Ghana today.
Sarri concerned by Hazard's injury woes
The left footed player said that he is optimistic that the Nigerian ladies will triumph at the end of the day not minding what some analysts consider as their shortcomings.
"Nothing counts better than experience and the Super Falcons have it in abundance. Not only that, they are also energetic and fleetfooted.
"You have to watch the video of the matches that the Super Falcons played in this African Women Nations Cup to really appreciate what I am saying. Our ladies are so experienced that they are many years ahead of their opponents in terms of experience and even skills.
"Also take note of their energetic display. They are a delight to watch. I don't see the South Africans upsetting them on Saturday(today).
"The trophy is surely coming back to Nigeria. I have no doubt about that. It's a done deal," Emedofu submitted.
He however, called on the team's handlers to go back to the drawing board after the tournament to give the ladies the necessary grilling by way of playing quality friendly matches in preparation for a good outing at the FIFA Women World Cup coming up in France next year.