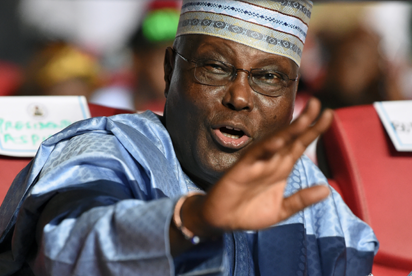 Former vice-President Atiku Abubakar speaks during the opposition People's Democratic Party (PDP)'s national convention in Port Harcourt, Rivers State on October 6, 2018. Nigeria's main opposition People's Democratic Party (PDP) has picked Abubakar to challenge President Muhammadu Buhari who is seeking a second term in presidential polls scheduled for February 2019. / AFP PHOTO /
By Soni Daniel, Northern Region Editor
Presidential candidate of Peoples Democratic Party, PDP, Atiku Abubakar, never told anyone he has been issued an American visa or planning a trip to the United States of America, a top official of his campaign organisation disclosed yesterday.
The top official, who heads one of the major campaign groups for Atiku, described as unfortunate the media hype over Atiku's 'collection of U.S visa and planned trip' to that country when the former vice president had not spoken to anyone about the two issues.
The official, a former minister in President Goodluck Jonathan's administration, told Vanguard on condition of anonymity, that Atiku was not one who would want to celebrate the issuance of visa, something he had obtained from many countries and had been flying around the world for many decades.
Stop this fallacy against Atiku, group cautions Lai Muhammed
"What is so important about a visa? And let me say that Atiku Abubakar did not issue any statement informing anybody that he had been issued a U.S visa and that he had planned to travel to that country to the best of those working with him.
"We just do not know where the media got that information and immediately began to spread all over the space on Sunday until it got to our attention. It is not true that the presidential candidate ever gave such information to anyone," he added.
Reacting to claims by the opposition that Atiku was afraid of going to the U.S to avoid being arrested and tried for corruption, the official explained that there was no case against the former vice president in the country, adding that if there was any, that country would have raised issues against the former number two citizen of Nigeria.
''Don't forget that Atiku had been living in Washington and if there was anything against him, the U.S law enforcement agents would have charged him before now. So, there is no case against him in the U.S and that is the truth," the official stated.