As Atiku insists on restructuring, promises to address imbalance in security appointments; revive coal industry
By Emeka Mamah & Dennis Agbo
ENUGU—THE Igbo leaders, including the Ohanaeze Ndigbo, Igbo Leaders of Thought, the political elite, the intelligentsia, women groups, religious leaders, among others, have resolved to support the presidential candidate of the Peoples Democratic Party, PDP, Alhaji Atiku Abubakar and his running mate, Mr. Peter Obi in the 2019 presidential election.
They said they would identify with Atiku and his deputy because of their promise to restructure the country along geopolitical zones.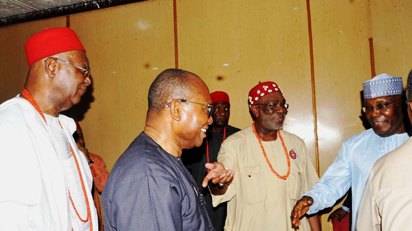 Roll call
Among those who gathered at the Nike Lake Resort Hotel for the event were President General of Ohanaeze Ndigbo, Chief Nnia Nwodo; chairman of the occasion, Prof Ben Nwabueze, SAN; Senator Ike Nwachukwu; former Chief of Army Staff, Lt Gen Azubuike Ihejirika, rtd; the Obi of Onitsha, Igwe Alfred Achebe; wife of the former President of Nigeria, Prof Uche Azikiwe; the chairman of Enugu Council of Traditional Rulers, Igwe Lawrence Agubuzo; business mogul, Emmanuel Iwuanyanwu; Admiral Allison Madueke and the former Governor of Enugu State, Dr Okwesilieze Nwodo.
The roll call also included Prof Anya O. Anya; Gen Obi Umahi, rtd; Chief Onyema Ugochukwu; the governorship candidate of the PDP in Imo State, Chief Emeka Ihedioha; former Economic Adviser to President Olusegun Obasanjo, Prof Osita Ogbu; Chief Uzodinma Okpara; Prof Uzodinma Iwuala; former President General of Ohanaeze Ndigbo, Chief Gary Ogariwey; Chief Olisa Agbakoba, SAN; Senator Ben Obi; Chief Emeka Ugwuoju; Chief Venatius Odo; Archbishop Maxwell Anikwenwa; and Prof George Obiozor; Chief (Mrs) Kate Offor; Chief S. N. Okeke and Prof Walter Ofonagoro, among many other Igbo leaders and PDP heavyweights.
Atiku arrived in the company of PDP National Chairman, Uche Secondus, Babangida Aliyu, Gbenga Daniel and Sen Ben Bruce among others.
https://www.vanguardngr.com/2018/10/2019-igbo-group-to-engage-atiku-on-restructuring/
Why we chose Atiku—Prof Nwabueze
In his opening remarks, the chairman of the occasion, Prof Ben Nwabueze said that although Ndigbo believed in the unity of the country, they wanted to survive as a people first, hence their agitation for survival.
He unequivocally said Ndigbo would align with the Atiku Abubakar/PeterObi presidential ticket because they believe that the duo would wipe away the Igbo tears when they come to power in 2019.
Nwabueze who noted that the roll call of the Igbo in the meeting was complete said: "With this kind of assemblage, how can we not achieve our purpose? Success is ours, we are here for our own self survival, we all know that Ndigbo have been reduced in a country. They were in the vanguard of its independence. We must preserve the legacies of Dr. Nnamdi Azikwe and Nwafor Orizu because these are the great leaders of Ndigbo.
"We must survive in this country, we must fight for our own self survival because we became relegated to almost irrelevancy and we must change that. We must organise round a ticket that will help us for self survival and that is the ticket of Atiku Abubakar and Peter Obi. We must not let that opportunity pass us by.
"If it passes us by, then we must be ashamed of hat, we must not allow that. We are here to tell ourselves about the actualisation of that dream. There is nothing wrong with self survival. We are not campaigning for anybody but for self survival. In this Atiku/Obi ticket, it is our determination to mobilize the Igbo in the country to work for it."
The elder statesman told the gathering to go back to their various villages to preach for the self survival of the Igbo nation.
What the communique says
A communique drawn at the end of the meeting, titled, "Ndigbo 2019 and Beyond Summit," which was read by Chief Olisa Agbakoba (SAN) stated in part: "The Igbo people of Nigeria held a one day non-partisian and inclusive summit, convened by elders, traditional and religious leaders on November 14 2018, to consider Ndigbo's place in the polity, especially in the light of the forthcoming 2019 elections.
"We identify with Atiku/ Obi ticket on the restructuring agenda as has been reiterated by the four zones of the country, namely South-South, South west, North central and South east. We believe that as long as the federating units remain weak, the centre will continue to be weak.
We equally move to appreciate the position of the Atiku/Obi ticket in promoting national unity.
"The summit deliberated on the state on Ndigbo in Nigeria today, especially after years of exclusion from the centre. This country has never been so divided as it is today. We, Igbo, have always yearned for a level playing field with justice, equity and fairness.
"In conclusion, the summit reiterated that the time is now for Ndigbo to mobilise and organise effectively and realise the Atiku/Obi ticket. We are not campaigning against anybody, we are simply campaigning for our very survival. Igbo votes must count wherever they live in Nigeria."
Atiku harps on restructuring,imbalance insecurity appointments
Speaking at the event, the presidential candidate of the PDP, Alhaji Atiku Abubakar promised not to renege on his promise to restructure the country. He also expressed embarrassment over the lopsided nature of security apparatus in the country, saying that the imbalance will also be addressed if voted into power.
According to Atiku, the issue of restructuring the country was settled because he would not go back on an issue he has been preaching about in all his life.
On the coal industry in Enugu, he said that coal was used to provide power to old Eastern
Nigeria, adding that when resuscitated, it would generate both electricity and employment for the people.
Atiku said that a functional local government could repair the Enugu airport runway, wondering what it would take to fix the runway.
His words: "Chapter 7(2) of the APC constitution is specific about restructuring but I don't understand what vice President Yemi Osibanjo is saying on restructuring and fiscal federalism. But for over three years, they didn't do anything, so anything they are coming up now on restructuring is fake.
"Each time I get alert on the composition of security architect, I feel some headache because they are all from one side and this is not federalism at all.
"I will fight, whether I amPresident or not, to ensure that Buhari goes away. Buhari must go.
Our economy must be fixed and a combination of Peter Obi and I will fix it. Our security architecture must be balanced. This nation has never seen this level of disunity, not even when Nigeria fought civil war.
"The coal industry will come back to life because it will lead to prosperity. If we supply electricity, it will create jobs and when you create jobs you create prosperity."
PDP'll fix collapsed economy —Secondus, Saraki
Earlier in their seperate speeches, the Vice Presidential candidate, Peter Obi, the Senate President Bukola Saraki and the PDP national chairman, Uche Secondus regretted the collapse of the economy, promising that the party will fix back the economy.
Obi said that the economy was so bad that the country was going on road shows, begging people to buy their bonds at nine per cent whereas Ghana was selling theirs at five percent because Nigeria bond was more or less worthless.
Ohanaeze adds 2nd Niger bridge, railway to Igbo demands
Speaking earlier,the President General of Ohanaeze Ndigbo, Chief Nnia Nwodo said issues that should be presented to Atiku, in addition to restructuring, should include completion of second Niger bridge, building of railways across Eastern states and fair treatment of Ndigbo in Nigeria.
He noted that Atiku performed better than other presidential candidates interviewed by his committee to find a president for the country. He said that there were four million Igbo residing in Lagos alone; 11.6 million in the North and 500,000 in China, among others, pointing out that Igbo votes can make the difference.
Subscribe for latest Videos